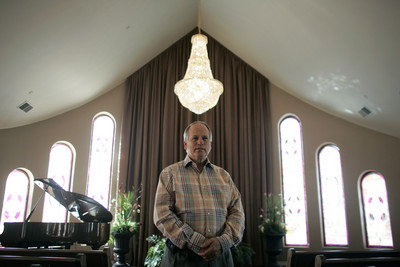 With new regulations on wedding chapels scheduled to go before the Las Vegas City Council on Wednesday, some observers have wondered whether a rule that would treat chapels the same as strip clubs and liquor stores amounts to overkill.
Such concerns are not shared by city officials, though, who point to a tumultuous few years in the chapel industry as evidence that strict rules are needed.
"There haven't been many issues," City Attorney Brad Jerbic said. "But when there are issues, they're big ones.
"We had some pretty damaging testimony about what could go wrong if the industry doesn't watch itself."
An ordinance requiring new wedding chapels to get a privileged business license will be before the council Wednesday and eligible for adoption in May.
A privileged license requires background checks of the business's principals and the City Council's approval.
That's going too far, said Allen Lichtenstein, general counsel for the American Civil Liberties Union of Nevada.
"While reasonable restrictions might be placed on certain professions, here you've got a much trickier situation," he said.
"No one has ever been able to point to any public health, safety or welfare that is related to who performs a wedding ceremony."
The success of a marriage depends on the couple, not the person who married them, he said.
He also said the city has not made a case that the extra level of regulation is needed.
"They do have to show a pretty substantial governmental interest," Lichtenstein said. "Every regulation deprives somebody of some freedom. That's not necessarily unconstitutional, but the burden is on the government to show that."
Jerbic said he needs five words to show just that — Las Vegas Garden of Love.
The council revoked the chapel's business license last year after several years of allegations that the chapel's owners and employees harassed and even attacked workers from rival chapels to secure business.
During those hearings, the council discovered that marriage certificates were being improperly witnessed at the Garden of Love, which in turn raised concerns about whether hundreds of weddings performed were valid.
Jerbic said that when the new ordinance is considered, he plans to use the records from that hearing to show that the stricter regulation will protect the public and ensure that couples are, indeed, getting what they pay for.
It's "evidence that not every player is a bad player, but when you have a bad player, it can get very bad," he said.
The ACLU's Lichtenstein also wondered whether First Amendment religious protections come into play because some wedding chapel owners are also ministers.
Jerbic said such First Amendment concerns are not an issue because the background checks look at criminal history and financial backing.
"We're not looking at what religion the chapel is or what kind of services they're offering," he said.
While not everyone is thrilled about potential new layers of regulation, comments from chapel owners were largely positive when the city solicited feedback.
"We believe this is necessary to provide enforcement authority whenever the city encounters rogue business operators," said Cliff Evarts, who owns chapel locations downtown, including a new $3 million chapel that is set to open soon.
"I think it's good for the industry. I don't think the burden to a legitimate business owner is too onerous," he said.
Contact reporter Alan Choate at achoate@reviewjournal.com or (702) 229-6435.