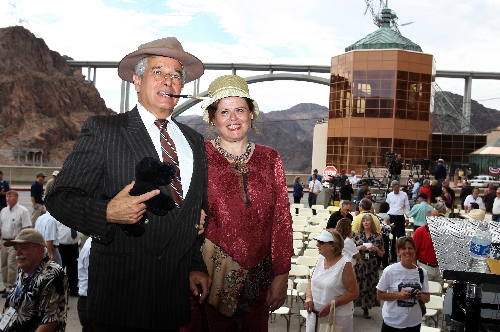 Federal officials and utility managers gathered Thursday to celebrate Hoover Dam's birthday, but the life of the party turned out to be a 128-year-old former president.
Franklin D. Roosevelt made a return trip to the dam he dedicated 75 years ago, albeit in the form of historical impressionist Peter Small.
Speaking before a crowd of more than 100 people, the long-dead president said the dam "still looks brand new as if it hasn't aged at all."
Small as FDR capped a ceremony held near the dam's famous winged statues, roughly the same place where the real Roosevelt spoke before an estimated crowd of about 10,000 people on Sept. 30, 1935.
Thursday's event was more low key. Occasionally, the speakers were drowned out by motorcycles and other traffic rolling across the dam on U.S. Highway 93.
Michael Connor, commissioner of the U.S. Bureau of Reclamation, said the dam "conquered what had been previously unconquerable": a famously fickle Colorado River prone to damaging floods and crop-killing dry spells.
Before Hoover tamed it, Connor said, the silty river was often described as "too thick to drink and too thin to plow."
Anne Castle, the Department of the Interior's assistant secretary for water and science, used the occasion to preach conservation.
"Growth has stressed water supplies, even with this massive dam," she said. "We can't let water become the next endangered species."
Representatives from Nevada's congressional delegation were on hand, and someone read a joint resolution commemorating the anniversary for the guests and curious tourists.
The resolution passed unanimously in the House and Senate, suggesting there is at least one issue — Hoover Dam is great! — on which Democrats and Republicans agree.
Also in honor of the anniversary, the bureau handed out cupcakes, and vendors on the dam sold hot dogs and bottled water for 75 cents apiece.
Small said he was "very honored" to take part in Thursday's festivities. He traveled from his home in Southern California just to play FDR, whom he has been impersonating for more than 17 years.
He said he started dressing up as historical figures back when he was teaching history to high school and junior high students. Now he performs his impersonations — six characters in all, including Israeli Prime Minister Golda Meir — for a fee.
Small and his Eleanor Roosevelt, Marlisse Marcus, posed for pictures with bureau officials and other guests after the ceremony. In addition to the trademark spectacles, fedora and cane, Small carried a small stuffed version of Roosevelt's beloved Scottish terrier.
"You look really good for 128," Marcus said.
The dam usually draws about 1,900 visitors a day this time of year, but one bureau official said Thursday's crowd seemed about 50 percent bigger than that.
The draw could have been the ceremony, or it could have been the weather.
"When was the last time we saw an overcast sky?" said Lorri Gray-Lee, who leads the bureau's Lower Colorado Region, based in Boulder City. "Even Mother Nature is in awe of Hoover Dam and wanted to celebrate its 75th anniversary."
Two Las Vegas car clubs drove to the event in their Model T and Model A Fords, which they parked behind the exhibit hall in the lot overlooking the intake towers and Nevada spillway.
Both models were out of production but still common on roadways the day the dam was dedicated in 1935, said Dennis Waroway, vice president of the Las Vegas Valley Model A Ford Club.
"An event like this? I wouldn't have missed it for anything," he said. "This is history."
Tourist Diana Nickell from Fort Worth, Texas, didn't know anything about that. She just came out with her family to see the Hoover Dam bypass bridge before it opens in a few weeks.
Her fortuitous timing netted her a free cupcake topped with a 75 made of sugar.
"I think it's pretty cool," she said of being there on the anniversary. "Now, we're going to go have us a hot dog."
Contact reporter Henry Brean at hbrean@reviewjournal.com or 702-383-0350.
HOOVER DAM
75th Anniversary
INTERACTIVE
VIDEOS
SLIDESHOWS