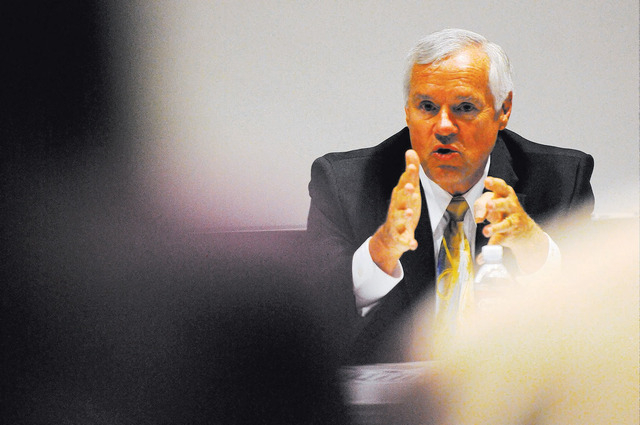 A young Millennium Scholar who does not qualify for financial aid. A 37-year-old blackjack dealer with three children seeking a career change. A former member of student government who questions whether improvements will be made.
They were among the College of Southern Nevada students who expressed concerns about a proposed tuition hike at a Nevada System of Higher Education hearing on Tuesday at CSN.
The Nevada System of Higher Education has proposed a 4 percent tuition increase for all state colleges and universities starting in fall 2015 and continuing through 2019.
The Board of Regents will review student concerns in March and vote on the issue in June.
CSN President Michael Richards and Nevada System of Higher Education Chancellor Dan Klaich fielded comments Tuesday with a strong emphasis on lack of financial aid options.
Most of the dozen or so students who testified supported the tuition increase with stipulations, while a few outright opposed them based on cost.
Community colleges in Nevada charge $84.50 per credit hour. The 4 percent increase would raise fees to $88 in fall 2015 and $90.51 in fall 2016.
CSN students taking a course load of 15 credits would pay $52.50 more per semester in fall 2015.
The increase would raise about $1.8 million for CSN in fall 2015 and $1.9 million in fall 2016.
In 2015, funds would go toward hiring 18 full-time employees, including academic and financial aid counselors, and staff for the registrar's office and the disability resource center. In 2016, 25 employees would added.
"We haven't really invested in student services the way we should have at this institution," Richards said. "As a result, many of you have been in long lines. Many of you have had delays in processing your records and financial aid. What we're proposing here are some major changes to turn that around."
CSN student government and administration support the tuition increase.
Marie, a 19-year-old student who does not qualify for financial aid because she immigrated to the United States 10 years ago, said she didn't mind the increase, but wanted to make sure the money was being used to improve the student experience and not to add administrative jobs.
Marie, who didn't give her last name during public comment, said she was an AP/honors student in high school and was accepted to UNLV but chose to attend CSN for the low tuition.
"At other colleges, they keep putting administrative positions into power," she said, based on a report she recently has written.
"They keep getting secretaries for this person or an administrative supervisor for this supervisor. It's not a cog in the system that needs to be there. It's an extra part to pay the cousin of the brother of someone. Again, it's $50,000 a year from the system, instead of that money going to students. I don't want that to happen here."
Klaich said the system was reviewing its business practices to reduce back-office costs. He also said community colleges were considering sharing resources to reduce costs.
CSN Student Government Secretary Selena Torres said she is a Millennium Scholar but doesn't qualify for financial aid. She works full time and takes a full course load.
Torres said she agreed with the increase but asked the administration to look at additional ways to pay for college.
Jonathan Paya, a former student government leader, questioned that changes would be made.
"Is it actually going to make a difference this time?" he asked.
Paya said he's traveled to Carson City to protest state budget cuts but didn't believe it made a difference.
He said he hoped to see the school improve.
"A lot of us are struggling because we want to become valuable assets to Nevada's society," Paya said. "I'm a strong advocate for Nevada society. I want to see our state survive. I want to see our students succeed."
The final student hearing will be held at 3:30 p.m. today at Nevada State College's library.
Contact reporter Kristy Totten at ktotten@reviewjournal.com or 702-477-3809. Follow @kristy_tea on Twitter.