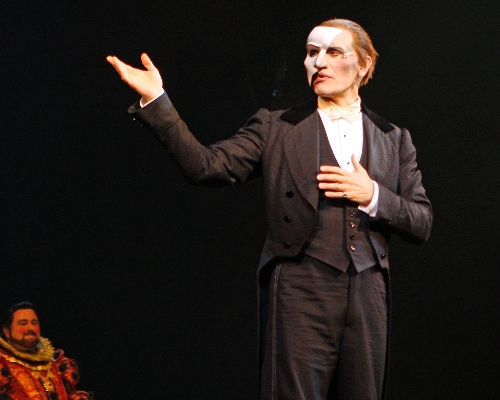 Anthony Crivello, the Las Vegas Phantom for the past six-plus years, had taken his last bows amid a cascade of roses when reality set in.
It arrived in the form of a heart-sinking, crunching sound.
Crivello had just loaded his young son and dressing-room belongings in their car after the finale of "Phantom: The Las Vegas Spectacular" on Sunday at The Venetian.
When he heard the noise while backing up, he realized he had absent-mindedly left his laptop computer on the top of the car.
He had backed over the computer.
"All my writing projects, photos, research material, video of my children," said Crivello, during a telephone interview Wednesday while waiting at a baggage carousel at John F. Kennedy International Airport in New York.
"My priority was my son. I was scatterbrained. It was Murphy's law," he said.
His post-"Phantom" transition was off to a crushing start. With luck, his hard drive can be salvaged.
Out of work for the first time in ages, Crivello is in New York this week, hoping to quickly rebound.
"I have meetings beginning tomorrow to get back in the marketplace and reintroduce myself," he said. There are casting directors to meet and old friends to see, hopefully to "push things forward."
He has been working with a ghostwriter on a book about his experiences as the Phantom of Las Vegas.
Last week, he shot a quick scene with Matt Damon for the HBO film "Behind the Candelabra," the story of Liberace's relationship with dancer Scott Thorson, who wrote the book that is being turned into a movie.
Crivello, who is approaching his 40th year in show business, had a chance to return to Broadway as the Green Goblin in "Spider-Man: Turn Off the Dark," replacing Patrick Page.
But that would have required leaving "Phantom" early. That wasn't going to happen.
"I was there for opening night (in June 2006), and I was going to be there for closing night," said Crivello, who played the Phantom in about 2,600 of the 2,700-plus performances.
"We had a glorious last month," he said. Crowds were so big the last few weeks that fold-up chairs were necessary to accommodate the interest. "They were turning people away," he said.
"We had the crazy fans who dressed up, people throwing roses at us. It was great."
THE SCENE AND HEARD
Nashville Songwriters Hall of Famer Paul Overstreet joins "Nashville Unplugged" hosts Brian McComas and Aaron Benward on Friday at Green Valley Ranch's Ovation showroom. Overstreet, a two-time Grammy winner, co-wrote "You're Still New to Me" with Paul Davis, who teamed up on it with Marie Osmond at the peak of her country crossover years. The song hit No. 1 on the U.S. and Canadian country charts in 1986, one of 27 Top 10 hits co-written by Overstreet.
SIGHTINGS
Actor Nicolas Cage, having lunch at Tommy Bahamas in Town Square on Wednesday. … Olympics sensation Michael Phelps, with girlfriend Megan Rossee at Hyde Bellagio on Tuesday for the birthday party of poker player Jeff Gross. Phelps and Gross, who have been roommates for a number of years, have been competing in poker games during Phelps' visit. Gross has been predicting Phelps would be a regular in live local tournaments once the Olympics were over.
THE PUNCH LINE
"Over the weekend, a chef in Minnesota created the world's largest bacon cheeseburger, weighing in at over 2,000 pounds. And if you want to hear what it tasted like, you'll just have to wait until I interview Chris Christie." – Jimmy Fallon
Norm Clarke can be reached at 702-383-0244 or norm@reviewjournal.com. Find additional sightings and more online at www.normclarke.com. Follow Norm on Twitter @Norm_Clarke.