November 6, 2008 - 10:00 pm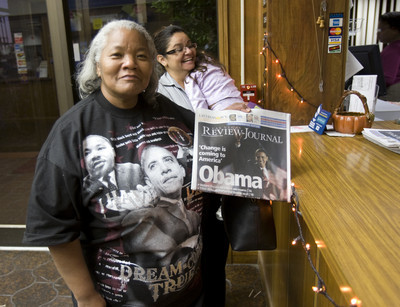 NEW YORK — Newsstands from Seattle to Las Vegas to New York quickly sold out of Wednesday's papers declaring Barack Obama the nation's first black president as some jubilant customers picked up two, three or even 30 copies as keepsakes.
The Review-Journal, the New York Times and the Chicago Tribune in Obama's hometown were among papers that restarted their printing presses to produce hundreds of thousands of additional copies across the country.
The Review-Journal will be placing additional copies of Wednesday's commemorative edition at the following markets: 7-Eleven, Rebel, Green Valley Grocery, Terrible Herbst and Speedee Mart, as well as at the Review-Journal's cashier counter. Copies will be available while supplies last.
Entrepreneurs were seeking as much as $600 for the Times on eBay Wednesday.
"Own a piece of history," Walter Elliott said as he hawked 90 copies of The Sun from a Baltimore street corner.
Some papers devoted their entire front pages to a single photo of Obama — in the San Francisco Chronicle's case, overlaid with "OBAMA" in enormous type and a snippet from his acceptance speech: "Change has come to America." USA Today declared, "America makes history."
The Plain Dealer in Cleveland offered high-quality reprints of the front page for $54.95. Below the headline "Change Has Come," a close-up of Obama covers three-fourths of the page.
John Penley, a white man who recalled drinking out of the "wrong" water fountain as a kid in North Carolina, searched New York's Lower East Side on Wednesday for papers to mark an event he never dreamed possible in his lifetime.
"There was one copy left at the bodega around the corner, and people were actually fighting for it," said Penley, a retired photojournalist. "I can't find a copy of any paper anywhere."
At New York's Port Authority bus terminal, Ralston Montaque grabbed 30 copies of the Times for family and friends.
"Everybody has to read (the news), brother," he said.
Say what you want about the Internet replacing printed newspapers, but saving a copy of a Web page on a disk isn't the same.
"What it really shows is there's a unique value to print," said Steve Hills, The Washington Post's president and general manager. "It's the ability to look at the whole thing and have a piece of history in your hands."
A newsstand in Evanston, Ill., sold 100 copies of the Times in 10 minutes — even as the major local papers, the Tribune and the Chicago Sun-Times, rushed to print hundreds of thousands of extra copies.
A convenience store in Mineola, N.Y., saw many new faces.
"I never saw papers sold with such a spirit," said Kirit Patel, who operates the store. "I saw some customers who never buy a paper, but today they bought two copies. They were asking for more papers."
In Miami's predominantly black Liberty City, newspapers were sold out at stores all along Martin Luther King Blvd., where residents wore Obama T-shirts and waited for buses on corners with hand-painted quotes from the civil-rights leader.
"I've got to put this in a frame because this is history," said Larry Johnson as he searched for a newspaper cover of Obama.
In Miami's diverse South Beach neighborhood, Books & Books manager Vivienne Evans said customers lined up outside even before the store opened.
"People were breaking down the door," she said.
Papers all over the country found crowds of customers outside their buildings clamoring for copies. A one-per-person rule was instituted at the Times' headquarters, and customers were even buying damaged copies after supplies ran out.
The Times decided to print another 75,000 copies for sale in New York, while as vending machines and retail stores sold out by midmorning. The Tribune restarted its presses for an extra 200,000 — 10 times more than the increase it had planned.