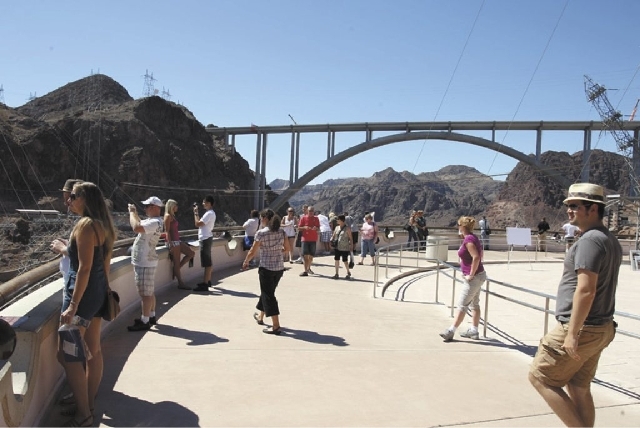 A nagging plumbing problem has shut down the visitor center and cut off tours at Hoover Dam three times since Tuesday, but officials hope to have the issue resolved by this morning.
The trouble began when the toilets overflowed in the bathroom near the ticket window, prompting the visitor center on the Nevada side of the dam to close Tuesday.
Hoover Dam spokeswoman Rose Davis said maintenance workers found clothing and plastic bags in the pipes.
"Carelessness, an accident or something on purpose, they don't know," she said.
The problem appeared to be fixed and the area cleaned Wednesday, but the bathroom flooded again that night, prompting another closure and more work.
Then the same thing happened again Thursday morning, Davis said.
The trouble is limited to the visitor center.
"The dam is working perfectly, generating water and power," Davis said.
The parking garage and the top of the dam remain open to tourists. Staff members hope to reopen the visitor center and resume tours inside the dam Friday morning, but Davis couldn't promise anything.
Updated information is available by calling 866-730-9097.
Contact reporter Henry Brean at
hbrean@reviewjournal .com or 702-383-0350.