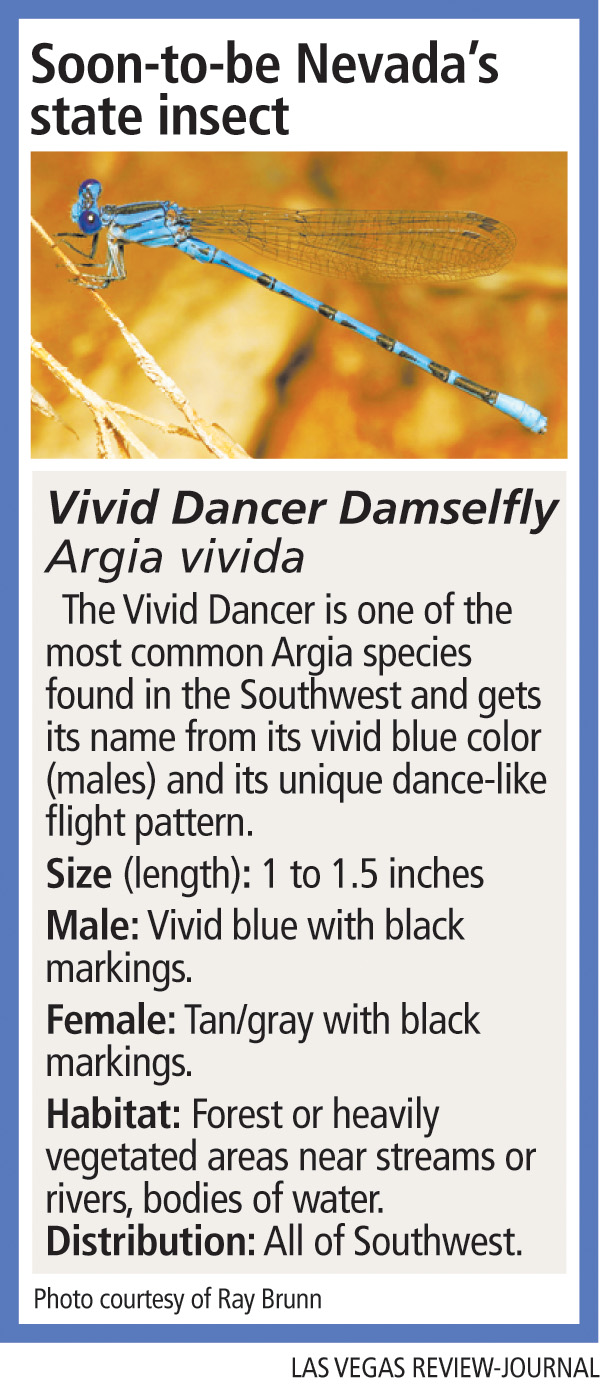 The vivid dancer damselfly is a blue insect with transparent wings that "appear silver when rapidly beating in the sunlight."
A bug with the Nevada colors of silver and blue might seem like a natural to become the state's official insect, but fourth-graders from Beatty Elementary School near Bermuda and Pebble roads were not content to rest their case.
"It just isn't pretty," their nominating essay noted. "It serves Nevadans by contributing to our economy and quality of life."
The damselfly preys on mosquitoes and other pests. It's found throughout the state. It was first classified in 1865, the year after Nevada became a state.
The fourth graders' research convinced a panel of scientists and educators on Wednesday to select the damselfly as the "official state insect" from more than 70 nominations sent in from schoolchildren across Nevada.
It's up to the Legislature to ratify the selection.
Beatty fourth-grade teacher David Slater said he will take three students to Carson City to witness that for themselves. While it's hard to predict when legislation will come up for a vote, Slater said it could be as soon as next week.
The field trip to the Legislature will be paid for by contest sponsors Truly Nolen Pest Control and the Las Vegas chapter of Kids Voting USA.
State Sen. Joyce Woodhouse, D-Henderson, and Assemblyman Lynn Stewart, R-Henderson, co-wrote the legislation that authorized the contest.
Forty-one other states have official insects and/or state butterflies.
When contest details were first announced in December, Slater recalled thinking, "This is going to be time consuming."
So he let his students take the initiative. "From a class of 30, seven came back with bugs," Slater said.
The seven students prepared essays and read them to the class, which then selected 9-year-old Lexie Arancibia's choice of the vivid dancer damselfly.
"It was a remarkable find," Slater said.
The class then worked collectively to research and write the contest entry. Slater said his contribution was limited to editing and footnoting.
Slater, 60, said this has been one of his most rewarding experiences in education since becoming a teacher six years ago after a long career in casino surveillance.
Contact reporter James Haug at jhaug@reviewjournal.com or 702-374-7917.