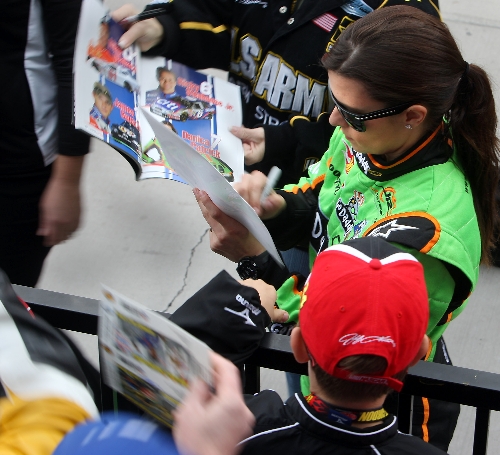 Four-time champion Jimmie Johnson's image isn't the primary one being used to promote this weekend's NASCAR races at Las Vegas Motor Speedway.
Neither is Kyle Busch's , even though the Las Vegan won the NASCAR Sprint Cup race a year ago.
Dale Earnhardt Jr.? Tony Stewart? Not much of a sign of either even though they're America's most popular drivers.
The face the speedway hoped would launch the sale of thousands of tickets belongs to Danica Patrick, the first woman to win an IndyCar race and the most popular pin-up in racing history.
The strategy has worked.
Speedway president Chris Powell said this week that he estimates Patrick has been responsible for selling upward of 15,000 tickets for today's Sam's Town 300.
When the 27-year-old starts NASCAR's second-tier Nationwide series race today at 1:30 p.m. — weather permitting — she won't even be the first woman to have competed in the race.
Patty Moise raced in the first Nationwide race at Las Vegas in 1998 when it was called the Busch Series. In 2002, Shawna Robinson became the only woman to compete at the track in the Cup series.
Neither had the hype of Patrick. Her fans are young and old, male and female.
Kingman, Ariz., residents Herb and Millie Ballard were at the speedway two weeks ago to buy a Patrick souvenir T-shirt and the shirts weren't hard to find: They were front and center in the gift shop.
"I saw her in the races at Daytona and I just liked her," said Millie, 65. "She just stands out."
Ballard's husband, a longtime fan of Johnson and NASCAR, knows women have raced before in NASCAR but said "No one ever promoted them so we could get to know them."
The ESPN2 telecast of Patrick's Feb. 13 Nationwide debut drew an average of 4.2 million viewers, which was a record for the series and a 33 percent increase over the previous year's audience, according to the network.
Before cable television and five years before Patrick was born, Janet Guthrie broke two gender barriers in 1977 when she became the first woman to qualify and compete in the Indy 500 and Daytona 500.
But none of that trio was a pin-up or posed provocatively in FHM men's magazine as Patrick did in 2003, two years before her rookie year in IndyCars. She later posed more tastefully in Sports Illustrated's swimsuit editions.
"I feel comfortable with everything I've done and had fun with it," Patrick said Friday of posing for FHM, adding that she did not believe it helped her to get a full-time job racing in IndyCars two years later. "That's just my style. I do things that are interesting and fun and show a little bit of my personality."
Such credentials on Patrick's resume set her apart from other noted female racers.
Nor did any of the aforementioned women act in a prime-time TV drama such as "CSI: NY" or be a guest on talk shows such as the "Ellen Degeneres Show" or "Late Show with David Letterman."
Patrick has done it all and more, including two years of starring in sexually suggestive Super Bowl commercials for primary sponsor GoDaddy.com.
The media exposure — and overexposure — have helped to catapult her to rock-star status.
"I could not believe all the attention. It's just amazing," Dale Earnhardt Jr. said after Patrick's first race at Daytona International Speedway. He owns the JR Motorsports team that fields the No. 7 Chevrolet she drives.
"But it's great for the sport. It's good for our company."
Earnhardt, voted by fans as the most popular NASCAR driver each of the past seven years, experienced Danicamania firsthand when a group of fans pushed past him to get to her at Daytona.
"I couldn't believe it. I never thought I'd ever see that," said Las Vegan Brendan Gaughan, who races in the Nationwide series. "I was stunned. But it was pretty funny."
The hoopla subsided some at Fontana, but at Patrick's post-practice news conference a week ago, about 40 reporters, with photographers and TV videographers in tow, attended.
Another large turnout occurred Friday at Las Vegas leading up to today's Nationwide race, which begins at 1:30 p.m.
It will be only Patricks' third start in NASCAR, where she has completed 218 of 272 laps.
In her debut three weeks ago at Daytona she was caught in a crash — not of her doing — and finished 35th. Last weekend at Fontana she finished 31st, three laps behind the winner.
"I'm a competitor, and I'm used to running up front. That's why a 31st-place finish didn't sit well with me," she said. "But we're being realistic about this, too. We're not going to come out of the gates and immediately start winning races and running in the top 10."
The sport's female pioneers do not question Patrick's driving talent or potential.
"No question she is a very capable driver, and she'll do well in NASCAR just as she has in IndyCars," said Guthrie, 72, who raced in three Indy 500s with a best finish of ninth in 1978.
"She has a better chance to win than any other woman that has come along because she's the only one who has been in top-level equipment."
Henderson's Sam Schmidt, who won the 1999 IndyCar race at Las Vegas before becoming a team owner in the Indy Racing League, agrees with Guthrie.
"Not to take anything away from her talent, but she's never put herself in a position to have to drive (with) bad equipment," he said.
Patrick started in IndyCars in 2005 and has only driven for well-funded teams.
That also sets her apart from Guthrie and Robinson, neither of whom were provided with cars capable of challenging for wins.
Patrick started in IndyCars with Rahal Letterman Racing and, two years later, moved to Andretti Green Racing, which is now Andretti Autosport. Her Earnhardt-owned NASCAR team is supported by Hendrick Motorsports, the most successful stock-car operation over the past four years.
"(Andretti Autosport) might be below the caliber of Penske Racing and Chip Ganassi Racing, but Danica was the best at Andretti Green last year and that means she finished higher in the standings than Tony Kanaan, and he's a great driver," Schmidt said.
Robinson, 46, who started 36th and finished 42nd in her only Las Vegas Cup race for an underfunded team, acknowledges her Cup opportunity mostly was based on her sex although she previously had won a regional NASCAR race.
"Absolutely," she said. "That was pretty much what it was about for the (BAM Racing) team. It was a rookie team with a rookie driver and I left because we were not going to be competitive.
"I wanted to be marketed as an intelligent, attractive female who could drive, with driving being ahead of being female. But at that time it was still men in golf shirts and tacky pants. It's a different world now."
In some aspects, maybe.
Guthrie adds what hasn't changed are how some fans disdain a woman in top-level racing.
In her book, "Janet Guthrie: A Life at Full Throttle," she alludes to hateful comments and signs some fans displayed at her races. The former engineer said today's sexist protests directed at Patrick have shifted to the Internet.
"The level of hostility on the blogs is astonishing. It's like déjà vu all over again. The blogs demonstrate there are some peoples' minds that will never change."
Patrick returns to her full-time job driving IndyCars for Andretti after today's race and will have eight IndyCar races before returning to NASCAR for the June 26 race at New Hampshire Motor Speedway, the fourth of her 12 scheduled Nationwide events this year.
Until then, NASCAR tracks will have to revert to using the boys like Johnson, Busch, Earnhardt and Stewart to sell tickets.
Contact reporter Jeff Wolf at jwolf@reviewjournal.com or 702-383-0247 and keep up with NASCAR Weekend at lvrj.com/motorsports.
Watch the video