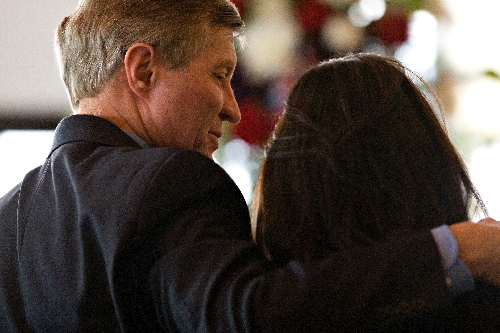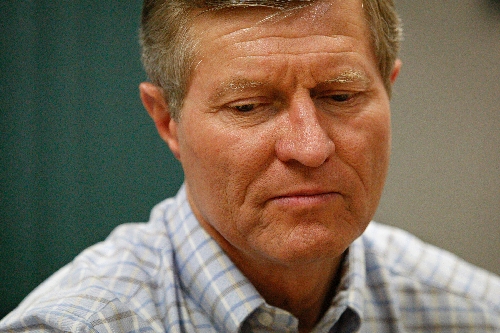 Like most people, Erik Scott lived a life in which things weren't always perfect.
He was a West Point graduate, former Army officer and successful salesman who was never short of friends.
But he also had trouble in romantic relationships and was suspected of abusing prescription painkillers.
And on July 10, he was shot to death at a Costco in Summerlin by Las Vegas police officers who said he pointed one of his two guns at them after a confrontation with store employees.
One of his two former wives said his death was no surprise, writing that "I never expected Erik to live to see 40."
He was 38.
Scott's character, as much as the actions of the police, will be on trial when a Clark County coroner's inquest convenes on Sept. 22. The shooting, one of more than 20 involving Metropolitan Police Department officers this year, prompted an unusual public outcry in part because of Scott's golden-boy image and because the shooting happened on a Saturday afternoon in an upscale neighborhood.
Whether the darker details of his life played any role at all in his death remains to be seen, but stories about drug abuse and domestic violence have surfaced as that inquest draws closer.
His father, Bill Scott, said he thinks negative information about his son is surfacing now because police are trying to smear his reputation.
"Trash the victim, and maybe the jury will decide he deserved to die," Scott said.
Las Vegas police declined comment for this article.
MAN DREW GUN IN DOG CONFRONTATION
Much of the new information about Scott comes from police reports and divorce papers that recently have come to light. It's notable, however, that in none of the incidents was Scott ever convicted of any crime.
The most recent incident was chronicled by Scott himself in a March 13 report to Las Vegas Animal Control. Scott said that he was bitten four days earlier by a "pit bull-type mix" near his Summerlin apartment and that he suffered two lacerations on his right leg. In his report, Scott wrote that he had a .45-caliber handgun, which he had a license to conceal and carry, and that he had pulled it out "for protection." He said he saw the dog's owner "hurrying to collar and leash" it. The owner later apologized, Scott wrote.
On March 14, an animal-control officer contacted the dog owner's wife and later wrote that she "was upset because (Scott) had pulled a gun on her dog and her husband." The officer advised her to file a police report and then quarantined her chocolate lab when she could not provide proof of rabies vaccination or a license.
The next day, the dog owner told police that Scott had pointed a gun at him and said, "Your (sic) lucky I didn't (expletive) kill your dog."
A police officer wrote up a report, but no charges were ever filed against Scott. The dog owner could not be reached for comment for this article.
WOMEN ALLEGED DOMESTIC VIOLENCE
Two short marriages produced two written allegations of domestic violence.
In October 1999, Scott's first wife, Violet, filed a report with the Arapahoe County, Colo., sheriff's office and alleged that Scott cupped her face in his hands and slammed her head into the ground. The incident left her dizzy, seeing stars and black spots, she wrote. He also threatened, "I want to kill you, (expletive)!"
They had been married about a year, and wouldn't make it as a couple for much longer. It's unclear why the report was filed in Colorado.
Colorado authorities issued an arrest warrant for Scott, but he apparently was unaware of it for several months.
Chuck Lang, who was best friends with Scott since childhood, was driving with Scott after attending the 2000 Laughlin River Run and was pulled over by police. The officer checked both of their IDs and told Scott there was a warrant for his arrest. The officer let Scott go but told him to take care of the problem, Lang said.
Bill Scott said his son flew to Colorado and turned himself in. He made several court appearances, but the charges were dropped.
"The judge said, 'This is ridiculous,' " said Bill Scott, who attended each court session. "He threw the case out. … He said it never should have been filed."
Violet Scott did not respond to requests for comment.
Bill Scott said he and his wife have rekindled their relationship with her since his son's death. He said that he does not know what happened during the fight but that he believed her claims were exaggerated.
Lang said his old friend always had problems with women.
"He was the best-looking guy in the world, but he never picked the right girls," Lang said. "It seems like there was always some issue with them."
Those issues continued in his second marriage, to Lydia Gorzoch. When contacted by the Review-Journal after his death in July, she e-mailed a curt response: "I divorced Erik Scott because he was an angry and violent man with erratic behavior who abused steroids and acquired a serious addiction to pain killers. I'm not the least bit surprised about what happened; He was on an extremely destructive path when I left him and I never expected Erik to live to see 40."
Gorzoch, who declined additional comment, has herself had run-ins with the law, including headlines in 1999 about her involvement in criminal charges against former Las Vegas police officer Jon Brown.
Brown nearly died after ingesting GHB and Ecstasy at Gorzoch's apartment. Both were charged with drug-related crimes, but Brown said the drugs were accidentally ingested and was acquitted by a jury. Gorzoch took a plea deal and received probation.
In 2003, Gorzoch and Scott met through mutual friends, and in 2006, they married in Napa, Calif.
Bill Scott said his son knew about Gorzoch's background, but he viewed himself as a "white knight" who could take care of her.
"He thought that she was on another path," Bill Scott said. "He really thought that he could make this work."
They separated "after a long year of non-stop fighting and emotional turmoil," Gorzoch wrote in her divorce complaint. She also alleged that Scott threatened her but gave no specifics.
"Erik has made verbal and text message threats of harm toward Lydia and her friends. Lydia is fearful without court intervention Erik will do something which will harm either Lydia and/or her friends," her complaint said.
In his financial affidavit, Erik Scott claimed earnings of more than $17,000 per month. Gorzoch claimed just $600 per month, which he disputed.
"In addition to personal training, plaintiff is a dancer who is capable of earning $500 per night," he wrote.
DRUG USE ALLEGED, SUSPECTED
Las Vegas police have not released toxicology reports that would confirm or disprove Gorzoch's allegation of Scott's drug use. Bill Scott said he knew nothing of steroid use but confirmed his son was being treated with legal human growth hormones at a Las Vegas-area clinic.
And the younger Scott's medical records include a statement from a doctor who said that he suspected Erik Scott was addicted to painkillers, Bill Scott said.
But Erik Scott was being treated by a back specialist for compressed disks, likely from an old injury aggravated by a more recent car accident, Bill Scott said.
His son was taking about three pills a day for severe pain, he said, and might have had an enzyme deficiency that prevented him from easily processing pain medication.
"From the time he was a little kid and would complain of a headache, one aspirin didn't do the trick," Bill Scott said. "The standard dosage never touched him."
Lang described Erik Scott as a "genetic freak" who easily developed a body builder's physique and never took steroids.
"We would both bench the same weight, but my chest never looked like his did," Lang said.
Lang said that Scott worked hard to stay in top shape and was a workout junkie since his freshman year in high school. He often ate protein drinks and similar health products.
"He ate more of that than he did real food," Bill Scott said.
Erik Scott's friends reject the idea that he was a violent person.
Scott Cameron, who first met Scott in 2002, said he would trust his friend to care for his infant child.
"Erik is being vilified," Cameron said. "They (police) are trying to look for excuses to justify their actions. It's a complete travesty of justice."
Lisa Mayo-DeRiso, a spokeswoman for the Scott family, cautioned against placing much stock in allegations made by former wives or in linking the allegations to the events surrounding Erik Scott's death.
"We all know ex-wives, and divorces are very contentious situations," Mayo-DeRiso said.
"I don't believe that anything that happened in two prior marriages has any relevance to what happened at Costco on Saturday, July 10, 2010."
Review-Journal reporter Brian Haynes contributed to this report. Contact reporter Lawrence Mower at lmower@reviewjournal.com or 702-383-0440.