Daughters' videotaped testimony defends Colon in trial's penalty phase
October 9, 2008 - 5:01 pm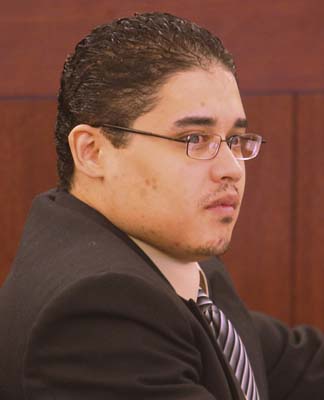 Marc Anthony Colon has been described as a monster who beat to death 3-year-old Crystal Figueroa and dumped her body in a trash bin in 2006.
But on Thursday, the jury in his murder trial saw a different side of him when his two young daughters gave videotaped testimony describing him as a caring father who took them fishing and celebrated holidays with them.
The girls, ages 12 and 10, told the jury their father doesn't deserve to die.
"I want to be able to see him or talk to him," said 12-year-old Maxine Colon.
Colon, 30, remained emotionless during the nearly three-week trial. But he cried as he watched his daughters testify on the video screen inside the Regional Justice Center courtroom Thursday.
The jury will decide whether Colon will be executed for killing Crystal. Jurors are expected to begin deliberating today . The jury convicted Colon and his co-defendant, Gladys Perez, 26, of first-degree murder Wednesday.
Perez, 26, is Crystal's mother. She is not facing the death penalty but could spend the rest of her life behind bars without the possibility of parole. Colon's daughters were allowed to record their testimony to spare them additional emotional trauma. Both girls testified during the trial. Maxine told the jury last week that her father never struck Crystal, contradicting previous statements she had made to authorities.
In their recorded testimony, Maxine and her younger sister Marlene are shown sitting on a couch in an office. They are gently questioned by a psychologist, Dr. Lyndsay Elliott, and one of Colon's attorney's, Peter Christiansen.
Maxine was in the pay-by-the-week apartment where Crystal is believed to have been killed. She helped clean and change Crystal after the 3-year-old got sick the night she died.
Maxine was described by Elliott as serious and somber. The psychologist said younger sister Marlene was endearingly goofy and light-hearted. Marlene was asleep inside the apartment the night Crystal died.
The daughters said their father would take them out on Valentine's Day and would throw them parties on their birthday. He was a doting, attentive father, they said, who bought them dolls and told them he loved them 25 times a day.
Maxine said she writes Colon letters updating him about her homework and studies and wanted to continue to do so.
"I love you very much," Marlene said. "He can't just leave."
During Thursday's hearing, prosecutors told the jury that Colon has a long history of beating women. Assistant District Attorney Christopher Lalli said Colon's domestic violence history dates back more than a decade. One of his ex-girlfriends testified that he routinely beat her when she was 16 and he was 17.
In an audio recording played for the jury, the mother of Colon's children said he had threatened to kill her father. Colon kept her isolated and prevented her from seeing her family. She said he beat her constantly. She suspected he didn't hit her in the face so people wouldn't see her bruises.
Another time, Colon ruptured his sister Sarah Jensen's eardrum when he slapped her, she said in an audio recording played for the jury. He also choked her, she said. She was treated at a hospital in California for the incident.
Lalli said Colon was in and out of jail because of the domestic violence incidents and was a fugitive from parole in California when he killed Crystal in January 2006 in Las Vegas.
Authorities said Colon had beaten Crystal because she caused too much drama in the family. Perez did nothing to stop the killing and helped Colon cover up the slaying, prosecutors said.
Crystal was found in a trash bin at the Villa Cordova Apartments on Eastern Avenue near Sahara Avenue in January 2006. It took weeks before authorities identified her. During that time, she was dubbed Jane "Cordova" Doe.
Although Thursday's hearing focused on Colon, Perez's mother Lilia Perez testified on her behalf. She said Gladys Perez is a good person, and she asked the jury to show her daughter mercy, allowing for the possibility of parole.
"I wasn't there for her (Perez)," she said. "I feel so sorry."
Contact reporter David Kihara at dkihara@reviewjournal.com or 702-380-1039.