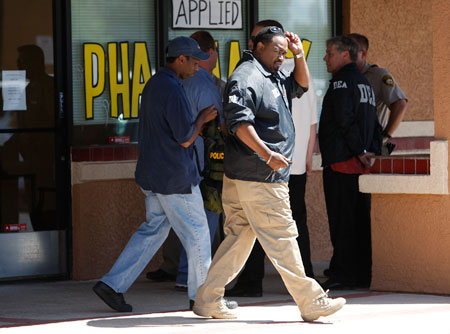 Federal agents searched a pharmacy in a Las Vegas strip mall Tuesday morning as part of the investigation into the death of entertainer Michael Jackson.
Although Drug Enforcement Administration agents at the scene wouldn't confirm that the raid was related to the pop star's death, a law enforcement source said Jackson's personal doctor had obtained a potent anesthetic from Applied Pharmacy Services.
Authorities believe Dr. Conrad Murray gave Jackson the anesthetic propofol as a sleep aid.
DEA agents, who said they were working with the Los Angeles Police Department and the Los Angeles County district attorney's office, arrived at the pharmacy at 6370 W. Flamingo Road, near Jones Boulevard, about 9:20 a.m. to begin their search.
Michael Flanagan, who heads the DEA's Las Vegas office, said employees were cooperative.
"We are looking for documents related to an ongoing investigation," he said.
A law enforcement official who spoke on condition of anonymity said the propofol Murray gave Jackson came from the Las Vegas pharmacy.
Authorities are investigating Jackson's June 25 death as a manslaughter and believe the propofol he was given at his rented Los Angeles mansion was a major factor in his death.
Propofol is normally used to render patients unconscious for medical procedures and is supposed to be administered only by anesthesia professionals in medical settings.
As investigators build their case, a central issue is what drugs were in Jackson's system when he died and how those medications were obtained. Murray has told investigators he administered propofol and several sedatives to Jackson in the hours before he died, the law enforcement official said.
About 14 people from the DEA and LAPD left the pharmacy at 11 a.m. One of them carried a small box, another a briefcase, and a few others had black folders. They declined to comment as they left the scene.
Flanagan said the search was conducted "without incident."
The search began as the pharmacy opened for business. The small office is tucked in a commercial shopping center, and the street-level business has handwritten signs on the outside.
Two Las Vegas police officers stood at the entrance of the pharmacy but did not appear to be involved in the search.
The raid came on the heels of a July 28 blitz to seize documents and computer hard drive information from the Las Vegas home and office of Murray. Investigators also searched a storage unit on Tropicana Avenue and Murray's Houston office.
The pharmacy owner declined to comment Tuesday.
The Associated Press contributed to this report. Contact reporter Maggie Lillis at mlillis@reviewjournal.com or 702-383-0279.