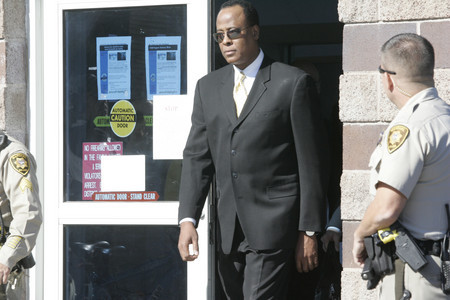 Michael Jackson's deathbed doctor left Family Court in Las Vegas on Monday a free man after reaching a last-minute deal with his son's mother to forgive more than $15,000 in unpaid child support.
Dr. Conrad Murray could have faced jail time after skipping a hearing in the case last month.
But as Monday's morning hearing began, Senior Family Court Judge Gerald Hardcastle announced the agreement with Nenita Malibiran to give up the thousands of dollars in back child support payments.
Her condition was that Murray make regular monthly support payments of $1,003.
Malibiran and Murray have an 11-year-old son.
A skeptical Hardcastle grilled Murray and his lawyer, Chris Aaron, about whether Malibiran had been promised or paid anything for her forgiveness. Both denied anything beyond the agreement of regular support payments.
"It strikes me as unfair, but having said that, it's her money," Hardcastle said.
Murray, 56, has had trouble finding work because of the publicity since Jackson's death in June, Aaron said. The Las Vegas cardiologist had been hired as Jackson's personal doctor for the pop star's London concert series and tried to resuscitate him before he died in Los Angeles.
The judge could have sent Murray to up to 35 days in jail, as a hearing master last month recommended a bench warrant for his arrest after he missed a scheduled hearing in the case.
Because of the agreement, Hardcastle did not approve the warrant. He set a Jan. 4 hearing to check the status of the agreement and whether Murray has made the required monthly payments.
Aaron said Murray planned to ask a California judge to reduce his monthly payments.
Chief Deputy District Attorney Gerard Costantian told Hardcastle he thought the agreement was legitimate.
"She's done this in the past, your honor," he said. "She's apparently a very forgiving person."
In 2003, Malibiran forgave about $11,000 in back child support owed by Murray, he said.
Both Aaron and Costantian said such last-minute deals are common in child support cases.
In court, Aaron handed Costantian $700 in cash as a good-faith gesture toward his November child support payment.
"I don't know where the money came from," Costantian said outside the courthouse. "I didn't see it come from Dr. Murray's wallet, but it doesn't matter. It's going to the child."
Aaron said the cash was provided by a benefactor.
"He's just having a hard time," Aaron told the media outside the courthouse, which included Access Hollywood, Extra and TMZ.
Murray said little during Monday's hearing. He was accompanied by five lawyers, including Ed Chernoff, the Houston-based attorney who represents him in the Jackson case.
After the hearing, Murray and his entourage were allowed to leave the courtroom while bailiffs held about a dozen reporters inside against their will for "public safety" reasons. The bailiffs released the reporters after Murray left the building several minutes later.
Murray has been under the media spotlight since his name emerged in the Jackson death investigation.
Authorities have searched the doctor's Las Vegas medical office and home in their investigation of Murray in connection with several potential crimes, including manslaughter and prescribing to an addict, according to court documents.
Costantian said Malibiran could change her mind and pull the agreement before it is formalized, but even if she doesn't, he plans to request regular court dates to make sure Murray makes his required payments.
If the doctor doesn't, he could end up in jail, he said.
"We need to keep an eye on Dr. Murray," he said.
Contact reporter Brian Haynes at bhaynes@reviewjournal.com or 702-383-0281.