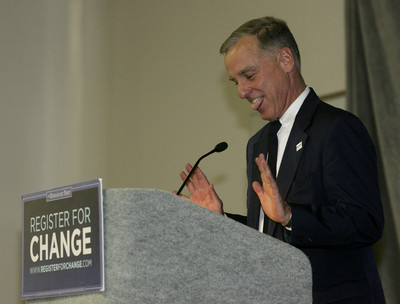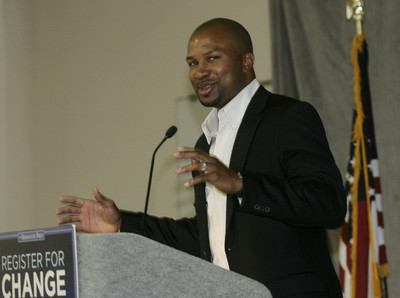 Even when appearing with a Hollywood actor and a Los Angeles Laker, Democratic National Committee chairman Howard Dean was the biggest celebrity to about 80 UNLV students and Democratic activists who gathered Wednesday to rally support for presidential candidate Barack Obama.
Dean, himself the standard-bearer for a youth-fired presidential campaign in 2004, told the young audience that they had the ability to determine the course of the election.
"You are more powerful than Rush Limbaugh, Bill O'Reilly, all those right-wingers," Dean said, to hectoring boos from a small group of Republican protesters gathered in the back of the university's Holbert Hendrix Auditorium.
Dean's hallmark as Democratic chairman has been his "50-state strategy," an effort to make Democrats a force in all areas of the country, even those where they are severely outnumbered.
The strategy has sometimes been controversial within the party, with critics saying resources are wasted in places where Democrats can't possibly prevail. But it dovetails nicely with Obama's strategy, which seeks to put nontraditional states like Virginia and Alaska in play.
Dean told the group the key to states like Nevada would be a combination of rural Americans' disenchantment with the Bush administration and an aggressive, innovative effort to get people to vote.
Under his leadership, Dean said, the Democrats experimented in 2006 with different methods of reaching out to voters, using Virginia as a laboratory. Six "control groups" were set up to try different campaign techniques and see which was most successful in getting people out to vote.
One group got fliers in the mail; another had "college kids knocking on doors for three weeks" before the election; another got automated phone calls. Turnout increased by 1 or 2 percent, he said, except for the group that had "neighbor-to-neighbor" campaigning. Its turnout increased 12 percent, a stunning amount.
That's the technique Democrats hope to use in this election, Dean said. It involves canvassers not merely making an impersonal stop to drop off a pamphlet, but connecting individually with 30 or 40 people and then returning to them three or four times.
"They're going to believe somebody they know and trust before they believe something they see on television," Dean said.
His speech was the kickoff for a voter registration drive, with volunteers fanning out into neighborhoods afterward. He's on a cross-country tour that began in President Bush's hometown of Crawford, Texas, as Democrats try to convince voters that Bush and the Republicans' presumptive nominee, John McCain, are one and the same.
Dean, a physician and former governor of Vermont, was accompanied by actor Kal Penn, of the "Harold and Kumar" movies, and basketball player Derek Fisher, who compared the election to Game 4 of the NBA finals.
With the Lakers up substantially over the Boston Celtics in the fourth quarter, Fisher was benched, and sat on the sidelines "watching the lead continue to evaporate and continue to evaporate," he said.
With two minutes left, he was put back in, but "at that point I wasn't able to do enough to help our team win that particular game," Fisher said. "I should have made my voice heard earlier. … That moment has now passed me by, and I can't get it back again. Right now is that moment for you. You can't sit on the bench for this election."
University of Nevada, Las Vegas student Medina Mahmoud, 19, came to Wednesday's event to hear Dean and said he motivated her to volunteer in the campaign for the first time.
"A lot of people want to believe Nevada is a conservative state, but I think it's very liberal-minded," she said, citing the "Sin City" attitude of tolerance for gays and minorities.
Mahmoud said Obama has a chance in Nevada as long as McCain does not pick former Massachusetts Gov. Mitt Romney as his running mate.
But Matthew Jarzen, 20, was one of a handful of College Republicans who lined the back wall of the auditorium to make the statement that not all students are Democrats.
As Dean talked about ending the Iraq war so that military spending could be redirected for domestic purposes, they hooted, "For welfare?"
"Many young people do want change, but not the kind of change Barack Obama says," Jarzen said. "They don't want to see more government. They don't want to see socialism creep farther and farther into the government."
Contact reporter Molly Ball at mball @reviewjournal.com or 702-387-2919.