October 24, 2008 - 9:00 pm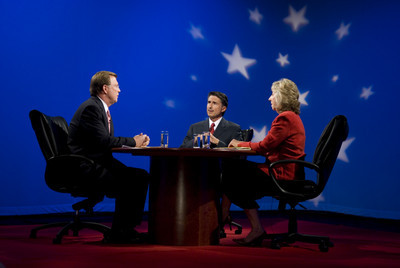 In their final debate, congressional candidates Jon Porter and Dina Titus traded barbs Thursday night, with Titus accusing Porter of not taking responsibility for his record in Congress and Porter portraying Titus as evasive on issues Nevadans care about.
Both Porter, the three-term Republican incumbent, and Titus, the Democratic state senator trying to unseat him, appeared exasperated with one another by the end of the lively and often heated exchange, moderated by Mitch Fox and broadcast live on Vegas PBS Thursday night. The debate was sponsored by Vegas PBS, also known as KLVX-TV Channel 10, and the Review-Journal.
The race for the 3rd Congressional District, which takes in mostly suburban areas of Clark County, is viewed as one of the most competitive in the country as the Nov. 4 election nears.
Titus scolded Porter for running what she said was a sleazy campaign, saying, "With no record to brag about, no plans to talk about, the congressman has run a nasty, negative campaign, impugning my character and trashing my record. He doesn't seem to care about the truth. He just wants to win at any cost. … I hope Nevadans are as disgusted as my mother is by his lies and distortions."
Porter emphasized leadership and said he has made tough decisions as a legislator, such as supporting the recent $700 billion Wall Street bailout, on which he accused Titus of trying to have it both ways.
He repeatedly pressed Titus to take a position on a vote of his she has criticized as a flip-flop. Porter says he voted against an expansion of the State Children's Health Insurance Program when it would have cut Medicare benefits to 110,000 Nevada senior citizens. He later voted for expanding the program when the Medicare provision wasn't included.
"You made it an issue. You brought it up. I ask you again," Porter said during the second of four times he pressed Titus on the issue. "You won't answer Nevada seniors. This is an important question."
Titus evaded the question every time, saying she was not in Congress and at the time was busy working at the state level to expand children's health care as well as programs for seniors.
"I have the endorsement of two major seniors' organizations, and you don't, Congressman," she said.
In a discussion of taxes, Titus accused Porter of supporting the Bush administration and tax cuts for the oil companies and the wealthy instead of the middle class.
Porter said government needs "to make sure businesses can stay in business" and that Titus, a University of Nevada, Las Vegas professor, doesn't know what the private sector goes through.
"I know what it's like to open the office, open the door and be the last one to leave, create jobs and meet a payroll," said Porter, who owned an insurance franchise while he served in the state Senate before being elected to Congress in 2002.
Titus shot back, "I appreciate the fact that you've been an insurance salesman, Jon, but these days, when you say government should run like a business, you're not saying much."
On foreign policy, Porter touted his four trips to Iraq and said America is winning the war and should not show its strategic hand to the enemy by setting time lines for withdrawal. Titus said time lines are needed to push the Iraqi government to take charge politically.
Another difference between the candidates was apparent on health care. Titus said she believes health care is a right and would push to make it universal, but not government-run.
Porter called the plan offered by Democratic presidential nominee Barack Obama, which also would not have the government run the health care system, "socialized medicine."
Titus sought to make an issue of Porter's campaign finances, pointing to a defense contractor that gave Porter $30,000 in donations and got his help in securing more than $5 million worth of earmarks.
Porter said he always does "what's best for Nevada." The earmarks, he said, led to military projects that created jobs and will "save lives."
Titus said Porter has also taken large sums from big oil companies, insurance companies, and the real estate and finance sectors, then "turned a blind eye" to their bad practices.
"You may be proud of it, but I think it epitomizes the cozy legislator-lobbyist relationship known as pay-to-play," she said.
Titus also assailed Porter on women's issues and asserted that he would try to take away abortion rights if Roe v. Wade were overturned.
Prior to the debate, the candidates' supporters gathered outside the KLVX-TV studio near the intersection of Eastern Avenue and Flamingo Road hours in advance, facing off on opposite sides of the parking lot to hurl taunts at each other.
On Porter's side, they chanted, "Two more years!" only to be answered by "No more years!" from the Titus camp.
Titus supporter Traci Lawrence, 41, said she's an auto lender and has seen firsthand the effect of the struggling economy on the people of Southern Nevada. "I just think we need a change," she said.
Porter booster Chuck McDonald, 67, said he moved to Henderson from Southern California five years ago because he couldn't take all the taxes.
"I'm supporting Jon Porter as I have the past two elections because I think he's kept our taxes down as much as humanly possible," said McDonald, a retired computer programmer.
Contact reporter Molly Ball at mball@ reviewjournal.com or 702-387-2919.
View the slideshow