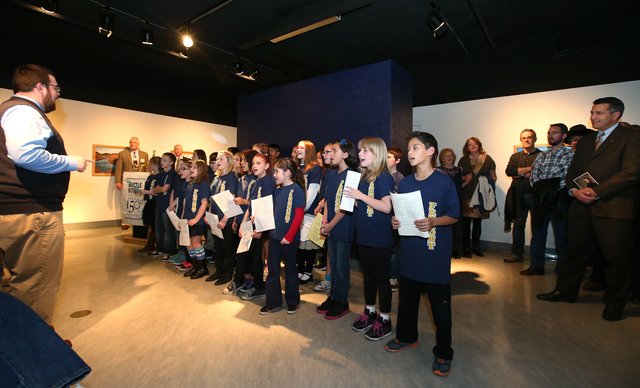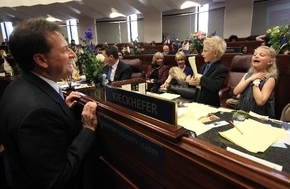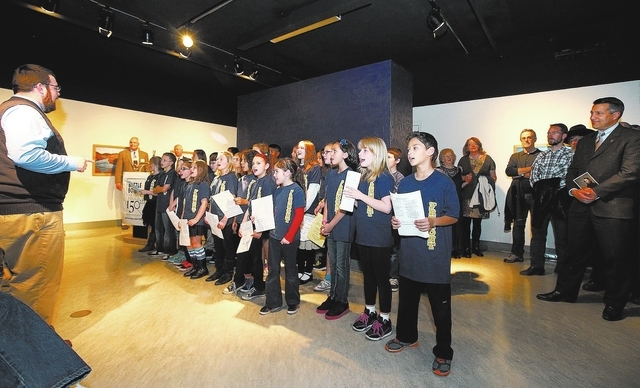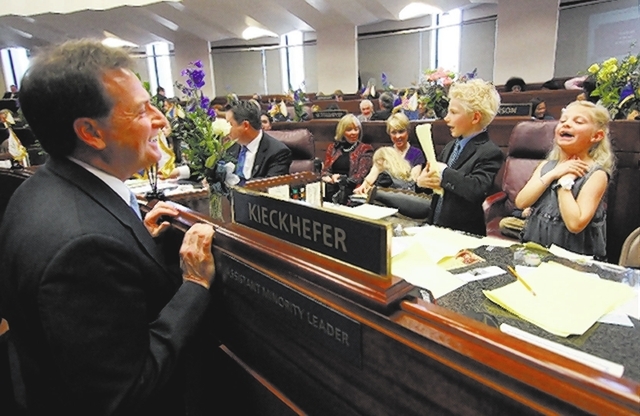 "Home means the sage and the pines.
Out by the Truckee, silvery rills,
Out where the sun always shines,
Here is the land which I love the best,
Fairer than all I can see.
Deep in the heart of the golden west
Home means Nevada to me"
—Bertha Raffetto, 1932
CARSON CITY
If you live in Reno and are over 80, you may think "Home Means Nevada" is a stirring song.
But many people in the rest of Nevada, especially in Southern Nevada — with three-fourths of the state's population — never have seen the Truckee River, which runs from Lake Tahoe down through Reno. And unless the dictionary is your favorite book, you won't know a rill from a thrill.
Yet this corny, impossible-to-sing song on Feb. 6, 1933, was selected by the state Legislature as Nevada's official state song.
Isn't it time that citizens induced their legislators to pick a new state song that represents all of Nevada, really rhymes and is something folks want to sing?
While chuckling about the idea, Neena Laxalt, the vice chair of the Sesquicentennial Commission, expressed a willingness to research what states are doing with their songs and suggested commissioners could take a look at a new state song for Nevada. Member Bob Brown added he thought it would be a good idea.
"I like 'Home Means Nevada,'" Laxalt said. "It reminds me of being a kid. The true test of being a Nevadan is knowing the words to the song. People are even having 'Home Means Nevada' played at funerals."
But she concedes that there are a lot of people who don't like the song and that it doesn't fit for Southern Nevadans.
"Maybe we should add another section about Las Vegas?" she quipped. "I would throw the idea about a new song out there."
A decision on a new, or second state song, would be made by the Legislature, which meets next in 2015, but the commission's backing of a new song might induce state lawmakers and the governor to buck tradition.
Gov. Brian Sandoval said he would not mind if a group like the Sesquicentennial Commission looked to complement it with a second song.
But Sandoval loves "Home Mean Nevada" and said he has heard it sung by schoolchildren in Las Vegas who love it, too.
"There is that one line (out by the Truckee's silvery rills), but people love the song," said Sandoval as he recited portions of it aloud.
Assembly Minority Leader Pat Hickey, R-Reno, also chuckled about changing the state song, contending the state has far more pressing needs. But if someone can come up with a better song, more reflective of the entire state, then the state Legislature should look at it, he said.
"Maybe we should have a contest," he added. "But there are far more geographic inequities in Nevada than the Northern Nevada references in the state song."
Assemblyman Randy Kirner, R-Reno, is more conservative, preferring to stick with tradition.
"I like the state song," he said. "It's like the national anthem. It's ours."
Senate Majority Leader Mo Denis, D-Las Vegas, also is a traditionalist when it comes to the state song.
"It is good to hold on to some older things," said Denis, who majored in music in college and performs in musical theater.
He added that the song is not that easy to sing, but children around the state still learn to sing it. He also has heard The Killers' version and thought they did a great job.
"If we changed to a more modern song, there would always be someone who would say we are wasting time when we have more pressing matters to consider," according to Denis.
"Home Means Nevada" was written in less than a day by Reno socialite Bertha Raffetto.
Raffetto was a writer, poet, singer and Republican activist who penned the words and piano music.
She later remembered she had been asked by the Nevada Native Daughters to sing a song about Nevada at their annual picnic. She decided to come up with something new.
Raffetto started writing a Nevada song early that summer and then stopped when guests arrived for a long visit.
So on the day before her performance, she had no song.
"From 10 a.m. that Saturday until 4 a.m. the next morning, I wrote without stopping. Then happy and satisfied, I laid aside the first verse of my song and retired."
That August afternoon she sang her song for the first time. When she finished, she said a "distinguished-looking elderly gentleman" approached to praise her.
He was 93-year-old Roswell K. Colcord, the governor of Nevada, 1891-94. Colcord declared immediately that "Home Means Nevada" should be the state song.
Raffetto would sing the song 187 times in three months and never received a penny for her efforts.
Every state but New Jersey and Virginia have official songs, and some have several. "Carry Me Back To Old Virginny" used to be Virginia's state song, but it has been given "emeritus" status.
With a few notable exceptions, official state songs are old, unfamiliar songs whose words only school kids know because their teachers force them to learn them.
But Colorado in 2007 approved John Denver's "Rocky Mountain High," a fitting song in a state where voters legalized marijuana.
Washington State has two official songs, including Woody Guthrie's "Roll on Columbia, Roll on." It also has an "unofficial state song," the 1960s pop hit "Louie, Louie," a song a lot of college students then thought contained obscene lyrics.

Celebrating the Silver State