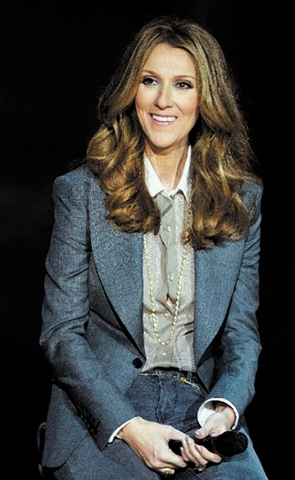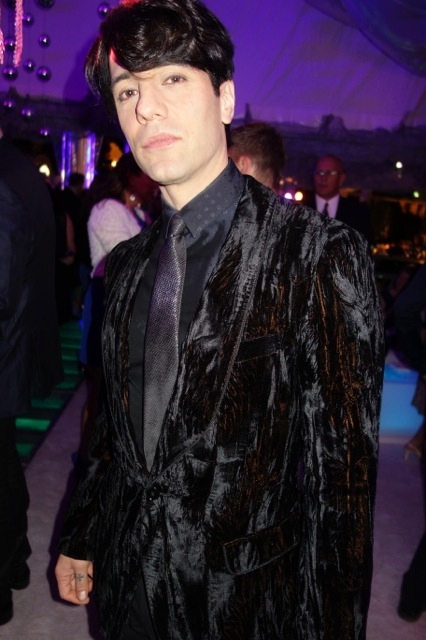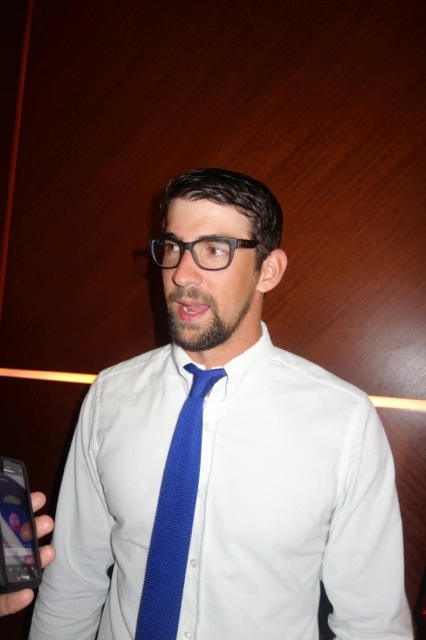 Celine Dion's lost shoes on opening night fit perfectly among the mosaic of memories in The Colosseum's first 10 years.
Her barefoot crisis was the first of many colorful adventures since Caesars Palace opened its game-changing 4,000-seat entertainment centerpiece on March 25, 2003.
Celebrities flocked to her show over the years, including Michael Jackson, who caused the show's most famous delay.
"He got lost going from The Mirage to Caesars," recalled John Meglen, who heads the giant entertainment group AEG/Concerts West that produced Dion's "A New Day" and her world tours.
"We had to delay and lot of people were getting upset," Meglen said .
That wasn't the only night that had showgoers scrambling to grab their cameras.
In mid-December 2007, a loud stir near the stage rippled through the audience. It was Tom Cruise and Katie Holmes, a year into a relationship that grabbed the world's attention.
One of the biggest roars erupted the night Dion had her dancers pay tribute to an Oscar-winning actor in the audience.
The outburst came when nearly a dozen dancers appeared onstage wearing the Hannibal Lecter half-face mask worn by Anthony Hopkins in "Silence of the Lambs."
"He laughed and laughed," said Rene Angelil, Dion's husband and manager.
Who can forget the cavernous, sloped stage? Or Cher's never-ending costume changes while the audience watched a cavalcade of Sonny & Cher videos.
Then there was Elton John's meltdown when he kept angrily emptying water bottles onstage. At one point his rant included the threat that someone was going to get fired that night.
Surely his band was tempted to break into "Can You Feel the Love Tonight?"
Sir Elton had one of the more unusual requests. The owner of 20-some dogs, he asked that a square of turf be placed outside a back door at The Colosseum so his dog du jour could take care of business.
Another little-known animal-related factoid involving The Colosseum: Two of Shania Twain's horses are shipped in daily for their nightly cameos.
One of the most special nights for Dion was Dec. 15, 2007, the final show in her "A New Day" engagement.
Her son, Rene-Charles, then 6, had a request: He wanted to attend his first show. "If you ask her, she would say that was the most nervous she's been for a show," Angelil said.
THE SCENE AND HEARD
Comedy legend Marty Allen celebrated his 91st birthday onstage, of course, on Saturday at the Throckmorton Theater in Marin County, Calif . He performed with his wife, Karon. Fellow comedy greats Robin Williams and Mort Sahl were expected to attend.
SIGHTINGS
Britney Spears, with manager Larry Rudolph and others at the Meatball Spot (Town Square) on Saturday amid reports a deal is being finalized with Planet Hollywood Resort. Asked whether an announcement was close, Rudolph said, "Get back to me in a week or two." Spears later attended Twain's show. Also there: Steve and Andrea Wynn. … Swimming star Michael Phelps and Luxor headliner Criss Angel were rocking new looks on the blue carpet for the One Drop benefit hosted by Cirque du Soleil at Bellagio on Friday. Phelps has sort of a scruffy goatee . Angel has cut his hair and gone with a classic all-black look. He did it for his upcoming TV show. Also on the carpet or at the One Drop performance: Spears, Twain, Olympic swimming sensation Missy Franklin, Coco Austin, Jackie Evancho, Holly Madison, Pamela Anderson, Jesus Villa, The Tenors and Kyle Richards.
THE PUNCH LINE
"Are you all excited about March Madness? People are talking about who's in, who's out, and who's going to be eliminated. And that's just here at NBC." — Jay Leno.
Norm Clarke's column appears Sunday, Wednesday and Friday. He can be reached at 702-383-0244 or email him at norm@reviewjournal.com. Find more online at www.normclarke.com. Follow Norm on Twitter @Norm_Clarke. "Norm Clarke's Vegas," airs Thursdays on the "Morning Blend" on KTNV-TV, Channel 13.