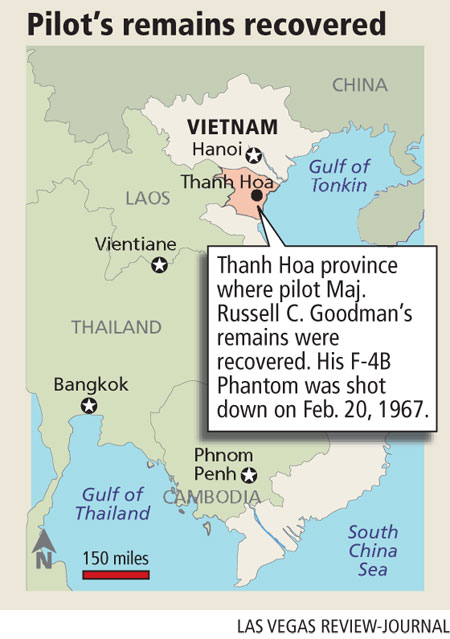 Maj. Russell C. Goodman flew jets for the Thunderbirds over Nellis Air Force Base and bombers for the Navy over Vietnam.
On Thursday, his flag-draped remains will be brought back to the base where he performed. He'll be remembered by his family and the sailor who was with him when their jet went down under enemy fire south of Hanoi 43 years ago.
Navy Lt. Gary L. Thornton, who ejected but was captured and held as a prisoner of war for six years, is expected to speak during the remembrance inside the Thunderbirds hangar, said Capt. Jason McCree, spokesman for the Air Force demonstration team. The service is closed to the public.
At the time of the crash, Goodman, of Salt Lake City, was participating in a pilot exchange program with the Navy. He took off from the USS Enterprise on Feb. 20, 1967, with Thornton on board an F-4B Phantom jet. They were on a mission to bomb a railroad yard in a coastal province south of the capital of what was then North Vietnam, Pentagon officials said in a news release Tuesday.
"They were struck by enemy anti-aircraft fire and their plane exploded. Thornton was able to eject at just 250 feet altitude, but Goodman did not escape," the release said.
After four decades without closure, Goodman's son and two daughters escorted their father's remains on a flight Tuesday night from Hawaii. Scientists there at the Armed Forces DNA Identification Laboratory recently confirmed that DNA from a bone fragment found in a Vietnamese village grave matched DNA from his mother's relatives.
The Pentagon said investigators from the Joint POW-MIA Accounting Command excavated the crash site twice between 1993 and 2008 and recovered human remains and pilot equipment. Aircraft debris found in the area fit with the plane the pilots were flying.
The family plans to scatter Goodman's ashes in Alaska along with those of his wife, June. She died in November, a week before the family learned that his remains had been positively identified, according to a newscast from Anchorage that quoted his daughter Sue Stein.
"All these years we've wondered: Did he just crash and die and nobody cared? But apparently somebody did care, so that's a good thing," Stein told the Anchorage station KTUU.
While with the Thunderbirds in the mid-1960s, Goodman flew F-100 Super Sabres and was the team's narrator.
He is the second missing-in-action military member with ties to Nevada whose remains from the Vietnam War have been found and positively identified in the past three years.
In January 2007, the remains of a Las Vegas soldier, William "Skip" Skivington Jr., a Western High School graduate, were buried in Arlington National Cemetery in Virginia.
The 19-year-old Skivington, a radio man for the 196th Light Infantry Brigade, had been missing in action and presumed killed after his observation post at Kham Duc was overrun by Viet Cong and North Vietnamese soldiers on May 12, 1968.
Contact reporter Keith Rogers at krogers@reviewjournal.com or 702-383-0308.