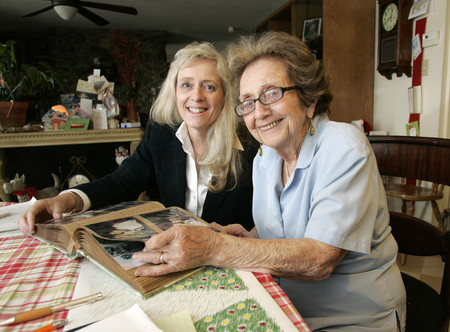 Two Nevadans traveled to South Africa as part of a court reporters delegation convened by the People to People Citizen Ambassador Programs.
The two women represented opposite ends of the professional spectrum.
At 84, Stella Butterfield is the only remaining court reporter in the state who uses a pen and note pad. The Las Vegas resident has described her use of shorthand to record proceedings as "archaic."
On the other hand, 52-year-old Lori Judd said she "loves every latest, coolest gadget there is." The Henderson resident is proficient in "realtime reporting," which allows her to produce simultaneous transcripts of proceedings.
Nevertheless, Judd said Butterfield has one advantage over younger court reporters.
"Stella walks in, throws a pad down, and she's ready to go," Judd said during a recent interview at Butterfield's home. "We have to set all of our stuff up."
Delegation leader Merilyn Sanchez of Phoenix, past president of the National Court Reporters Association, said People to People management invited 800 people to take the trip in November. In the end, 20 people joined the delegation.
"I think we all took away the fact that South Africa is so far behind the United States technologically, but there's so much promise through education and training to provide opportunities for the people of South Africa," Sanchez said.
She said candidates were selected based on several criteria, including their geographic location, their specialty in the field, and their level of experience.
Butterfield said she raised the $6,000 to pay for the trip from the Soroptomist International of Greater Las Vegas, the legal community and personal friends.
Judd said one purpose of the trip was to assist a South African businessman who is looking for investors to start a realtime reporting school in his country. Members of the delegation helped explain and demonstrate the technology to prospective investors.
"We could see the enthusiasm," Judd said. "The potential investors were enthusiastic and excited once we were able to demonstrate and show them the realtime. They could see in their minds how they could apply realtime reporting in their court system."
Sanchez said the main mission of People to People delegations, however, is to foster communication and understanding between nations. People to People International was founded in 1956 by President Dwight Eisenhower.
"I think we all came back with a greater understanding of South Africa and an appreciation for the struggles of the country with all of the changes and probably a greater appreciation for the United States, as well," Sanchez said.
She also led the two prior delegations of court reporters — one in 2007 to China, which Judd also joined, and one to Russia in 2008.
Sanchez said the delegation that traveled to South Africa was the smallest of the three. She called Butterfield "the sweetheart of the trip."
"She's been reporting as long as I am old," Sanchez said. "You have to have a huge respect for someone who's contributed so many years to the profession."
Judd said Butterfield, who began her court reporting career in 1951 in the Panama Canal Zone, provided "perspective and experience."
"I don't know realtime," Butterfield added. "I don't know the machine, but I do know court reporting."
Sanchez said Butterfield amazed other delegates with her energy as the group toured Cape Town and Johannesburg.
"Stella never missed a beat," Sanchez said. "We were worried about wearing her out."
The delegates had the chance to watch court proceedings during the trip, and Butterfield described the experience as "interesting and disappointing."
Trials in South Africa are conducted in English and have no juries. The country has no formal court reporting system. Audio recordings are made of court proceedings, and the tapes are sent to a private company for transcription.
"The audio recordings are of questionable quality," Judd said. And Butterfield said the legal system in South Africa provides no way to resolve a dispute over the accuracy of transcripts.
Judd said she heard lawyers in South African courtrooms refer to judges as "my lord," "your lord" and "your lordship," but she learned that those phrases are not allowed in transcripts.
By contrast, the American legal system places "a very high value on strict verbatim," Judd said.
She also said South Africans need inexpensive and widespread access to the Internet.
"They don't even know what Google is …" she said. "Google has been the best gift for our profession."
The trip caused Judd to conclude that Americans are more adventuresome than South Africans. For example, South Africans hesitate to take the risk of starting a business without the backing of investors, she said.
Butterfield said South Africans have an attitude that says: Only obstacles exist.
"You don't see a spark," she said. "You don't see the lustre in people walking down the streets."
Contact reporter Carri Geer Thevenot at cgeer@reviewjournal.com or 702-384-8710.