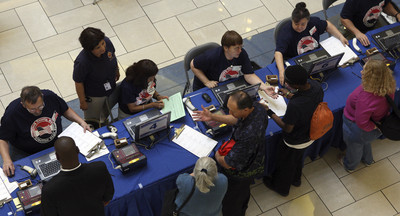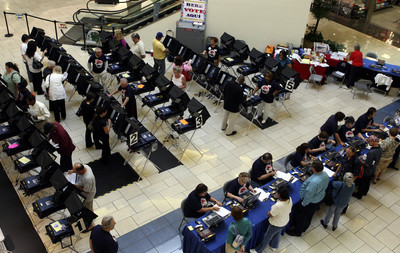 After four days of voting, Democrats continue to show up at the polls in much greater numbers than Republicans in both Northern and Southern Nevada.
At the close of polling Tuesday, nearly 65,000 Democrats had cast ballots in Clark and Washoe counties, compared with just over 30,000 Republicans.
Registered Democrats accounted for 57 percent of the ballots cast in the first four days versus 27 percent Republicans and the rest nonpartisan or members of minor parties.
Statistics breaking down the two parties weren't available for the 15 rural counties.
About 85 percent of the state's voters live in the urban counties of Clark and Washoe, both of which contain more registered Democrats than Republicans.
Of course, voters don't have to cast ballots for the party with which they're registered, but the numbers appear to give Democrats an advantage in this battleground state.
Statewide, including the rural counties, more than 136,000 people voted Saturday through Tuesday, a turnout of 11.3 percent of active voters, according to the secretary of state's office. Early voting continues through Oct. 31. Election Day is Nov. 4.
In Clark County, more than 90,000 people voted during the first four days of early voting. Four years ago, the figure was 57,000. The county, home to 800,000 registered voters, could be on pace to see more than 400,000 early votes, according to prior years' voting patterns.
By late afternoon Wednesday, 108,000 people had voted in Clark County, surpassing the county's total turnout in August's primary election. That election, which featured no high-profile races, drew a record-low turnout of 103,000.
Clark County Registrar of Voters Larry Lomax said limited space at some of the 22 early voting sites, such as grocery stores and portable trailers, has led to occasional long waits, but there have been few complaints. Lomax said he expects at least 320,000 early votes countywide, topping 2004's total of 270,000.
Washoe County Registrar Dan Burk said he expects early votes to reach 60,000.
Clark County is the state's Democratic stronghold, but the Democratic turnout so far is disproportionate. Democrats account for 58 percent of the votes so far, Republicans 26 percent; Democrats account for 47 percent of all registered voters in the county versus 32 percent Republicans.
One of those who cast an early ballot in Las Vegas on Wednesday was Senate Majority Leader Harry Reid, D-Nev., who first spoke to a room of about 100 College of Southern Nevada students supporting Democrat Barack Obama.
Reid noted the Democrats' surge in voter registration in Nevada, a state that four years ago had 5,000 more Republicans than Democrats on the rolls but now has 110,000 more Democrats than Republicans.
"Nevada is going to prove to everybody that we're not a red state," Reid said. "We're a state that has changed."
Recalling fighting in the 1970s to lower the voting age to 18, Reid said, "Frankly, it's been very disappointing, because people 18 to 21 simply haven't voted. But not this time. Young people are going to be the difference in this election."
Alluding to the fact that Obama would be the first black president, Reid said today's young voters are more colorblind than previous generations.
"If you're from 18 to 35, you have no prejudice. You don't care about color of skin, religion or gender. It's people who are a bit older who have some old beliefs they can't shake off."
Reid, with Rep. Shelley Berkley, led the students to the library on the College of Southern Nevada campus, at Charleston Boulevard and Torrey Pines Drive, a busy early voting site. Voting machines were set up onstage in the library auditorium, the curtains parted around them as if for actors taking a bow.
Also voting at the site was Lindsay Michael, an English as a Second Language instructor at the college. She said she was voting for Obama ,too.
"I vote for whoever I think is going to do a better job," said Michael, a 32-year-old Las Vegan. "This time, I think it's very apparent. And I feel like the other party is being obnoxious, flat out."
Observers say Democrats are far more organized this year than any election in memory. But the Obama campaign says it doesn't want to get overconfident based on the early turnout surge, which could be a reflection of pent-up excitement on the part of a small core of partisans.
"It's been a really long election season, and a lot of our most ardent supporters wanted to vote right away," Obama spokeswoman Kirsten Searer said. "We need to keep up the pace, keep pushing hard."
Meanwhile, the campaign of Republican John McCain professed to be undaunted by the statistics, saying Republicans are confident they'll catch up by the time votes are tallied.
"Four years ago at this time, Democrats were darned near dancing in the streets," McCain spokesman Rick Gorka said. "There was high turnout; they said people were excited and voting for change. Yet we all know what happened. When it comes down to it, Republicans turn out better when it counts."
The partisan breakdown will level out as early voting continues, he predicted, and Election Day turnout will be "dominated" by the GOP. Republicans have a slight edge in absentee ballots in Clark County, 8,900 to 8,200.
"Democrats are doing what they always do," Gorka said. "They say that they've won, and then they lose."
In 2004 in Clark County, Democrats were 46 percent of the total early votes and Republicans 39 percent. Democratic nominee John Kerry won the county, 52 percent to 47 percent, but President Bush carried the state by a margin of 20,000 votes.
Contact reporter Molly Ball at mball@reviewjournal.com or 702-387-2919.
Video