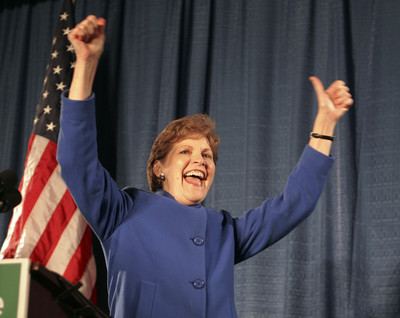 WASHINGTON — Democrats expanded their control of the Senate on Tuesday, adding at least five seats and strengthening the hand of Sen. Harry Reid, the majority leader from Nevada.
When Republicans rescued seats in Kentucky, Maine and Mississippi, it appeared unlikely that Democrats would be able to muster the 60 votes necessary to stave off filibusters on contentious issues.
Still, the Democrats' margin was projected to be the largest the party has enjoyed since 1979, when they controlled 58 seats. Four seats currently held by Republicans were still undecided late Tuesday night.
Democrat Jeff Merkley was neck and neck in Oregon with incumbent Gordon Smith with less than half of the vote counted, and Republican Norm Coleman was virtually tied with challenger Al Franken in Minnesota with about 90 percent of the vote tallied there. Convicted Sen. Ted Stevens held a 5 percent lead in Alaska, but returns were incomplete.
Also, Georgia's closely watched Senate race was too close to call, with incumbent Republican Saxby Chambliss leading Democratic challenger Jim Martin. With a third-party candidate also on the ballot, Chambliss needs a majority to avoid a runoff.
Reid professed not to be bothered about what the final tally would be. "Whether we're at 56 or 59, the key is this is going to be a better year. The Republicans have learned that 94 filibusters isn't the trick to get things done."
Reid said he was reassured by the conciliatory tone of John McCain's concession speech and hoped the defeated GOP presidential nominee would bring that spirit back to Washington.
"I heard John McCain say he wants to work with us," Reid told the Review-Journal early this morning. "I think he'll return to being the old John McCain, a person that's not stuck with a party but willing to work with others."
For Republicans, the projected losses were severe but not surprising, said Sen. John Ensign, R-Nev., his party's chief Senate strategist.
"We expected this kind of a night," Ensign said midway through the evening. "The political winds have been blowing directly in our face."
The political atmosphere for Republicans this year "was tougher than even Watergate," he said, citing the financial crisis as the overriding issue that hurt the party. "The economy was the body blow that hit us."
Democrats will have "big numbers in the Senate," Ensign said. "They are going to be able to get a lot of their agenda done."
Things were not much better for Republicans in the House, where Democrats had picked up at least 17 seats by late Tuesday. That includes one seat in Nevada, where state Sen. Dina Titus defeated Republican incumbent Jon Porter.
Election Day indirectly pitted Nevada's senators against each other: Reid as the Democratic leader seeking a working majority and Ensign trying to salvage influence for Republicans.
The Rolling Rocks and red and white wine were flowing at the Hyatt Regency on Capitol Hill, where Democrats cheered as they watched election returns come in from congressional races around the country. Loud rock music provided a soundtrack.
Just blocks away, the scene was more subdued as a small group of Republicans gathered at the party's Senate headquarters. Several televisions were tuned to Fox News.
The party broke up shortly after Ensign gave his analysis of how the night was going.
The bloodying of the GOP began on the Eastern seaboard as incumbent Republican Sens. Elizabeth Dole and John Sununu fell in North Carolina and New Hampshire, respectively. And polls had barely closed in Virginia when Democrat Mark Warner was named the overwhelming winner of a seat previously held by a retiring Republican senator of the same last name — but no relation — John Warner.
Moving west didn't help. Democrat Tom Udall captured the seat vacated by Republican Pete Domenici, another retiree and New Mexico's longest-serving senator. Television networks called that race before any votes had been counted. One state north, Udall's cousin Mark Udall added a Democratic seat in Colorado that previously had been held by the GOP.
One bright spot for Republicans in an otherwise miserable day found the party's Senate leader, Mitch McConnell, a target of national Democrats, beating back a contentious challenge in Kentucky.
In the current Senate, Democrats claim 49 seats. Two independents who caucus with the Democrats give the part a fragile majority. One is Sen. Joseph Lieberman of Connecticut, who might be jettisoned from the caucus for his support of Republican John McCain's bid for president.
An expanded majority could give Reid and the Democrats more ability to accomplish legislative goals such as ending the war in Iraq, combating global warming and expanding health care opportunities.
Over the past two years, Reid has blamed partisan gridlock on the ability of President Bush and Senate Republicans to frustrate legislation through filibuster.
In the new session, Barack Obama will inhabit the White House, while Republican influence figures to be greatly reduced.
Now "it will be a lot easier for Reid," said Mark Peplowski, a Democrat and political science instructor at the College of Southern Nevada. "Some of the more needy Republicans are going to have to bend, or they will not be able to produce anything for their constituents."
At the same time, Peplowski said, Reid "is going to have to deliver" for Obama.
For Ensign, Election Day marked the end of a two-year climb that was uphill all the way. As chairman of the National Republican Senatorial Committee, he struggled to recruit GOP candidates, failed to persuade senior senators to postpone retirements and found his fundraising efforts outdone by Democrats.
Eric Herzik, a political science professor at the University of Nevada, Reno, expects Republican finger pointing. But he said Ensign might escape blame for the most part even as he was unable to prevent Senate losses.
"I think people are going to look at it like, we were going to get steamrolled, and Ensign was the one who had to stand in front of the steamroller."
"This is just a bad year to be a Republican," Herzik said. "It's not the best night for (Ensign), but for the totality of the loss, if you lose six to eight Senate seats and three times that many in the House, it is going to be hard to single out who is responsible."
Reid said the American people sent a message Tuesday, but not just for any political party or ideology.
"It's a mandate for change, for hope, to set aside the divisiveness and get things done.
The Associated Press contributed to this report.
ON THE WEB Las Vegas Democrats Celebrate Las Vegas GOP Election Night Las Vegas Democrats Celebrate at the Rio Nevada GOP election night party