Democrats choose Marshall for 2nd Congressional District race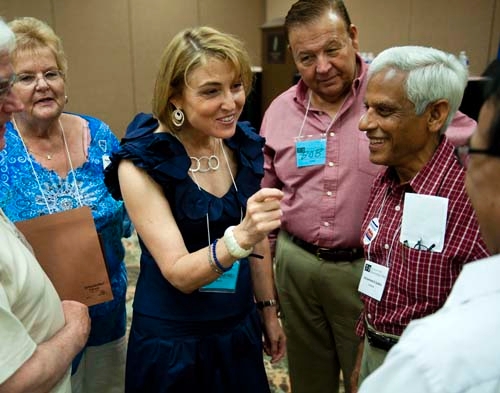 CARSON CITY — State Treasurer Kate Marshall was selected Saturday by the state Democratic Party central committee as its nominee to fill the vacant 2nd Congressional District seat.
Marshall received 117 votes to outdistance retired Washoe County principal Jacques Maye, who received five votes, and Reno science teacher Rex Ricks, no votes. Former Regent Nancy Price, expected to be Marshall's chief competition, dropped out of the race Friday.
In a spirited speech to delegates, Marshall, a lawyer who won her second term as treasurer last November, repeatedly said: "I want to be your gal in Washington."
She also said her No. 1 goal would be creating jobs for Nevadans and that as a member of Congress she would fight to protect Medicare and Social Security.
Republicans last week selected former state Sen. Mark Amodei as their nominee.
The two nominees and as many as 26 other candidates may face off in a Sept. 13 special election to fill the position that became vacant in May when Gov. Brian Sandoval appointed Rep. Dean Heller to replace Republican U.S. Sen. John Ensign, who resigned amid an ethics investigation.
Before the special election occurs, the state Supreme Court must decide if the election will be a free-for-all open to all comers, or one limited to the central committee choices, independents and minor party candidates.
When Heller resigned, Secretary of State Ross Miller said his reading of the statutes was the race would be a "ballot royale," but Republicans sued and District Judge James Todd Russell limited the race to central committee choices.
Miller appealed and the state Supreme Court will hold a Tuesday oral argument hearing on the issue.
The court is not expected to make a decision for some time.
If no decision is reached by July 6, then the election would be moved back until later in the year. Voting registrars need time to print ballots and 45 days before the election date to send ballots to overseas voters and members of the armed forces.
A Democrat has never won the seat in the sprawling district since it was created in 1982. Republicans now hold a 30,000 registered voter edge over Democrats.
That has lead to speculation that Marshall's only chance of winning is if the election is open to all people, not just the party choices.
Under that scenario, Amodei could lose if Republican voters were split between him and former Navy commander Kirk Lippold of Carson City. They are the best known Republicans.
At present, 15 Republicans, nine Democrats, three independents and one Independent American Party candidate have filed their candidacies in the race.
Price said Saturday she quit to give Marshall a better chance if the Supreme Court decides all candidates can run.
Price said she read how state Sen. Greg Brower dropped out last week after he ran second to Amodei in the Republican central committee vote.
Despite her gesture to party unity, Price, who lost to Heller last November, does not think Marshall can win.
"I don't think she can win because of the Senator Harry Reid connection and because she was endorsed by Emily's List."
Price said conservative voters in the district don't like the majority leader or Emily's List, a progressive organization dedicated to electing Democrats who support abortion rights.
In responding to questions Saturday, Marshall refused to be pinned down as a liberal or a conservative.
Marshall said she appreciates Reid's support, but "he is one person, and I need every person's vote. I am first and foremost a Nevadan."
When asked why conservatives from a rural area such as White Pine County should support her, Marshall said she found $16,000 that helped schools there hire an additional custodian.
"They know me in White Pine County; they know me in Baker, all 88 of them. I am counting on Nevadans voting for a Nevadan to go back to Washington and bring some common sense."
The 2nd Congressional District covers almost the entire state except for heavily urban central areas of Clark County.
Still, 33,000 Clark County voters, mainly in Mesquite and near Nellis Air Force Base, reside in the district. They make up the second largest voting bloc to Washoe County.
Contact Capital Bureau Chief Ed Vogel at evogel@reviewjournal.com or 775-687-3900.