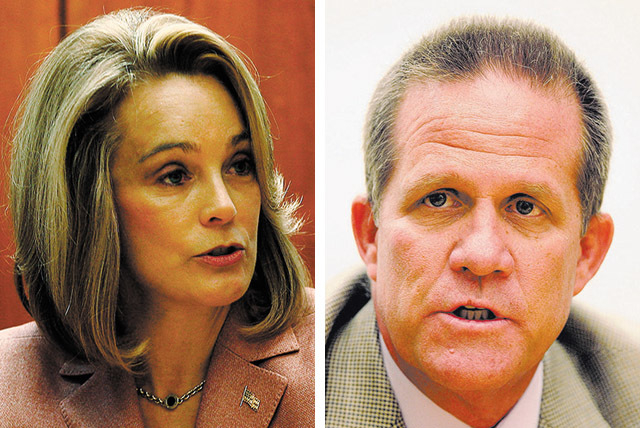 This one's worth a cackle. It appears the testy Republican primary pitting Sue Lowden against Mark Hutchison in the race for lieutenant governor is about to become poultry in motion.
The Nevada State Democratic Party, which relentlessly harassed Lowden during her unsuccessful 2010 race for U.S. Senate by having her stalked by a person in a chicken suit, on Thursday offered her the costume in order to give Hutchison the same treatment.
Lowden accuses Hutchison of ducking possible debates, but apparently the mallard costume is at the cleaners.
No problem, Democratic Party Communications Director Zach Hudson says in a media blast. The party is glad to loan the feathered outfit to Lowden with the simple instructions, "Sue, the chicken suit is 'hand-wash' only. Handle with care."
Lowden was pecked to distraction by Democrats after she alluded to the possibility of using alternate means to pay for health care. Now she regularly attacks Hutchison for "chickening out" of debates. Hutchison's camp, of course, crows that its candidate rules the roost.
Accepting a handout from the Democrats would take a lot of pluck, but it sounds like a potential political coop.
GOOD NEWS: A recent TV spot for sheriff's candidate Joe Lombardo was pretty positive, but it's nothing compared with the sound bite buffet he generated this week in a KLAS-TV, Channel 8, exclusive about the potential for a deadly confrontation during the recently botched roundup of Bunkerville rancher Cliven Bundy's cattle. If it isn't already being edited into a political ad, it probably will be soon.
BLOOD ACES: It isn't scheduled to be available until August, but Doug J. Swanson's "Blood Aces" is certain to shake up the establishment here. It's a hard-hitting take on the life and many connections of the late casino man Benny Binion.
PATRIOT GAMES: After appearing to rush to the defense of Cliven Bundy during the Bunkerville rancher's recent land dispute with the Bureau of Land Management, U.S. Sen. Dean Heller's opinion has chilled considerably following the publication of the cattleman's jaw-dropping race-related remarks.
Heller tells Politico, "I am very quick in calling American citizens 'patriots.' Maybe in this case, too quick."
NUMBERS GAME: Give Gov. Brian Sandoval credit for a sense of humor. His latest campaign letter highlights the nearly 64,000 voter registration edge the Democrats have over his Republicans in Nevada. With no real opponent for re-election, he has become the GOP's unofficial registrar.
BALD, BEAUTIFUL: Tough economy or not, volunteers raised more than $440,000 at the annual head-shaving marathon at McMullan's Irish Pub on behalf of the St. Baldrick's Foundation childhood cancer benefit. Another $200,000 was raised at other venues around Las Vegas, St. Baldrick's veteran Adrienne Gutzwa reports.
ON THE BOULEVARD: Victor Drai's rooftop nightclub sure adds sex appeal to the corny sounding Cromwell. … Good to see former UNLV star Shawn Marion still making considerable contributions with the Dallas Mavericks against the San Antonio Spurs in the NBA playoffs. … Legendary sports bettor Lem Banker likes Danza in Saturday's Kentucky Derby, and not just because he once met the thoroughbred's namesake, Tony Danza. Let's just hope Danza remembers, ahem, who's the boss on race day.
BOULEVARD II: Linda and Bob Faiss, two of the community's generous souls, are set to be honored for their many contributions to Southern Nevada on May 16 at the Boulder City Hospital's annual Heart of the Community Gala. … Meanwhile, the annual Good Scout Luncheon on May 8 at the Plaza hotel-casino downtown will pay tribute to Mayor Carolyn Goodman and husband Oscar Goodman. No word yet on whether the Scouts are considering creating a merit badge for making the perfect martini.
Have an item for Bard of the Boulevard? Email comments and contributions to jsmith@reviewjournal.com or call 702-383-0295.