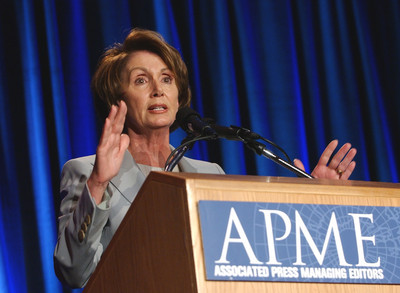 WASHINGTON — Prospects for expanding popular health insurance coverage for children grew cloudy last week when the House failed to override President Bush's veto of a bill he said was too ambitious.
Democrats went back to the drawing board after they fell 13 votes short of the two-thirds majority that was needed to push aside the president.
The override vote was 273-156. All but two Democrats voted for the override, joined by 44 Republicans.
The bill would have expanded the State Children's Health Insurance Program by $35 billion, to a level of $60 billion spread over five years.
The cost would be offset by increasing tobacco taxes by 61 cents.
SCHIP aims to cover children from families that are not poor enough to qualify for Medicaid but who still cannot afford private health insurance.
Democrats said their bill would have boosted enrollment from 6.6 million to 10 million children, and sharply lowered the number of uninsured.
Bush had proposed expanding SCHIP by $5 billion over five years. He vetoed the bill saying it was too costly, and that it would be a step toward federalizing health care.
Bush argued it would cause families to drop private insurance in favor of subsidized coverage.
With public opinion polls in their favor, Democrats accused Bush and his allies of turning their back on sick children.
House Speaker Nancy Pelosi, D-Calif., said Democrats would write a new bill, but signaled it would be just as ambitious.
Reps. Jon Porter, R-Nev., and Shelley Berkley, D-Nev., voted to override the veto. Rep. Dean Heller, R-Nev., voted to sustain the veto.
HOUSE VOTES 398-21 IN FAVOR OF REPORTERS' "SHIELD LAW"
The House voted 398-21 for a bill that would protect journalists in most cases from being forced in court to disclose their confidential sources.
The federal "shield law" tracks statutes in 33 states and the District of Columbia.
Under the bill, sources' identities could be shielded except in cases to identify terrorists, threats to national security, and to prevent "imminent death or significant body harm."
Supporters said it would protect reporters and sources whose collaborations have uncovered stories in the public interest, such as Watergate and the mistreatment of injured veterans at Walter Reed Army Medical Center.
Bush has threatened to veto the bill, arguing it still would "severely frustrate" the government's ability to investigate terrorism.
Other critics said the practice of legally forcing reporters to reveal sources has not been a large enough problem to merit the legislation.
The bill awaits a Senate vote, where its fate is unclear.
Berkley, Porter and Heller voted for the shield law.
SENATORS DELETE EARMARK FOR WOODSTOCK MUSEUM
In a debate that caused flashbacks for baby boomers everywhere, the Senate pondered whether to earmark $1 million for a museum at the site of the 1969 Woodstock festival.
Sen. Charles Schumer, D-N.Y., said the project initiated by local officials at the performing arts center in Bethel, N.Y., will boost the economy in a part of the state "that needs help."
But Sen. Jon Kyl, R-Ariz., said the museum already is being underwritten by a wealthy foundation "and does not need the federal government."
The museum, scheduled to open next year, would contain exhibits on the landmark concert and its significance "in a time of unrest and change."
"The trip down memory lane may be fine for folks. I suggest if they want to participate in that, they can pay the admission price," Kyl said.
The Senate voted 52-42 to delete the $1 million, and redirect the money into grants for pregnant women and children.
Sen. Harry Reid, D-Nev., voted for the Woodstock museum earmark. Sen. John Ensign, R-Nev., voted against it.