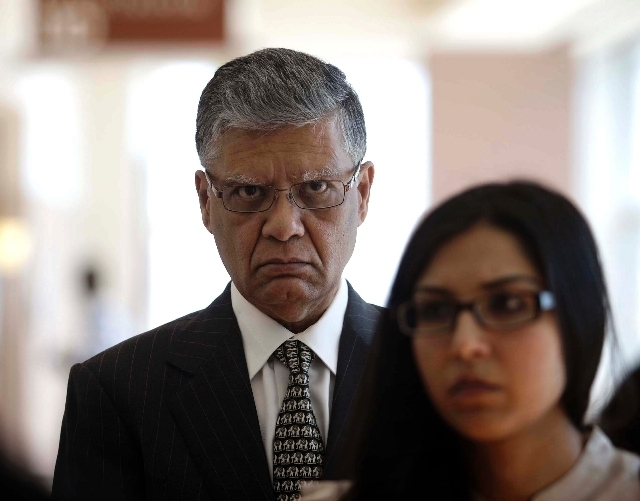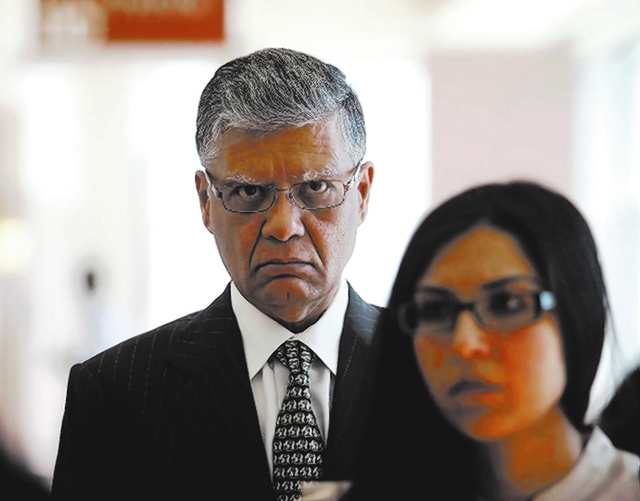 Dr. Dipak Desai faces heavy prison time at his sentencing Thursday in the criminal case stemming from the hepatitis C outbreak.
State probation officers in a secret report have recommended significant time behind bars on top of a potential murder sentence of life with eligibility for parole after 10 years.
The exact amount of additional prison time is not known. But Desai's lead lawyer, Richard Wright, filed court papers this week calling the recommendation "overly harsh" and asking District Judge Valerie Adair for leniency.
"There is no goal in punishment that is fairly or reasonably served by imposing an unduly harsh sentence for an unintentional act," Wright wrote. "Such a sentence does nothing but feed into the hysteria that has surrounded this case since its inception."
Probation officers have recommended 36 to 90 months behind bars for nurse anesthetist Ronald Lakeman, who was convicted with Desai on July 1 following a two-month trial before Adair.
A jury found Desai, 63, guilty of all 27 criminal counts related to the 2007 outbreak, including second-degree murder in the death of infected patient, Rodolfo Meana, 77.
Lakeman, 66, was acquitted on the murder charge and other charges tied to Meana's April 2012 death, but found guilty of 16 other counts.
Both defendants are in custody at the Clark County Detention Center.
Desai and Lakeman were indicted along with another nurse anesthetist, Keith Mathahs, in June 2010. Mathahs, 77, pleaded guilty and testified for the prosecution. He faces 28 to 72 months in prison at his sentencing Oct. 31.
The charges, which also included criminal neglect of patients and insurance fraud, focused on the cases of Meana and six other patients infected with hepatitis C at Desai's Endoscopy Center of Southern Nevada on Shadow Lane in 2007.
A second infected patient, Michael Washington, 73, died in August, and District Attorney Steve Wolfson said Wednesday his office hasn't decided whether to pursue additional murder charges against Desai and Lakeman.
During the lengthy trial, prosecutors contended that unsafe injection practices involving the anesthetic propofol led to the outbreak. The combination of double-dipping syringes into propofol bottles used on multiple patients spread the virus from source patients infected with hepatitis C on two different dates in 2007, prosecutors contended.
Desai, who gave up his medical license, has suffered several strokes since the health district disclosed the outbreak in 2008.
He was declared competent to stand trial despite repeated concerns Wright raised about Desai's inability to assist the lawyers on his defense team.
In his sentencing memorandum, Wright told Adair that Desai is not the usual defendant.
"The court should take into account that a prison term for Dr. Desai will be substantially more punitive in nature than someone similarly situated. He will likely be placed in protective segregation due to the high-profile nature of this case and his vulnerability due to age and medical condition."
Desai has been in protective custody at the detention center, locked down 23 hours a day, Wright said.
In asking for leniency, Wright said Adair should consider the good work overshadowed by the hepatitis outbreak that the Indian-born Desai has done over the years.
Desai has helped thousands of patients with gastroenterological problems, including "identifying innumerable cancers," Wright wrote. He also had done charitable work for the local medical profession and the Hindu community.
"Like the many doctors and nurses who testified at trial, Dr. Desai was also shocked and devastated to learn that the hepatitis outbreak was connected to (the endoscopy center)," Wright said. "He is deeply remorseful for the suffering of the patients who contracted hepatitis from the clinic and the damage to the reputation of the medical community in general.
"In no way did Dr. Desai intend or anticipate that such harm would occur."
Contact reporter Jeff German at jgerman@reviewjournal.com or 702-380-8135. Followhim on Twitter @JGermanRJ.