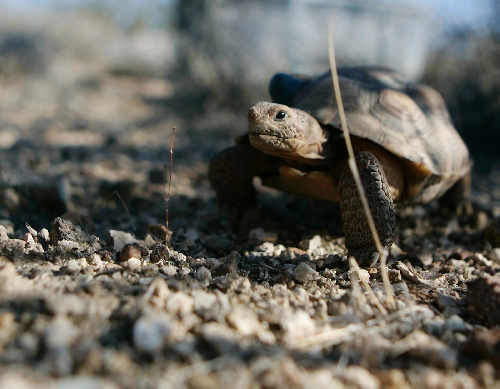 The test site tortoises are on the move.
Two weeks after being set free at the Nevada National Security Site, a group of desert tortoises equipped with radio trans­mitters are spreading out into their new habitat 60 miles northwest of Las Vegas.
And some are moving considerably faster than others.
Of the 60 tortoises released at the federal reservation on Sept. 21, nine wandered more than a kilometer – or three-fifths of a mile – during their first 10 days of freedom. Three of them had covered almost a mile and a quarter by Oct. 1.
"That's big for a little tortoise," said Jen Germano, a postdoctoral researcher from the San Diego Zoo who is leading the study. "Some of them have gone up over ridges and down into other little valleys or washes. For a little tortoise, that's got to be like climbing Everest."
The leader so far is tortoise No. 4055, who has been trucking almost due west as fast as his legs could carry him – approximately 0.007 miles per hour – since the day he was set free.
In the first 10 days, he covered more than a mile and a half. By Friday, he had gone another mile and safely crossed a paved road.
His run has caught the attention of officials at the Nevada National Security Site who are inviting the public to suggest names for the tortoise on the test site's Facebook page.
Among the suggestions so far are Flash, Speedy, Lightning McQueen, and Plume, "as in the plume of dust he leaves behind." The first name submitted was Harry Reid.
Germano said it's too early to draw any conclusions from the way her test tortoises are behaving. "But I am surprised by how far a little tortoise can go."
For the first week after reptiles were set free, Germano returned to the test site with two or three assistants to check on them daily. She originally planned to go back once a week after that, but she decided to make it twice a week so she wouldn't lose track of some of her faster-moving subjects.
It takes a crew of three to four people about half the day and several miles of walking to track down all of the tortoises.
"Luckily it's not 110 degrees out anymore," Germano said.
The researchers use a brick-sized receiver attached to what looks like an old rooftop television antenna to try to pick up the unique radio frequencies given off by each tortoise's transmitter.
"You move around in a circle and follow the beep," Germano said. "It's like a game of hotter or colder."
Germano and company also carry small mirrors with them so they can peak inside burrows in search of tortoises.
They're not always easy to find above ground, either.
"They blend in so well with the environment, and their hiding spots are so good. Sometimes you can walk right by them, and they look like just another rock," she said.
There doesn't seem to be any pattern to the animals' movement. They're just slowly spreading out in different directions.
About half of the research subjects are still within the length of a football field of where there they were released, which may speak to the quality of the habitat there.
Tortoise No. 4047 has moved the least, covering barely enough ground in 10 days – 33 feet – to get a first down in football.
"He pretty much changed which bush he was underneath and that's it," Germano said.
She plans to track the reptiles over the next year.
The release was the first of its kind at the test site, and it came after officials there approached the U.S. Fish and Wildlife Service with the idea of opening up unused land for tortoise research.
The federal installation takes in 1,360 square miles, an area roughly the size of Rhode Island, and about one-third of it is considered tortoise habitat. In addition to access, the test site kicked in $90,000 in tortoise mitigation fees to pay for Germano's study.
"As long as she's happy and it's working for her research, we're happy," test site spokesman Darwin Morgan said. "That's why we did this."
Scientists are still trying to get a grasp on how many Mojave Desert tortoises remain in the wild, but the general consensus is that their numbers are on the decline, mostly due to habitat destruction and disease.
Germano hopes that her work will lead to a better understanding of the species, particularly its youngsters.
All the tortoises she released at the southern end of the test site were between 3 and 8 years old with shells roughly 4 to 6 inches long.
The group included a mix of males and females handpicked after numerous health screenings, hours of observation and a battery of tests.
Some used to be backyard pets. Others were hatched in captivity or were scooped up as urban strays.
Until last month, all of them lived at the Desert Tortoise Conservation Center, a research and recovery facility the San Diego Zoo operates at the southwestern edge of the Las Vegas Valley under a partnership with the U.S. Fish and Wildlife Service and other agencies.
Germano said all 60 of her test subjects are accounted for, though she lost track of one for about a day before finding it again.
So far, two tortoises have been eaten by predators, most likely coyotes. Their shells were found with the radio transmitters still attached, Germano said.
Such losses were expected. Because of their small size, juvenile tortoises have a higher mortality rate than adults.
"We don't interfere at all," Germano said. "It's part of the process to see what they do in the wild."
The remaining reptiles are "alive and well and running all over the place," she said.
"We've seen them eating. We've seen them digging burrows. We've seen them moving around and exploring their new home," Germano said. "So far everything seems to be going well."
Contact reporter Henry Brean at hbrean@reviewjournal.com or 702-383-0350.
Want to name a tortoise?
The Nevada National Security Site is collecting possible names on its Facebook page for a tortoise that has wandered more than 2 1/2 miles since it was released at the site on Sept. 21. Submit your own at: facebook.com /NNSANevadaSiteOffice.