Developer looks at arena site
October 29, 2009 - 9:00 pm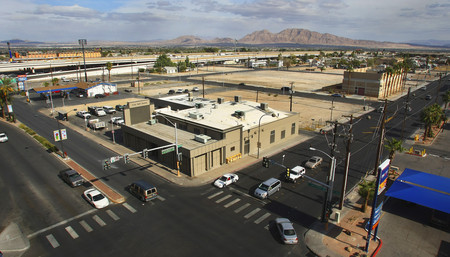 Las Vegas has another potential arena developer scoping out land downtown.
Next week, Las Vegas City Council members are scheduled to take up a contract with The Cordish Companies, a Baltimore-based developer that will study building a sports arena and related development on several blocks of city-owned land.
The agreement is not a final deal calling for an arena, city spokesman Jace Radke said. It's an "exclusive negotiating agreement" that gives Cordish time to study the project's feasibility.
"It basically locks up the land," he said. "They can only negotiate with this company for this land until the agreement expires."
The land at issue includes 12 city-owned acres bounded by Las Vegas Boulevard, Stewart Avenue, Eighth Street and Mesquite Avenue. It would include property on Las Vegas Boulevard and Stewart Avenue occupied by Las Vegas City Hall. City officials have said the City Hall site contains six acres, but the agreement lists the plot's size at 7.75 acres.
The land also includes additional parcels that abut U.S. Highway 95, between Las Vegas Boulevard and Eighth Street.
The City Council is considering building a new city hall on Main Street between Lewis and Clark avenues although the financing is not in place for the venture.
Financing has proved to be the key sticking point in many of Las Vegas' dreams for downtown.
A previous arena group, REI Neon, bowed out when it couldn't make the numbers work. CIM Group, which has agreed to redevelop the Lady Luck casino, has delayed its plans because of tough economic times. High-profile projects in Symphony Park face the same struggle.
Cordish is to study the possibility of building a 20,000-seat arena for a professional basketball or hockey team, a mixed-use entertainment district and a hotel-casino, according to the agreement.
The company has two years to complete its work, with the possibility of an extension of up to one year.
City leaders have been talking to Cordish since at least early 2008, when Mayor Oscar Goodman said he talked to the company about joining with REI Neon.
REI Neon wanted to build an arena on land southwest of Charleston Boulevard and Main Street.
In addition to the city-owned land, Cordish had considered property near the Stratosphere as an arena site, Goodman has said.
The company has projects all over the United States and has worked with professional sports organizations.
Among other projects, Cordish built Hard Rock casino-hotels in Hollywood, Fla., and Tampa, Fla., and is a partner in building another one at the Kansas Speedway in Kansas City, Kan.
The company is working on Ballpark Village in St. Louis, next to Busch Stadium, home of the St. Louis Cardinals. The company has partnered with the San Francisco Giants to build Mission Rock Park. Both developments are to include entertainment venues along with retail, residential and office space.
The city's arena dreams aren't the only ones in Southern Nevada. Anschutz Entertainment Group and Harrah's Entertainment announced plans for a professional sports arena in 2007 on land behind Bally's on the Strip. That project has yet to begin. An AEG spokesman was not available for comment Wednesday.
Contact reporter Alan Choate at achoate@reviewjournal.com or 702-229-6435.