Developer touts 20,000-seat arena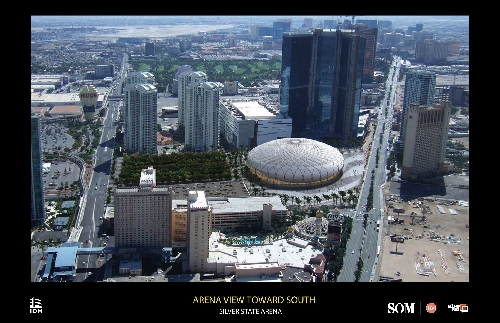 Details are surfacing on a sports arena proposed on land owned by Republican U.S. Senate candidate Sue Lowden and her husband, Paul.
During a tour of the former Wet 'n Wild site Friday, Texas-based developer Chris Milam revealed specifics of what he will present Tuesday to Clark County commissioners .
Milam, CEO of International Development Management, said he has an agreement with the Lowdens for a 100-year lease on the 27-acre site. The Lowdens have indicated they would use the land as collateral to borrow $350 million.
A Lowden rep confirmed the proposed cost of the 20,000-seat Silver State Arena would be $750 million, using about $9 million a year in redevelopment district taxes.
Of four proposals going before the commissioners, Milam said the Wet 'n Wild site is the only one based on no new taxes. Eighty-five percent would be privately financed, with the other 15 percent coming from using the redevelopment district tax passed in 2001 but not tapped.
An arena would create 10,000 jobs, he said, adding "7,600 of them would be permanent from the day it opens." About 4,000 would be construction jobs at a time when Clark County has 57 percent unemployment in the construction trades, he said.
"The area is a disaster," Milam said. The arena site would "light this area on fire" with economic activity. It is exactly what the monorail and nearby properties such as the Sahara and Turnberry Towers need, he said.
NBA and NHL franchises would be courted, as well as UNLV sports, Milam said.
If the commission approves it Tuesday, "we could start construction in September and open in time for the 2012 NBA and UNLV basketball seasons."
PERP WALK, VEGAS-STYLE
Melinda Sheckells' midnight drive home Friday turned into a very public perp walk for the 944 magazine executive.
She described it on her Facebook page Saturday:
"Made a left on sahara from lvb and was pulled over by 10 cops cars and a swat team van with rifles drawn.
"Made me walk barefoot backwards down middle of sahara with traffic stopped until realized I was not the person they were looking for.
"Maybe it was the Afro and the gold sequin jacket that tipped them off. Thank you and good night Metro.
"Rifles pointed at u while wearing sequins … Only in Vegas."
In an e-mail Saturday she added, "once the tension broke they were all very kind and apologetic."
THE SCENE AND HEARD
Former Las Vegas resident and Oscar winner Jamie Foxx reportedly is being hotly pursued by "American Idol" producers as Simon Cowell's replacement on the judging panel. Look for Ellen DeGeneres to leave in the off-season.
SIGHTINGS
Leonardo DiCaprio and "Entourage" star Kevin Connolly at XS (Encore) late Friday for a friend's bachelor party. … Steve Wynn and Donald Trump, having a power lunch Saturday at the Country Club (Wynn). Trump is here for the Miss USA Pageant today at Planet Hollywood Resort (KVBC-TV, Channel 3, 7 p.m.). … Flavor Flav, living large Friday night at Criss Angel's "Believe" (Luxor). He and his posse were having hot dogs with shots of Hennessey cognac.
THE PUNCH LINE
"I've never been more glad that I'm not a Gulf shrimp than I am today." — Jimmy Kimmel
Norm Clarke can be reached at 702-383-0244 or norm@reviewjournal.com. Find additional sightings and more online at www.normclarke.com.