Did someone really try to buy, or extort, Chris Edwards' vote?
February 10, 2015 - 6:56 am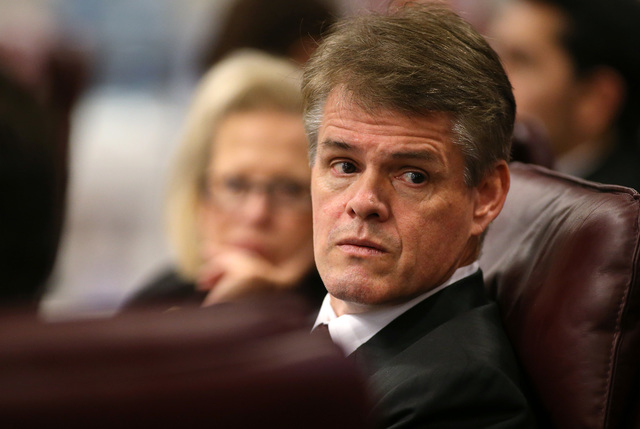 Chris Edwards is just a freshman Nevada assemblyman, but he's already generating headlines statewide and beyond.
To some, that makes him downright politically precocious.
Unlike most of his fellow neophytes at the state Legislature, who are learning the lawmaking ropes and staying out of the press, Edwards is at the center of a Metro Intelligence investigation into possible extortion. Edwards claims he was offered money to change his vote in the Republican Assembly Caucus' "Who's On First?" routine prior to the selection of John Hambrick as speaker. The chaos followed the GOP's uncoordinated but effective sweep into the legislative majority in November.
In what promises to be remembered as one of the quotes of the year, Edwards told a Review-Journal reporter in a phone interview, "I'm the victim here. I'm the guy who kind of blew the whistle."
Edwards, whose previous candidate experience consisted of getting shellacked by Rep. Dina Titus in a 2012 Congressional race, didn't set any fundraising records in 2014 on his way to easily defeating James Zygadlo in Assembly District 19. Then again, during the Democrats' Big Sleep of 2014 he really didn't need to.
Although he rode the right-wing wave, he's no political hayseed. A graduate of Notre Dame and The George Washington University, the New York native and Navy veteran interned with one-time U.S. House powerbroker Dick Armey.
You'd think he'd know something about political arm-twisting. Although the Virginia home of longtime Nevada Republican phone phantom Tony Dane has been searched in connection with the Metro investigation, and the names of two others have surfaced, from the sound of things no money changed hands. Unless more damning information surfaces, it's a stretch to call even the harshest political bully boy chatter evidence of attempted extortion. Maybe Dane finally talked his way into trouble, but he's certainly no political maven. The GOP campaign trickster has been little more than a barnacle on the hull of the U.S.S. Nevada for years.
Did someone really try to buy, or extort, Chris Edwards' vote?
I don't know. Maybe we'll find out.
But I do know this: Plenty of interesting people sure warmed up to Edwards after he was elected and made the decision to vote for Hambrick. And you don't need a team of Metro detectives to identify the contributors to Edwards' new-found political popularity.
It's right there in his final campaign expense report for the period of Oct. 31 to the end of the year. It documents $36,000 in contributions received of the $78,950 total he raised. A sample includes some names you may recognize, including a couple who surely were elated Edwards decided to vote for Hambrick.
Given the circumstances, the first check sure to catch anyone's eye was the one written Dec. 8 for $1,500 from the Committee to Elect John Hambrick. Note to Metro: Read nothing into the fact the check was cut after Edwards embraced Hambrick. I'm told that's just the way politics works.
Then there are some of the big players from Nevada business who thought so much of Edwards that they quite legally sent him checks after he ceased needing them for his campaign. The MGM Grand sent him $2,000 on Dec. 9. Switch, Ltd. cut one for $2,500 on Dec. 10. Las Vegas Sands Corp. gave him $2,500 on Dec. 12. Barrick Gold donated $2,500 on Dec. 22.
Why did they choose to gift a candidate who'd already prevailed in November?
Not because they were trying to buy his vote, or two-step their way into his heart. And certainly not because he sided with Hambrick. Just because the victor enjoys the spoils and a remarkable boost in popularity in Nevada politics, right?
My favorite contributor to Edwards' post-campaign campaign coffers came Dec. 31 from a fellow who was surely relieved the affable and easygoing Hambrick is the GOP Assembly speaker: Gov. Brian Sandoval. On the last day of the year, Sandoval for Governor donated $5,000 to Edwards' burgeoning campaign account. In that same reporting period, Sandoval for Governor lists only one other contribution, $5,000 to Lt. Gov. Mark Hutchison, on its report.
It's no scandal. It didn't even rate a headline.
And only Chris Edwards knows whether his new friends have won his heart, mind, and vote.
John L. Smith's column appears Sunday, Tuesday, Wednesday, Friday and Saturday. E-mail him at jsmith@reviewjournal.com or call 702-383-0295.