February 10, 2015 - 4:39 pm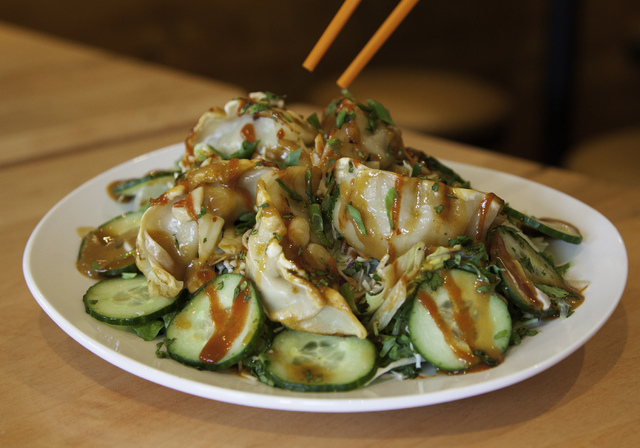 DINING OUT
TOM'S URBAN, NEW YORK NEW YORK, 3790 LAS VEGAS BLVD. SOUTH
Tom's Urban, which opened earlier this month just off the casino floor and adjacent to the Brooklyn Bridge at New York-New York, serves breakfast through late night in an interior of reclaimed wood and warm colors, with three full-service bars and a patio area. From restaurant-industry veteran Tom Ryan, the founder of Smashburger, and his partner, Rick Schaden, it features street foods from various parts of the world. Burgers are available with beef, chicken or a black-bean patty, and milkshakes can be spiked (Bacardi coconut chocolate) or not. Here's a sample of the menu:
Breakfast: Urban breakfast platter (eggs, bacon or sausage, hash browns, toast), $12.50; Killer Chilaquiles, $14.50; filet mignon steak and eggs, $22; buttermilk pancakes, $9; lemon poppyseed blueberry pancakes, $10; classic Benedict, $13; Sonoma goat cheese, baby spinach and tomato omelet, $13.50.
Small plates: Wok-charred spinach edamame, $6; Lowcountry Shrimp + Grits, $10; Buffalo wings, $13; crispy Brussels sprouts, $6; sticky belly steamed buns, $9.
Sandwiches and burgers: Carnitas Cuban sandwich, $15; truffled Maine lobster roll, $22; "Almost" Chicago Dog, $16; truffle, portobello and Swiss burger, $18; bacon avocado burger, $17; The Sin City burger (American cheese, fried egg, crispy onions, bacon, barbecue sauce), $16.50.
Street tacos: Steak al carbon, $18; carnitas, $17; butter-poached lobster and shrimp, $22; Sticky Belly, $17.
Entrees and salads: Urban Slopper (burger with pork green chili, cheese, pico de gallo), $20.50; Colorado hot brown, $21; pizza Margherita, $12; pepperoni pizza, $13; truffle, portobello and arugula pizza, $14; ginger chicken pot sticker salad, $14; Urban chopped salad, $15.
Hours are 6 a.m. to closing daily. Call 702-740-6696