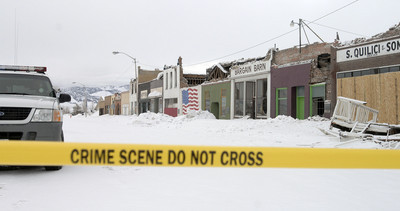 RENO — Gov. Jim Gibbons declared a state of emergency for the remote high-desert town of Wells on Friday, a day after it was rocked by what seismologists are calling Nevada's most destructive earthquake since 1954.
Dozens of aftershocks rattled the crossroads town near the Utah border after the magnitude-6.0 quake damaged hundreds of homes, reduced part of its historical district to rubble, and closed businesses and schools. No one was killed, and no serious injuries were reported.
"The earthquake caused considerable damage in the city of Wells and surrounding areas," Gibbons said. "I am working to ensure that the families and businesses get the help that they need in a timely manner."
Officials from the state Department of Emergency Management and Federal Emergency Management Agency were completing a request for a presidential disaster declaration, which would make residents eligible for federal relief, the governor said.
Elko County Undersheriff Rocky Gonzalez said eight residents spent the night at an emergency shelter while "a number of others" stayed with friends and family after their homes were deemed unsafe.
Gonzalez said "a good majority" of the town's 700 residential structures had at least some damage, and local and state officials went door to door Friday to assess conditions.
"Right now, we're double-checking every residence to get a better assessment of what took place," Gonzalez said. "We're seeing chimneys that have fallen to the ground, damage separation of additions from homes and a lot of damage within houses."
While most businesses remained closed, life was returning to normal at one of the town's two legal brothels, said Donna Bowers, a bartender at Donna's Ranch.
All but one of Donna's nine working girls were asleep there when the quake struck at 6:16 a.m. Thursday, Bowers said.
"It looked like a tornado came through here on the inside and turned things upside down," Bowers said. "It seemed to shake forever. All you could hear was the girls screaming."
The quake was Nevada's first of a magnitude of 6 or greater since a 1994 temblor estimated at 5.9 to 6.0 near Minden and a 1966 quake near Caliente, said Glenn Biasi, associate research seismology professor at the University of Nevada, Reno. Neither of those quakes caused major damage.
The Wells quake, the 15th of a magnitude of at least 6 in the state's 143-year history, caused the most property damage since a series of powerful temblors around Fallon in 1954, including one of magnitude-7.1, Biasi said. A magnitude-7.4 quake south of Winnemucca in 1915 is the most powerful in state history.
The latest quake is a reminder that Nevada is the third most quake-prone state in the nation, behind California and Alaska, Biasi said.
The activity hasn't caused much damage because most of the state is sparsely populated.
"We have a lot of these quiet faults, and we just had one come active again yesterday. It's difficult to know just where to expect them, but they'll happen again," Biasi said.
The probability of a major quake is higher in western Nevada, including along the eastern Sierra, Biasi said.
Chances of a temblor with a magnitude of 6 or greater striking somewhere around Reno and Carson City within the next 50 years is 34 percent to 98 percent, according to a study released in 2006 by the Nevada Bureau of Mines and Geology.
The Las Vegas area faces a 10 percent to 20 percent probability of a similar quake in the same period, the report said.
Thirty-five aftershocks of 3.0 or larger, including one of magnitude 4.8, have rattled the Wells area since Thursday morning.
The quake was centered six miles northeast of Wells along the Independence Valley fault system that runs east of the town of 1,600 and near the Pequop Mountains, according to the U.S. Geological Survey.
There's a 1 in 20 chance the quake could be a precursor to a larger temblor over the next few days, but that probability decreases over time, said John Anderson, director of the Nevada Seismological Laboratory at the university.
Wells' two schools suffered damage and will not reopen until Monday, Gonzalez said, but normal water service has been restored to almost all of the town.
The eastern end of the town with two major service stations was reopened Friday to Interstate 80 motorists, he added.
The town also is traversed by U.S. Highway 93, which also was open.