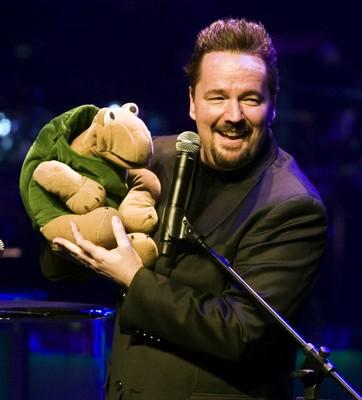 There's a good reason why Las Vegas is called the "Entertainment Capital of the World." Since its Rat Pack days, Las Vegas has been inextricably associated with legendary shows and entertainers. Say "Las Vegas" and it's likely that showgirls in elaborate headdresses and Elvis impersonators will come to mind.
Today, the Las Vegas entertainment scene still has plenty of its classic glamour, but it has evolved to include so much more. In addition to the iconic Las Vegas entertainment staples, the destination offers a lineup of award-winning magicians, Broadway-caliber productions, world-renowned concert headliners and unique-to-Las Vegas production shows.
Disney Theatrical Productions and Mandalay Bay have joined together to produce the award-winning Broadway phenomenon "The Lion King," which opened May 2 in the Mandalay Bay Theatre. This production joins the six other highly successful companies of "The Lion King" around the world in New York, London, Hamburg, Paris, Tokyo and Fukuoka. Mandalay Bay's production of "The Lion King" is virtually identical to the other companies seen around the globe and is staged with the same spectacular music, sets and costumes that have made it a worldwide phenomenon.
"The Lion King" joins two other Broadway shows on the Strip.
"Jersey Boys," the Tony Award-winning musical, opened in a custom-built, 1,600-seat theater at Palazzo last year. "Jersey Boys" is the story of Frankie Valli and The Four Seasons: Frankie Valli, Bob Gaudio, Tommy DeVito and Nick Massi. This is the story of how a group of blue-collar boys from the wrong side of the tracks became one of the biggest American pop music sensations of all time.
They wrote their own songs, invented their own sounds and sold 175 million records worldwide — all before they were 30. The show features such hits as "Sherry," "Big Girls Don't Cry," "Can't Take My Eyes Off of You," "Oh, What a Night" and many more.
In 2006, the Venetian debuted "Phantom — The Las Vegas Spectacular." The show is permanently housed in a $40 million theater.
The 95-minute production includes never-before-seen special effects, a jaw-dropping reproduction of the Parisian opera house where the story takes place, and all the beloved songs from the original Andrew Lloyd Webber production. "Phantom of the Opera" has grossed more than $3 billion worldwide since its London debut in 1986.
In May 2008, The Mirage signed Terry Fator, winner of NBC's "America's Got Talent," to a five-year deal to perform at the resort, with an option for an additional five years. Fator's show debuted earlier this year, and he performs five shows a week in the 1,265-seat Terry Fator Theatre.
The comic impersonator, along with his cast of seven puppets, combines the art of ventriloquism with celebrity impressions. Fator and his puppets, Cowboy Walter, Emma Taylor and Winston the Impersonating Turtle, effortlessly perform the singing styles of an eclectic group of stars including Elvis, Maroon Five, Nat King Cole and Natalie Cole, James Blunt and Marvin Gaye.
"Criss Angel: Believe," a partnership between the master illusionist and Cirque du Soleil, debuted last year at Luxor. Fusing together revolutionary illusions and mystical artistry with acrobatics, dance, puppetry, music and poetry, Angel reinvents the traditional magic show.
With the opening of CityCenter in 2009, Cirque du Soleil and Elvis Presley Enterprises will team with MGM Mirage to debut their next resident show in Las Vegas. Based on the life and music of the iconic performer Elvis Presley, the show will feature state-of-the-art technology and captivating visuals.
Cirque du Soleil and its ethereal combination of acrobats and special effects dazzle audiences all along the Strip. The group produces shows for a variety of properties including "Mystere" at Treasure Island, which recently celebrated 15 years on the Las Vegas Strip. Bellagio's "O" is the troupe's first foray into aquatic theater, featuring a cast of 81 artists performing in and above a pool containing 1.5 million gallons of water.
Cirque du Soleil's "Zumanity" opened September 2003 at New York-New York. In 2005, the fourth Cirque du Soleil show, "Ka," debuted at MGM Grand. In June 2006, "Love" opened at The Mirage. Based on the music of The Beatles, the project was begun by the late George Harrison and Guy Laliberté, Cirque's founder.
"Le Rêve," French for "The Dream," now calls Wynn Las Vegas home. Franco Dragone produced this show which resides in the Wynn Theater. Water serves as the backdrop for the more than 70 performers who move in and out of a 1-million-gallon pool.
Other Strip production shows include "Blue Man Group," which can now be seen at The Venetian in its custom-built, multimillion-dollar 1,750-seat theater. The groundbreaking performance-art trio playfully incorporates everything from PVC pipes to energetic, percussive music in its productions..
For feathers, sequins, showgirls and tuxedo-clad dancers, "Jubilee!" is the multimillion dollar production show at Bally's Las Vegas. The over-the-top show recently celebrated its 25th anniversary and features no less than the nightly sinking of the Titanic on stage.
"Legends in Concert," featuring superstar impersonators, is the popular, long-running show at Harrah's Las Vegas.
"MGM Grand's Crazy Horse Paris" is a direct import from its legendary namesake in Paris, a production famous for celebrating the art of the nude since 1951. "MGM Grand's Crazy Horse Paris" combines sensual choreography and unique lighting effects.
The topless revue "Peepshow" opened earlier this year at Planet Hollywood Resort. Reality TV star Holly Madison and Broadway singer Shoshana Bean recently replaced original stars Kelly Monaco and Mel B, both of "Dancing With the Stars" fame.
Las Vegas entertainment is still known by its headline acts.
Flamingo Las Vegas has announced that brother-sister duo Donny and Marie Osmond will extend their contract as the resort's headliners for two years, through October 2010. "Donny & Marie" is an energetic, 90-minute variety show that incorporates singing, dancing, comedy and the stars' signature brother-sister banter.
The legendary performer Cher headlines at The Colosseum at Caesars Palace. The 90-minute show is complemented by state-of-the-art lighting, special effects and costumes.
Cher splits her time at The Colosseum with Bette Midler, who recently celebrated her 100th show at the venue. Known for her incomparable humor, over-the-top imagination and captivating charisma, the Divine Miss M. has appropriately titled her new Las Vegas production "The Showgirl Must Go On." Barry Manilow headlines at the Las Vegas Hilton with his production, "Manilow: Music and Passion." He sings his hits, as well as new music written specifically for the show. Manilow's show is expected to run through 2009.
Rita Rudner brings her unique comedy to Harrah's Las Vegas. Rudner is an accomplished actress, best-selling author and comedian. Her show features witty commentary on topics ranging from relationships to men.
The "Bad Boys of Magic" can be seen at the Rio. The "Penn and Teller" show is an edgy mix of comedy and magic involving knives, guns, fire, a gorilla and a showgirl. While Penn and Teller supposedly reveal the secrets to their tricks, they still manage to leave audiences startled.
Master magician Lance Burton recently signed a six-year contract to stay and perform at the Monte Carlo. This is one of the few shows where children of all ages are welcome.