District attorney orders end to paying witnesses for pre-trial meetings
November 15, 2013 - 6:46 pm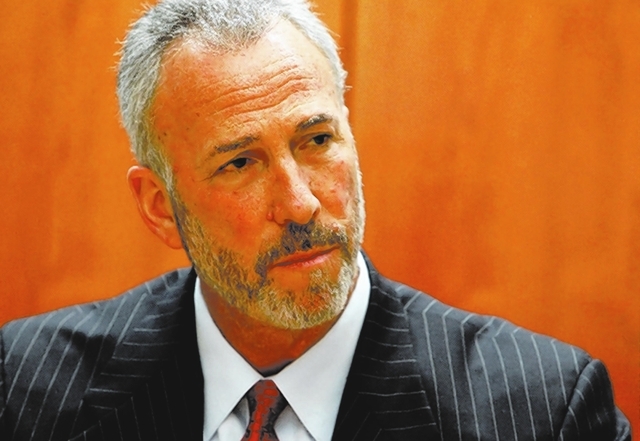 Clark County's top prosecutor Steve Wolfson has ended the district attorney's office's long-standing practice of paying $25 to witnesses who attend pre-trial meetings with prosecutors.
Wolfson also decried the insinuation that witnesses were being influenced by the minimal fees, even if the fees totaled a couple of hundred dollars.
"The idea that their testimony is influenced by being paid $25 is preposterous," he said.
On top of the $25 appearance fees, out-of-town witnesses were also paid for travel and other expenses. In some cases, companions of underage witnesses — for instance a 12-year-old who needed to be accompanied by a parent — were also paid.
Wolfson said he has narrowed his office's interpretation of Nevada law that allows a $25 fee for "attending courts," after defense lawyers in a sexual assault case requested the witness fee receipts, which were not immediately found.
Prosecutors had interpreted the law to include pre-trial conferences, where prosecutors and witnesses go over testimony before a trial or evidence hearing.
In most criminal cases, pre-trial conferences occur minutes before a witness takes the stand. However, in murder, sexual assault or robbery cases, a witness may be asked to meet with prosecutors a week before trial.
The practice of paying those witnesses a fee has ended, Wolfson said.
The practice had been in place for years, but it's unclear for how long.
Last month, the issue was raised by defense lawyers Dan Bunin and Dayvid Figler, who questioned the credibility of prosecution witnesses partly because they were vague about how much they were paid in witness fees and other expenses.
Confusion about the fees was heightened when a representative from the district attorney's office testified the receipts for the fees were destroyed.
And, Bunin said, one witness wasn't forthcoming about how much she was paid, but it was later learned she was paid about $800 during the trial.
It led Bunin to question the credibility of the witnesses.
The jurors acquitted the defendant, Gary Miller, of 24 counts, but said their not guilty verdict had more to do with not believing the witnesses regarding the alleged crime, rather than the unknown witness fees costs. Miller was found guilty of one misdemeanor count of attempted statutory sexual seduction.
It turned out the district attorney's representative was mistaken about the records being destroyed. The records still exist regarding the witness fees, Wolfson said. The county comptroller had the records. The confusion occurred because the district attorney's office destroys the records after a year, but the comptroller's office maintains the records for seven years.
But Bunin said the unchecked practice of paying witnesses to meet with prosecutors outside of court can lead to corruption.
"Getting $25 to show up to court is one thing. They were being overpaid for showing up to talk to prosecutors in their offices. I don't know a defense lawyer who pays witnesses to come to the office to give them information," Bunin said.
He suggested if a defense lawyer paid a witness that way, it might be a crime.
Figler and Bunin have raised questions about how the money was spent before.
Five years ago, they found a prosecution witness who said she spent witness fee money to buy crack-cocaine.
Wolfson admitted he can't control what a witness does with the money, but said most witnesses who receive the fee are victims whose lives have been disrupted by crime.
Since addressing the witness fee issue, Wolfson has asked the county to audit the program. It wasn't immediately known how long the audit would take.
In the last fiscal year $1.2 million was budgeted for witness fees and mileage, and about $866,000 was spent. And through October this fiscal year, the district attorney's office has spent about $229,000. The county's fiscal year begins in July.
Contact reporter Francis McCabe at fmccabe@review journal.com or 702-380-1039.