District attorney seeks centralized database for Legal 2000 holds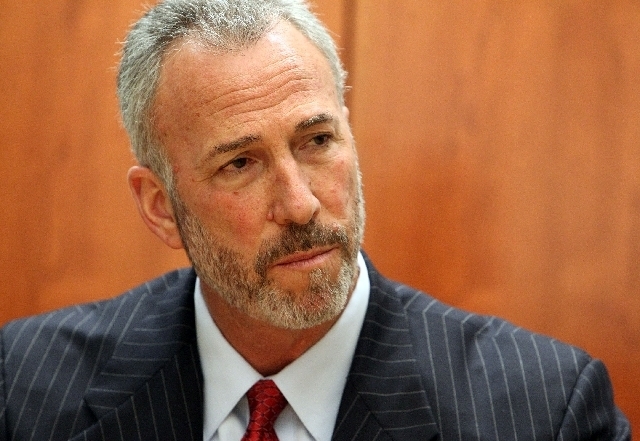 Changes to the way Nevada handles people referred for psychiatric evaluations may lessen valley emergency room crowding caused by the mentally ill and also help law enforcement better handle encounters with this population, members of Gov. Brian Sandoval's Behavioral Health and Wellness Council said Monday.
People are placed on a Legal 2000 hold when they are considered to be a possible danger to themselves or others. They can be held for up to 72 hours.
Clark County District Attorney Steven Wolfson said he's pushing for all local law enforcement agencies and medical providers to have access to a centralized database containing information on all individuals who have been recently issued a Legal 2000.
Stanley Gibson, a 43-year-old disabled veteran who was shot to death by police in 2011, had been on a Legal 2000 before he encountered police when he was unarmed and confused inside his car.
"I don't think officers knew he had been on a Legal 2000," Wolfson said.
If officers had that information, they may have "treated the situation differently," he added.
The council will meet again at 9 a.m. today in room 4401 of the Sawyer Building, 555 E. Washington Ave.
Toward the end of the Monday meeting, Joel Dvoskin, council chairman, went over a list of recommendations that could be submitted to Sandoval by May 31. Changes related to the Legal 2000 holds and solutions to fix the crisis faced by valley emergency rooms were on the long list.
Agencies now lack the ability to share information on Legal 2000s. Under current regulation, after a patient is determined to need inpatient psychiatric care, the patient can only be medically cleared by a doctor to be transferred to a psychiatric facility.
Allowing clinical licensed psychologists or registered nurses to medically clear patients could help speed up the process of getting some patients out of the emergency rooms.
That change was also discussed about 10 years ago, but nobody acted on it, said Richard Steinberg, president and chief executive officer for WestCare Foundation and a council member.
Many of the patients who end up at valley emergency rooms with mental health needs are Legal 2000s, officials have said. The population has created a crisis for local emergency rooms, with several closing their doors to ambulances in February because their beds were occupied by those with mental disorders the hospitals are ill-equipped to treat.
A legislative subcommittee on health care is scheduled to make a presentation to the council today on possible ways to relieve crowded emergency rooms. The council may vote on a recommendation for a short-term solution at the Tuesday meeting, but could delay action until the council's meetings in April and May.
"I think that's where the focus ought be," state Sen. Randolph Townsend, R-Reno, said of the emergency room crisis. "This is a community-based problem."
Reporter Yesenia Amaro can be reached at yamaro@reviewjournal.com or 702-383-0440.