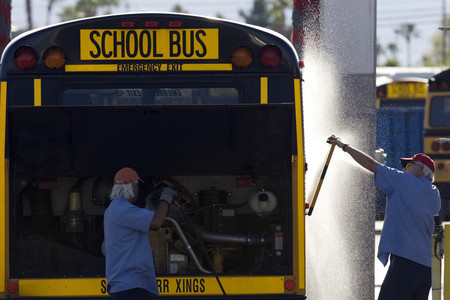 The Clark County School District has plans to spend up to $11 million, including $6 million in federal stimulus money, for a cheaper and cleaner supply of fuel for its bus fleet.
The school district would build a natural gas fueling station and buy 40 new buses to run on the gasoline equivalent of compressed natural gas.
The 40 new buses would be a fraction of the fleet, which has 1,467 buses altogether. The district would have to commit about $5 million from either its bond revenues or general funds to get the pilot program started.
But school district officials anticipate cutting the per-gallon fuel charge with its natural gas buses by almost 50 percent. The district is spending about $1.96 per gallon for a bio-diesel fuel mix. School officials estimate that they would pay $1.05 per gallon for compressed natural gas.
The miles-per-gallon figure is expected to be the same as diesel, school officials said.
If the average bus traveled 14,314 miles a year and got eight miles to the gallon, the savings differential between the 40 buses running on natural gas and 40 buses running on the bio-diesel would be a little more than $65,000 a year.
There would be air quality benefits too.
When compared with regular diesel, natural gas has 95 percent fewer emissions of particulate matter, a 49 percent reduction in the emission of nitrogen oxide and a 75 percent reduction in carbon monoxide, according to a study by the National Renewable Energy Laboratory.
The school district already uses a cleaner mix of bio-diesel fuel rather than standard diesel, but district spokesman Michael Rodriguez said the natural gas will "be even cleaner."
If approved, construction of the natural gas fuel station could start this fall at the district's Wallace Transportation Center, 274 Welpman Way, just east of Interstate 15 in Henderson.
The School Board is expected to review the plan at its Thursday meeting and consider an additional $126 million in federal aid for 151 schools with "high concentrations" of students living in poverty.
The disadvantaged schools would get extra funding for staff development, extended school days, tutorial and remedial programs. Officials said the grants for low-income schools would not affect the district's general fund.
The district is considering its share of the American Recovery and Reinvestment Act of 2009, which appropriated $10 billion nationally as a supplement to boost achievement at disadvantaged schools and help stimulate the economy.
District staff has identified an additional $308,000 in stimulus money to provide services for homeless students.
Contact reporter James Haug at jhaug@reviewjournal.com or 702-374-7917.