Divorce capital: Six-week split spurred Nevada economy
January 19, 2014 - 10:32 am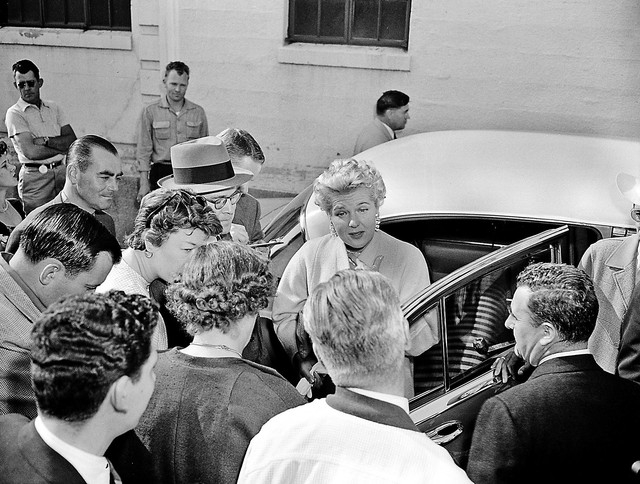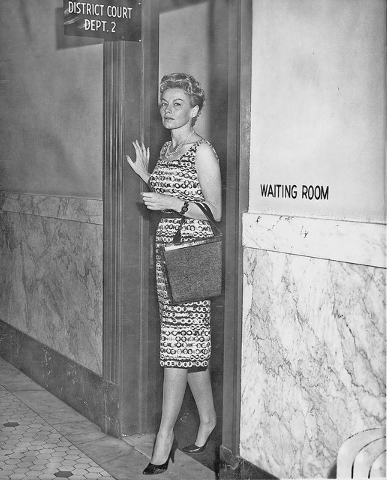 Editor's Note: Nevada 150 is a yearlong series highlighting the people, places and things that make up the history of the state.
Long before she became Nevada's first woman in Congress, Barbara Vucanovich boarded a train in New York and headed west on a six-week journey to a fresh start.
There was already a nickname for such a trip. People called it "the Reno cure," but Vucanovich's daughter, Patty Cafferata, doesn't remember her mom ever using that phrase.
"The only thing she ever mentioned was how isolated those who came for divorce were from those who lived here," Cafferata said from her home in Reno. "To pass the time, she took a lot of walks along the Truckee River and around town."
Vucanovich, then Barbara Bugden, was one of the hundreds of thousands of people who traveled to Nevada from across the country to take advantage of the state's liberal divorce laws. From 1931 to 1970, the height of the so-called "migratory divorce" trade, more than 325,000 marriages came to an end in the Silver State.
Mella Harmon is a researcher and historical consultant who has been studying divorce in Nevada for almost 20 years.
She said the practice was an economic boon to the state as far back as 1900, but it really took off between 1927 and 1931, when lawmakers lowered the residency requirement for dissolving a marriage from six months to three months and then from three months to six weeks, the shortest waiting period in the nation by far.
The reason for the second change was simple: "It was the Great Depression. The Nevada Legislature was looking to do whatever it could to spur the economy," Harmon said. "Divorce sort of carried Nevada through the Depression."
By 1940, the Silver State accounted for less than one-tenth of a percent of the nation's population but roughly 5 percent of its divorces.
In 1946, the peak year for migratory divorce in the state, almost 19,000 marriages were dissolved. That's more than Nevada saw in 2010, despite a roughly 17-fold increase in the population.
The state's marriage industry also began to boom during the Depression, as Nevada offered an easy alternative to other states, California among them, that required blood tests, physical examinations, counseling and a three-day waiting period.
Nevada had no such requirements, allowing for quickie marriages that gave rise to a Las Vegas institution: the wedding chapel.
A BOOM FROM BUSTING UP
Cafferata still remembers when her mother left on the train for Nevada in 1949. She was 8 or 9 years old at the time, and she stayed behind in New York with her grandparents during her mom's six-week absence.
"She stayed in a guest house in Reno, close to downtown," Cafferata said.
It was the sort of place that catered to divorcees, with room for 8 to 10 people who shared a bathroom and gathered together for meals.
"In the early part of the '30s, when everyone else was into the Depression, Reno was having a huge boom in building permits," Harmon said.
The reason was the divorce trade.
It quickly became one of Nevada's largest economic drivers, if not the largest. Of Reno's roughly 20,000 residents at the time, about 100 of them were divorce lawyers, Harmon said.
George Wingfield, then Nevada's richest man, built his Riverside Hotel on the Truckee River right next to the Washoe County courthouse in 1927 in part to cater to well-heeled guests looking to shed their unhappy marriages.
"It was quite a lavish hotel," Harmon said. "It had a real international reputation."
Others offered more modest accommodations, converting their homes and garages into small rooming houses for six-week visitors. So-called "auto camps" — a precursor to RV parks — sprang up on vacant land.
Migratory divorce also gave rise to several Northern Nevada dude ranches, where divorcees, most of them women, could wait out their residency requirement riding horses, relaxing in the sun and, in some cases, fraternizing with the help.
"They said the best job in Reno was dude ranch cowboy," Harmon said.
Most of the people who came for divorces stayed just long enough to establish residency and then left the state as soon as they had their paperwork in hand. Others were charmed by the place and decided to stay.
Cafferata's mom found a kindred spirit in Reno: a lawyer named Kenneth Dillon, who was also from New York and in the midst of a divorce.
"They met over the dinner table at the guest house. They had a lot in common," Cafferata said.
Ken Dillon, who Cafferata calls Dad, mostly specialized in tax law, but he also represented some prominent clients in divorce proceedings. One was Prince Aly Khan, who was divorced by Rita Hayworth in Nevada in 1953.
"I remember him saying, 'She merely wants $50,000 a month,' " said Cafferata, a lawyer and prominent Nevadan in her own right, with stints as an assemblywoman, state treasurer, district attorney for three counties and now a member of the governor's organizing commission for the state's sesquicentennial on Oct. 31.
Barbara and Ken Dillon were married in 1950 and stayed that way for 14 years, until he died from a heart attack at age 50.
Her mother later met and married George Vucanovich, worked on the political campaigns of prominent Republicans like Paul Laxalt, and then made history in 1982 when she became the first woman elected to Congress in Nevada.
Vucanovich died last year at age 91 in her adopted home of Reno.
IN THE SPOTLIGHT
Nevada tried to make divorce as painless as possible.
In addition to the comparatively easy residency requirement, state law allowed divorces to be granted for a whole host of reasons, almost none of which required any real proof. During her research, Harmon said she ran across one woman who sought to end her marriage because her husband criticized her driving too much.
Some people chose to take advantage of the state's liberal marriage and divorce laws at the same time. On occasion, Harmon said, a judge would be called upon to grant a divorce to someone and then immediately officiate that person's wedding to someone new.
"It was not uncommon, let's put it that way."
Longtime historian Guy Rocha said Nevada's marriage and divorce trades brought a lot of national and international attention to what was then one of the smallest states in the nation. Major newspapers and wire services set up bureaus in Reno to stalk the rich and famous as they stopped in on personal business.
"There was a whole business of reporting to the nation and the world who was coming to town and what for," he said. "North Dakota didn't get this kind of attention, you know what I'm saying?"
Before long, Reno in particular became synonymous with divorce. Famous newspaperman and gossip columnist Walter Winchell even coined a term to describe the transformation despondent spouses went through during their six weeks in the Silver State: Reno-vation.
Harmon said her favorite pop culture reference to the practice is a simple sight gag in an old movie that otherwise has nothing to do with divorce. During a scene in a train station, the camera pans past people lined up for various destinations, and the longest line by far is the one bound for Reno.
Not everyone was laughing back then, of course.
"There were certain religious groups who thought Nevada should be thrown out of the Union altogether," Harmon said.
THE END FOR SPLITSVILLE
Such outcry has faded over the decades, and so has Nevada's claim as the only place to go if you're in a hurry to start a marriage or break one up.
Beginning in about 1970 or so, other states started to lower their residency requirements and pass new laws allowing hassle-free, "no-fault" divorces.
Today, splitting up no longer requires a lengthy stay at a dude ranch.
"Migratory divorce is essentially gone," Rocha said. "The quickie marriage is still around, but it's in significant decline."
It probably won't be coming back, either.
Rocha said Nevada simply isn't the national leader it once was when it comes to bucking societal convention, something he blames on a "growing social conservatism" in the state.
Take nearby Washington, for example. "You can go up there and get same-sex married, get high and go gamble in a casino," Rocha said. "The patterns are changing. I don't know if that Nevada — the old, libertarian Nevada — is around the way it used to be."
Like Cafferata, Rocha has a personal connection to the state's past as a divorce destination. He was born in California, but he grew up in Las Vegas because that's where his mother went to part ways with his father in 1955.
"I remember very clearly my mother dressing us up and putting us on a Greyhound bus," he said.
Rocha went on to a long career as a historian — and sometimes booster — for the state of Nevada, including a stint as state archivist.
"And it's all because of migratory divorce," he said. "The rest is history."
Contact Henry Brean at hbrean@reviewjournal.com or 702-383-0350. Find him on Twitter at @RefriedBrean.

Celebrating the Silver State