Doctor recalls trip to Jackson's suite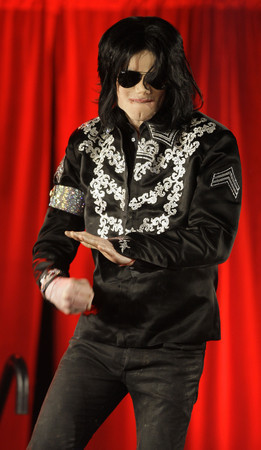 A Las Vegas doctor who was summoned to Michael Jackson's suite came away convinced that intimidation by his handlers was part of their modus operandi to feed his addictions.
The request for a house call came in November 2003 through a friend of one of his patients: Jackson was sick. Could the doctor treat him?
When the doctor arrived in The Mirage suite, the residence "had been trashed."
After their introduction, Jackson said he had a sore throat and a cough. The doctor said he quickly determined it was a ploy to get prescription drugs.
"The whole thing was staged," said the doctor, who spoke on the condition of anonymity. "It was all a lie. They just wanted drugs. They wanted me to call in all these pills under someone else's name."
Jackson's man in charge "started giving me a rough time. He was trying to intimidate me. I said, 'I can't do that.'"
That irritated the handler, who said, "What you mean, they always do that."
The physician said he stood his ground.
As he got ready to leave, the doctor, still shaken, told Jackson's rep, "I'll see what I can do."
The handler "came up to me and put a finger in my chest and said, 'You do that.'"
As he left the premises, the physician shook his head in disbelief. "I was waiting for someone to jump out of bushes and say 'You've been punked.' I felt I was on 'Candid Camera.'"
In retrospect, it was a set-up from the moment he walked in, he believes.
It started with Jackson giving his daughter, Paris, then 5, "a face, a gesture," and she said, "I love you, Daddy." Then Jackson turned to his oldest son, Prince Michael, 6, who said, "I love you, Daddy."
The doctor was convinced the interaction was rehearsed for his benefit.
After the tense standoff, Jackson's handler didn't get what he wanted and the doctor never heard from them again.
But the way the doctor was treated wasn't the only thing that bothered him.
Six years later, he's convinced Jackson had "classic signs of autism," the brain development disorder that includes the triad of poor social interaction, poor communication and limited interest.
Autism disorders can include the Asberger syndrome, which is associated with cognitive development, being abnormally intense or focused, unusual eating behavior and severe insomnia.
The doctor's experience with Jackson raises several questions: How widespread has the practice of doctor-shopping become in Las Vegas? Will the investigation into Jackson's prescription drug abuse lead back to the Las Vegas medical community, given Jackson spent a good deal of time here in recent years? Will the intense scrutiny uncover more leads in Danny Gans' drug-related death?
Doctor-shopping "has become very common," he said.
The meeting with Jackson wasn't the first time the physician felt pressured to accommodate a VIP.
He treated a high profile casino executive who wanted sleeping pills. A week later, the executive wanted a refill and a week after that he requested another refill "and I said no — and my services are no longer required."
The sad thing, he said, is that someone else filled the void.
"It's Elvis Presley all over again."
THE SCENE AND HEARD
The magic community is abuzz over rumblings that a major development is in the works regarding Steve Wyrick's Fourth of July "Death Drop" stunt that went up in flames. Lot of insurance and liability questions flying around. Legal teams scrambling. …
The "Sports Scribes" show featuring Review-Journal sportswriters Steve Carp and Ed Graney is on KDWN radio, as mentioned here Friday, but that's 720 AM on the dial. The show runs weeknights, 11 p.m. to 1 a.m., starting Monday. The publicist for the company producing the show e-mailed a mea culpa for the frequency mix-up.
SIGHTINGS
Lee Majors, the star of "The Six Million Dollar Man" and Farrah Fawcett's ex, dining at Charlie Palmer Steak (Four Seasons) on Friday. …
UFC legend Royce Gracie, among the attendees at the induction of Chuck Liddell and the late Charles "Mask" Lewis, co-creator of Tapout clothing line, into the UFC Hall of Fame on Friday at the Mandalay Bay Convention Center. Gracie was the winner of UFC 1 in Denver in 1993. …
The Travelocity gnome, spotted Friday at Mandalay Beach, the roller coaster at New York-New York and frolicking with the dolphins at Siegfried and Roy's Secret Garden and Dolphin Habitat. …
THE PUNCH LINE
"It's rated 'F' for fabulous." — From David Letterman's Top Ten Reasons To See The New Movie Bruno Presented By Bruno.
Norm Clarke can be reached at (702) 383-0244 or norm@reviewjournal.com. Find additional sightings and more online at www.normclarke.com.