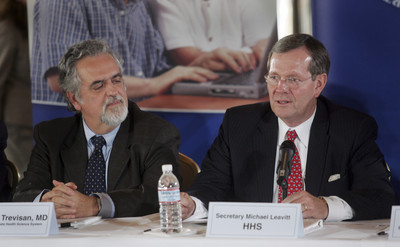 Some of Nevada health care providers said Thursday that they will explore participating in a five-year Medicare project to demonstrate the benefits of electronic record keeping.
The project, open to small- and medium-sized primary care physician groups in 12 "communities" nationwide, would require health care providers to use technology that allows patients and their physicians access to their medical and prescription records and test results in real time for five years.
Michael Leavitt, secretary of Health and Human Services, said for the project, a community can be defined as a state, a county, a city, a town or a combination of those entities.
The project is a step toward President Bush's goal of Americans having access to a secure, electric health record by 2014.
"I have 334 days left. Before I am finished, I'd very much like to have this in place," Leavitt told about two dozen physicians, insurance providers and health care leaders during a roundtable discussion Thursday at UNLV.
Those interested in participating in the program must complete an application that defines the community, the technology to be used and its functions, Leavitt said.
The project offers annual incentives of up to $58,000 per physician or $290,000 per physician group that meet certain criteria, Leavitt said.
Dr. Maurizio Trevisan, CEO of the University of Nevada Health Sciences System, said he would contact those who attended the forum to discuss the application process. Applications are due in the next couple of months.
The goal of the project is to show that adoption and use of interoperable electronic health records can reduce medical errors and improve the quality of care provided to patients, Leavitt said.
Electronic health records are computerized patient medical files that contain prescription records, test results, treatment and medical histories, progress reports, X-rays and other information.
Some large physician practices, such as Nevada's Southwest Medical Associates, have adopted electronic health records in some form, but only about 10 percent of small- and medium-sized groups are using them, Leavitt said. Supporters have said the benefits of electronic records can include the following:
•Fewer redundant tests and procedures.
•Faster diagnoses and treatment of serious illnesses.
•Timely preventative care and services.
•Better communication between patients and physicians.
•Shorter wait times for patients.
Dr. Craig Morrow, a internal medicine physician for Southwest Medical Associates, said the United States trails several countries when it comes to electronic health records.
"We're embarrassingly behind the rest of the world," he said. "We have paper charts destroyed by hurricanes. … There's a huge savings that can be reached through having electronic medical records."
Contact reporter Annette Wells at awells@reviewjournal.com or (702) 383-0283.