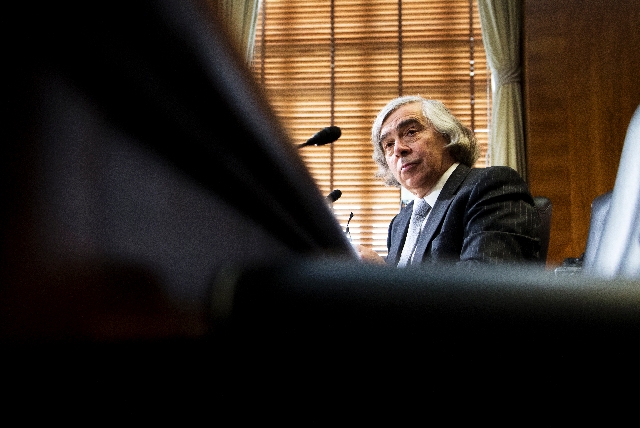 WASHINGTON — President Barack Obama's choice for Energy secretary said Tuesday he was committed to finding volunteer states and communities to host repositories for nuclear waste.
Ernest Moniz, a professor at the Massachusetts Institute of Technology, said he favored "consent-based siting" both for temporary and permanent storage of highly radioactive used nuclear fuel being stockpiled at commercial reactors around the country.
Moniz was a member of the commission formed to make recommendations on nuclear waste after Obama moved in 2009 to terminate the Yucca Mountain repository program in Nevada.
"There's no question that I will enter the role of secretary, if confirmed, with the idea of advancing the blue ribbon commission agenda; first and foremost consent-based siting is a part of that," Moniz said at his confirmation hearing before the Senate Energy and Natural Resources Committee.
To Nevadans who have fought against the Yucca Mountain program, the term "consent based siting" is code for "anywhere but Nevada" because they do not intend for the state to volunteer for a storage site.
Sen. Dean Heller, R-Nev., quizzed Moniz on Yucca Mountain, saying the Department of Energy previously "tried to shove it down Nevada's throat."
Heller said after the hearing he was "comfortable" that Moniz "has the best interests of Nevada at hand, at least on this particular issue."
Heller said that he planned to vote to confirm the nominee "unless something else comes out in the next couple of weeks."
Sen. Harry Reid, D-Nev., also is expected to vote for Moniz, who served as a top Department of Energy official during the Clinton administration.