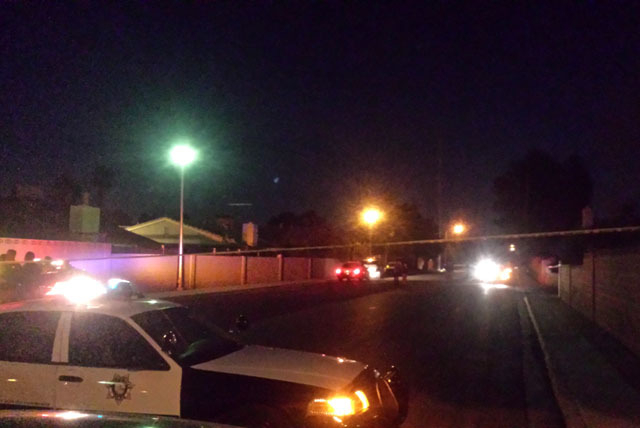 A man who was shot after brandishing a shotgun at Las Vegas police was apparently suicidal and had injected himself with dog insulin, according to an arrest report released Tuesday.
Jose Aguilar, 39, was recovering from injuries at Sunrise Hospital and Medical Center Tuesday morning. He is facing initial charges of assault on a protected person and resisting a public officer, although he had not yet been formally charged by the Clark County District Attorney's office.
Aguilar's roommate, Richard Steensma, 74, called police about 9:30 p.m. on Monday and said Aguilar was suicidal and injecting himself with the dog insulin.
Officers arrived at the home at 3217 E. University Ave., near Harmon Avenue and Pecos Road, where they met Steensma outside.
Steensma, who owned the home, told police Aguilar was "distraught" and there was a shotgun in the house, although Steensma didn't think Aguilar knew where the gun was located, the report said. Steensma said Aguilar was not violent and hadn't been diagnosed with a mental illness.
Officers called to Aguilar through the open front door but did not go inside. Aguilar only replied "what" and officers thought he was drifting off, the report said.
Police later heard Aguilar moving upstairs, and a sergeant saw him coming down the stairs with a shotgun.
The sergeant ordered his patrol officers to take cover behind their patrol cars and treat the incident as a barricade situation.
Aguilar soon left the home with the shotgun in his hands. He initially ignored officers' orders to drop the weapon and was "waving the shotgun around and pointing it in the direction of the officers," the report said, but finally dropped the gun and laid down next to it.
Officers told Aguilar to crawl away from the gun, but as Aguilar was crawling he "suddenly leaped up and reached for the shotgun," the report said. Several officers fired, striking Aguilar in the lower body.
The officers involved in the shooting will be placed on routine, paid administrative leave pending an internal investigation. Their names will be released after 48 hours, per department policy.
Contact reporter Mike Blasky at mblasky@reviewjournal.com or 702-383-0283. Follow @blasky on Twitter.