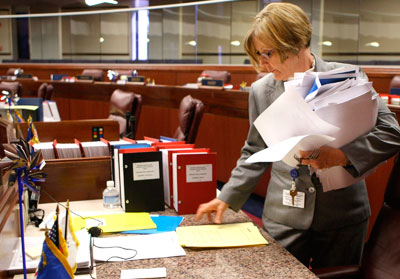 CARSON CITY— On a 12-9 vote Tuesday night, the state Senate passed a bill to allow domestic partners, gay and straight, most of the same rights as married couples.
But the 12 votes for the bill are still less than the 14 required to override a veto by Gov. Jim Gibbons, who recently said he will kill the bill if it gets to his desk.
"I feel very good," said Sen. David Parks after his Senate Bill 283 was approved with the support of Democrats. "This is important given the mood of what is happening in the country. Nevada, like many other states, is moving in the right direction."
Parks, D-Las Vegas, said his concern now is seeing the bill pass in the Assembly. He then plans to drum up additional Senate support to counter a Gibbons veto.
"I will deal with it," he said. "It is like any other bill."
Nevada would become the 10th state with a domestic partnership law if the bill is approved. The proposed legislation would allow same-sex and opposite-sex couples to register as domestic partners with the secretary of state.
Some of the benefits domestic partners would gain include: the ability to make health care and funeral decisions for each other; hospital and jail visitation rights now reserved for family members; rights involving wills, inheritances and trusts; and the same parental rights as married couples.
The bill also says that a "domestic partnership is not a marriage" as defined by the Protection of Marriage amendment approved by voters in 2002. This constitutional amendment states that a marriage must be between a man and a woman.
Parks said he has received 1,500 e-mail messages about his bill and that many contend it violates the 2002 amendment. Parks said an opinion from legislative lawyers found that the bill does not conflict with that amendment.
Ten of 12 Senate Democrats backed the bill, while seven of nine Republicans opposed it. Sen. John Lee, D-North Las Vegas, and Sen. Terry Care, D-Las Vegas, voted against the bill. Sen. Randolph Townsend, R-Reno, and Sen. Mike McGinness, R-Fallon, supported it.
Lee said he voted against the bill because some couples would use domestic partnership as "trial marriages," instead of actually marrying.
In explaining his vote, Townsend said, "I respect what the bill has to offer and I respect peoples' choices."
Senate Minority Leader Bill Raggio, R-Reno, called SB283 the "most contentious bill" of the session.
He proposed an amendment that would have gutted most of bill while instead creating a domestic relations contract to allow same-sex partners to make inheritance, medical and funeral decisions for each other.
Raggio said he has talked with friends who are domestic partners and they said Parks' bill goes too far. The rights they want and really need concern health care, inheritance and funeral decisions.
The minority leader also said that domestic partnerships as defined in the bill are the same thing as marriages.
"A rose is a rose is a rose by any other name that you call it," Raggio said.
Parks countered by saying that domestic partners would have to hire lawyers to execute domestic relations contracts. In an earlier interview, he said it would cost domestic partners $5,000 in legal fees to secure the rights granted to married couples.
Raggio's amendment was defeated 11-10.
Richard Ziser, the Nevada Concerned Citizens lobbyist who led the drive for the Protection of Marriage amendment, doubts that Parks can pick up two votes to override a veto.
"He has gotten as many votes as he can," Ziser said in a phone interview.
Ziser thinks Republicans McGinness and Townsend backed the bill because term limits prevent them from running again. As a result, they won't face voter backlash for their positions.
And while Parks might have a legal opinion that his bill does not violate the Protection of Marriage amendment, Ziser said other lawyers might disagree. If the domestic partnership bill becomes law, it could be challenged.
Gary Peck, executive director of the American Civil Liberties Union of Nevada, hailed the Senate vote.
"I am heartened the bill passed, but wished it would have passed by a bigger margin," he said. "It is hard to fathom why it is at all controversial. All it would do is give domestic partners the recognition they deserve and the ability to live their lives responsibly and with dignity."
While the governor has made his opposition to the bill clear, First Lady Dawn Gibbons backed domestic partnerships during a Tuesday evening reception in the Nevada Room, adjacent to the Governor's Mansion, according to the Gay and Lesbian Alliance of Southern Nevada and The Center.
The Gibbonses are in the process of divorcing. Dawn Gibbons now lives in an apartment above the Nevada Room, where the governor and the first lady frequently hold receptions.
The bill's Senate approval came as legislators acted on dozens of measures in efforts to meet a Tuesday deadline for approving bills or seeing them end up on the 2009 session's scrap heap.
The state Assembly was done first with its deadline-day work, passing 25 bills and keeping about 15 others alive by calling for more committee discussion. About a dozen other bills died.
The Senate held several floor sessions, including a final one that ran into the night, approving about 20 bills, holding three for more committee debate and rejecting another proposal.
The dead Assembly bills included AB34, to allow some state prison inmates, who lost the use of personal typewriters starting in 2007, limited Internet access; and AB35, making it tougher for a sex offender to be released from lifetime supervision.
Also shelved were AB42, making it easier for authorities to get access to medical records to prevent Medicaid fraud; and AB189, doubling Nevada's five-day period during which tenants can stay in rented homes or apartments before being subject to an eviction order for nonpayment.
One rejected Senate bill, SB301, would have stopped industrial development in an area north of Nellis Air Force Base.
Bills that were endorsed in the Senate on deadline included SB252, authorizing police to have access to sealed court records of applicants for police jobs; and SB269, which provides, among other things, for immediate license suspensions of medical professionals convicted of felonies related to their practices.
Also approved and routed to the Assembly was SB292, to require courts to appoint attorneys who would act in children's best interest during cases involving abuse, neglect or termination of parental rights.
Also approved in the Senate, on a bare 11-10 vote, was SB259, setting up a program for alternative licensing of teachers; and SB288, which requires the state Division of Industrial Relations to attempt to meet with and assist families of workers killed on the job.
Under the legislators' rules, most Assembly bills had to cross over to the Senate and most Senate bills had to move to the Assembly by Tuesday. Many had already made the transition while others were exempt.
The cutoff date was one of several aimed at ensuring the legislators can complete their work by June 1 and adjourn. By the time they shut down the session, the lawmakers are expected to have approved nearly 500 bills and major resolutions, out of nearly 1,000 that have been proposed.
The Associated Press and Review-Journal reporter Molly Ball contributed to this report. Contact Capital Bureau Chief Ed Vogel at evogel@reviewjournal.com or 775-687-3901.