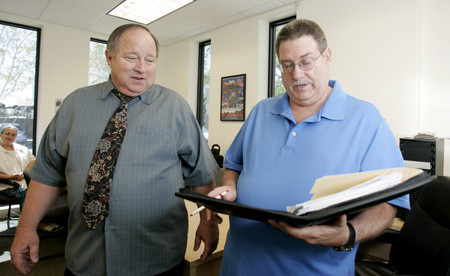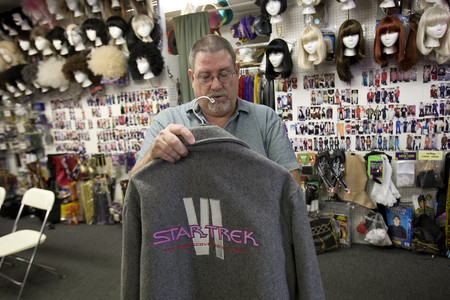 Last month, Jim Hagen bartered his prized "Star Trek" collectors plate to cover the rental fee for an usher's jacket from the American Costume Shop on Sahara Avenue.
That jacket, he hoped, might give him the edge he needed in landing the usher's job he saw advertised at the Venetian.
It didn't.
But his effort did give the unemployed 61-year-old grandfather the edge in landing a job with Joe Babcock's Business Planning Group, a Las Vegas firm that helps small businesses get off the ground.
"I was so impressed that a man would go all out that way in an effort to get a job," Babcock said recently as he sat in his Patrick Lane office near Sandhill Road and talked about the June 22 story on Hagen that ran in the Review-Journal.
"And then when I called him and he said he had a background in tax work, I was really interested."
Hagen last month was worried that he could soon be homeless. But he sent Babcock his resume, which showed that his job history included work as a tax collector for the IRS and as a consultant for a tax preparation company.
Babcock called Hagen in for an interview.
The man who lost his job months ago as an assistant slot manager at a casino was dressed in a business suit, not an usher's uniform.
Again, Hagen was way early for the interview, just as he was at the Venetian.
"I was really impressed," Babcock said. "One part of my business that I want to grow is helping small businesses do their taxes."
About two weeks ago, Hagen was hired.
Now, instead of trying to see how far he can stretch a $1,000 monthly unemployment check, he's about to cash his first work check for $2,000. "Jim's the first to arrive and the last to leave," Babcock said.
In addition to having Hagen researching the Internet to find out how the tax code works for small businesses, Babcock also has him looking for tax preparation software that gives the most bang for the buck.
Babcock, whose business also deals with debt management, has Hagen studying that area as well.
"I'm not used to doing so much research," Hagen said as he scrolled through a business program. "It's different, but I like it."
Hagen's not only thankful for the job that will allow him to make his rent, he's also thankful for the people who called Martin Howard at the American Costume Shop and offered to pay the $45 costume rental fee so he could get his "Star Trek" plate back.
"Even as bad as things are, people still care about people they don't even know," Hagen said.
Howard said he was stunned by the public response after the story ran about the man who bartered the plate for the rental fee and left his "Star Trek" jacket as a security deposit.
"People really are moved by the idea that someone is down to the point of using their priceless items to stay afloat," Howard said.
He said he got several calls offering to make the $45 payment, but those came after a stranger entered the store with enough cash to get the plate back for Hagen, who got his jacket back earlier.
"I even got a call from the East Coast from someone who used to live in Las Vegas," Howard said.
Hagen's experience has made him even more committed to reaching out to help others. "We have to do that today," he said. "It's the only way we're going to get through this mess."
Contact reporter Paul Harasim at pharasim@reviewjournal.com or 702-387-2908.