Downtown shop goes to pot
September 12, 2010 - 11:00 pm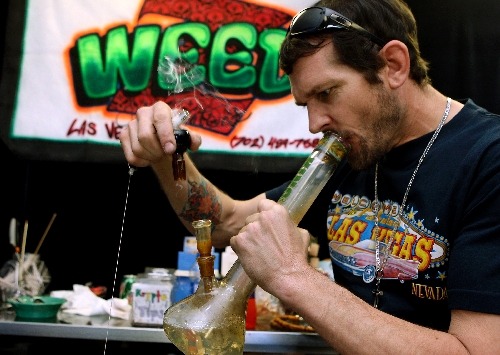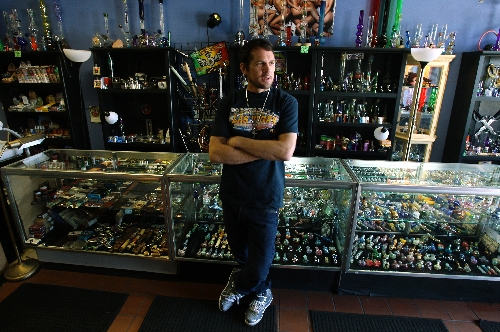 The sign on the window says Weedz Alternatives, and there's truth in advertising: The downtown Las Vegas business sells synthetic marijuana, which purportedly offers the same or similar effects while being legal.
And it would be hard to find a more enthusiastic booster of the herbal marijuana substitute than Steve Vogt, the wired and wiry owner who opened the smoke shop at 628 Las Vegas Blvd. South nearly two years ago.
But his dream may be about to come to an end in a haze of police calls, allegations of poor management and eviction.
"I'm not worried at all," Vogt said recently, even though hearings are scheduled this week that could label his shop a neighborhood nuisance and evict him.
"We're one of a kind. They should welcome it," Vogt said.
Debates over marijuana, drugs and intoxication will go on long after the particulars of Vogt's case are decided. And while he feels picked on because of his featured product line, those criticizing his shop hold that a business — any business — must be businesslike to survive.
On Tuesday, the Las Vegas Justice Court is scheduled to take up an eviction notice filed against Vogt.
On Wednesday, the Las Vegas City Council's agenda includes a hearing on whether his shop created a "chronic nuisance." Vogt could face fines as punishment.
"This property has been and continues to be a constant problem in the downtown area," states a nuisance order from the Metropolitan Police Department. "This is believed to have been in part due to inaction on the part of management and ownership in taking care of problems on their property."
Police have received "numerous calls" concerning the property, spokesman Bill Cassell said. The complaint alleges that the business is in a "perpetual state of criminal chaos" that "can no longer be tolerated."
The complaint against Weedz, though, lists just three incidents, all from July:
■ On one occasion, two masked men armed with handguns forced Vogt and an employee to the back of the store. Their hands were tied together, and the robbers made off with about $8,000 in cash.
■ On another occasion, an employee suffered minor injuries when someone threw a rock through the shop's front window. The hole is still there, covered with plastic and packing tape.
■ Officers responded to a noise complaint. Vogt said he was playing a guitar very loudly while simultaneously trashing it, and he injured his forearm. He wouldn't let police in or answer their questions, and he was arrested for obstructing a police officer.
Vogt said he shouldn't be penalized because he was a crime victim. He notes that synthetic marijuana is widely available and largely unregulated.
"We're doing it right," he said. "We're creating jobs. There are a lot of people who would be out of work if they shut us down. I guess I'm having too much fun. I'm not doing anything illegal here."
Making that case requires a few caveats and disclaimers.
The fake marijuana is made up of herbs, oils and resins and sprayed with a lab-produced cannabinoid that mimics THC, the active ingredient in the real thing.
While the exact ingredients aren't clear, the packages have a couple of clear statements. First, it is labeled as incense, and each packet has some version of a statement that says "not for human consumption."
But people do consume it. In fact, Vogt's shop is set up to encourage smoking.
Vogt said he's got the city's only "bong bar." One day last week, there were two extra-large water pipes on the rear counter where customers and employees could sample the wares, with a blend called King Krypto being the most popular.
Vogt said he doesn't sell to anyone under 18 and that all smokers are informed of the risks of smoking synthetic marijuana. Adverse effects include panic attacks, extremely elevated pulse and blood pressure, vomiting, and in some cases tremors and seizures, according to the Drug Enforcement Administration.
"He's doing this of his own free will," Vogt said as an employee sucked smoke out of the pipe.
"We're the only bong bar in Vegas. We're all legal. It won't show up on a drug test, and one hit is all you need."
According to city and police officials, though, Vogt needed to operate his business properly.
Las Vegas tried to work with Vogt, said Mayor Pro Tem Gary Reese, whose ward includes the business.
Vogt was not responsive, and "that's where we're at today," Reese said.
He also insisted that Vogt's product line is not the reason for the scrutiny. Any business that police flag as a problem would be looked at.
"Absolutely," Reese said. "I've always said, 'Treat everybody the same.' "
The nuisance order delivered to Vogt said he should hire a professional security company, run background checks on his employees and take a more active role in managing the shop.
Not necessary, Vogt countered.
On security, it's enough that "I'm not here alone anymore," he said.
And Vogt is not keen on investigating his employees.
"I trust my employees. Trust is all I have. They've never done me wrong; and if they have, I don't know about it."
In fact, his eight employees pretty much run the show, he said, which he considers his reward for the two lean years he spent getting the business going.
"I just goof off here now," Vogt said.
Contact reporter Alan Choate at achoate@reviewjournal.com or 702-229-6435.
Weedz Alternatives store