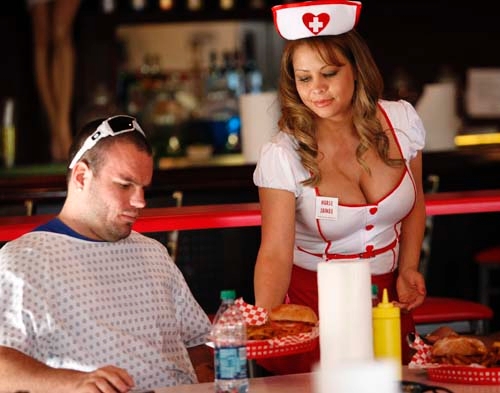 Bottoms up, Heart Attack Grill fans.
The belly-busting burger joint in downtown Las Vegas might get its permanent tavern license after all.
All it took was some behind-the-scenes maneuvering to clarify the city's policy regarding financial background checks for the restaurant's investors, a group that includes Zappos CEO Tony Hsieh.
Now Councilman Ricki Barlow, whose concerns during a June 6 meeting sidetracked the restaurant's permanent license application, says he is prepared to cast another vote on the Neonopolis restaurant, which has made headlines for menu items such as the quadruple bypass burger, weighing 2 pounds and including 20 slices of bacon.
Earlier, Barlow questioned a staff recommendation that included waivers from financial background checks for some investors after Metropolitan Police Department Sgt. Carmen Donegan said authorities were "unable to conduct a thorough suitability" of the ownership group.
Since the meeting, however, Barlow has met with city licensing manager Karen Duddleston, who he said explained that police reviewed the city policy and agreed the city could waive requirements.
According to city policy, the licensing manager "may waive for one or more principals the requirement of approval for suitability" if at least one principal investor goes through the process. Duddleston has said the city has long had a waiver policy, and she estimated she has brought more than 20 waiver proposals to the council in the past.
"I would be all for rescinding the item and setting the record straight and moving forward with the recommendation," Barlow said.
Heart Attack Grill investors include Hsieh at 17.78 percent, Fred Mossler at 17.78 percent, Steve Hill at 13.33 percent, Andrew Donner at 4.44 percent and managing member Jon Basso at 46.67 percent. Mossler and Donner have already gone through financial background checks for other businesses.
Although the council declined to approve a permanent tavern license for the grill, it did vote to extend for six months the restaurant's temporary license, which allowed it to continue selling alcohol while investigations proceeded.
"The vote that was cast by myself and my colleagues was a vote of caution," Barlow said.
If it comes back at the July 18 or Aug. 1 meeting, the council could cut the investigation process short and issue the permanent license.
Councilman Bob Beers, who criticized the decision to sidetrack the permanent license application in the first place, said he is glad the council may reconsider the item.
Beers said city oversight of tavern licenses should focus on preventing underage drinking and over-serving of patrons, not questioning the finances of investors.
"This isn't SUVs of cash being driven out of the basement of the Stardust," Beers said, referencing Las Vegas' mob days when financial checks were meant to thwart organized crime. "This is a hamburger stand that wants to sell a beer with their hamburgers on Fremont Street."
In an email, Hsieh said that as far as he is concerned the investors followed the rules and the process is back on track.
"I haven't been personally involved on a meaningful level so can only convey what I was told. I was told that there was some confusion between Metro and the City of Las Vegas," Hsieh wrote. "I've been told that whatever confusion existed has been cleared up, and that our submittal followed a process that has occurred for many years and is within the current code."
Contact reporter Benjamin Spillman at bspillman@ reviewjournal.com or 702-383-0285.