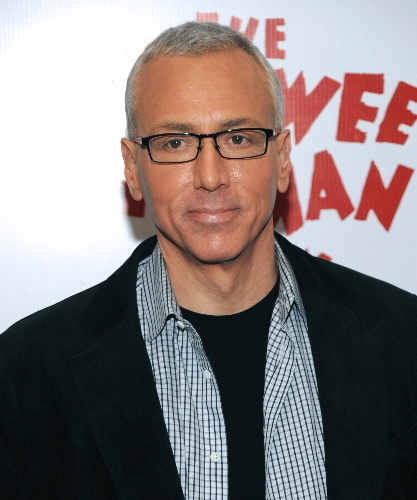 Dr. Drew Pinsky of "Sex Rehab" watched Tiger Woods' news conference Monday, then told me Tiger looks like he's getting "better and better."
Why? Because Tiger has shown a growing amount of humility and honesty while appearing more connected to his emotions.
But two things seemed problematic to Drew on Monday.
One: "He really closed down any conversation about the Vicodin and the Ambien. The way he did it led me to believe he wasn't ready to deal with that issue. To me, that means it's more of an issue than we know."
Two: "The bigger issue is: How did he make the decision to return to golf when he did? It seemed clear to my ear he made the decision to return to work" — instead of letting his program make that decision.
"And that's never a good thing."
Famous or not, addicts usually need to take six to 12 months off work, said Dr. Drew, star of VH1's "Sober House" and radio's "Loveline."
"You're not going back to work if your work threatens your sobriety."
And Tiger is going back to a routine that fed his addictions: a career that's "public, intense, arousing and stressful — all the things you don't want him to be going through."
Dr. Drew noticed Tiger was jazzed about returning to golf.
"He was sort of getting high just talking about it," he said.
"On the one hand, it was good because he talked about (golf) relationships he missed. On the other hand, it seemed to me he was retreating to those relationships, away from his recovery."
"It's putting him at risk" going back to work, he said. "It may turn out fine, by the way, but eh, those two things are concerning."
On other topics:
■ Dr. Drew would be surprised if Tiger's wife, Elin, allowed sex at this stage.
But it's unclear whether Tiger is abstaining from all sex activities because addicts follow personalized treatments.
"Some of them have a year of abstinence — a year of no masturbation and no sex — because they've been using sex as a way of regulating feelings.
"And you want to see what feelings emerge when they don't use that strategy. And when they return to sex, they learn to do it in a healthy way."
■ Does Tiger need bodyguards to ward off women?
"It doesn't really work quite like that," Dr. Drew said. "But right, you worry about it."
■ Elin needs to stay in treatment too.
"Usually, it's a certain kind of person that will be with a sex addict. And they have to ignore lots of red flags. They have to be very idealizing.
"They do love each other on a certain level. And she's clearly living up to his commitment and does care about him deeply, even though she's betrayed and angry."
He's not surprised Elin stayed with him because "85 percent of sex addicts stay with their significant other." That will help both recover, he said.
I reminded Dr. Drew many women were surprised Elin stayed with Tiger.
Women "can act out that fantasy with Sandra Bullock, because I don't think she's sticking around" with cheating husband Jesse James, he said.
James just went through a weekend rehab. I asked: What can you accomplish in two days of rehab?
"Absolutely nothing," he said.
But James may not have met criteria for sex addiction and been sent packing.
" We don't know what he was admitted for," Dr. Drew said.
I said: Well, Sandra Bullock signed up for Jesse James.
"She's got love addiction, let's be fair," Dr. Drew said. "I mean, she idealizes him, misses all the red flags. Love addicts and sex addicts go together all the time."
Dr. Drew recommends people interested about sex addiction surf SASH.net, by the Society for the Advancement of Sexual Health.
Doug Elfman's column appears on Sundays, Mondays, Tuesdays and Fridays. E-mail delfman@reviewjournal.com. He also blogs at reviewjournal.com/elfman.