Drivers get squeezed at pump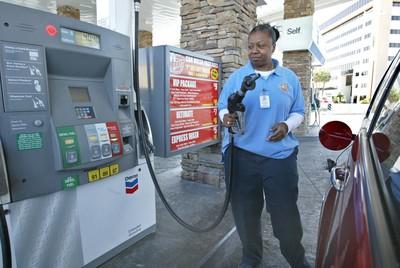 As Las Vegan Dennis Costello filled up his Chevrolet Suburban sport-utility vehicle on Tuesday at a Chevron station on the corner of Rancho Drive and Bonanza Road, he had one request.
"Make 'em higher," Costello said of fuel prices. "If gas prices double, that would cut down on traffic. No traffic; that would improve my life."
Costello is getting his wish.
A gallon of regular, unleaded gasoline was averaging $3.01 in Nevada on Tuesday, up from $2.72 a month ago and $2.67 a year ago, according to travel club AAA. Fuel in Las Vegas was going for an average of $2.96 Tuesday, compared with $2.63 a month ago and $2.65 a year ago.
Nationally, a gallon of gasoline cost $2.79 Tuesday.
That's up from a month ago, when a gallon of fuel sold for $2.53, and a year ago, when the price was $2.67.
Nevada has the third highest average gasoline price in the country, after California ($3.28) and Washington ($3.03).
Motorists filling up Tuesday afternoon at the Bonanza Road Chevron had differing views about the effect the run-up in fuel costs is having on their driving habits.
Frank Corpuz, a retired Las Vegan, had taken his eight-cylinder Dodge Dakota pickup truck out for the first time in a week and a half, opting in recent days to drive his four-cylinder Toyota Corolla instead.
The higher fuel cost "is affecting me and a lot of other people," Corpuz said. More expensive gasoline has meant fewer trips with the truck to the lumber and hardware store for home-improvement materials, Corpuz said.
But Costello, who's also retired, said the jump in fuel expenses hasn't forced any changes in his lifestyle.
Costello is spending $60 to $70 per fill-up for his Suburban these days, and he said gasoline would have to set him back $20 a gallon before he would consider a smaller car or less driving.
"I have big needs and big dogs," Costello said. "I hunt and I fish."
Chris Troutwein, a tourist visiting Las Vegas from the San Francisco Bay Area, said fuel prices would have to increase $1 a gallon before he'd leave his sport-utility vehicle parked in the driveway more often.
Laronda Poydras, a bus driver for the Clark County School District, was less sanguine about shelling out more cash for fuel.
Poydras said she's dropping roughly $20 a month more on gasoline for her Chrysler PT Cruiser than she was spending a few weeks ago. The extra expense hasn't forced Poydras to divert funds from essential household outlays, but she is saving less money, she said.
The North Las Vegas resident is also making fewer trips to see friends in Henderson, Summerlin and other areas. Prices would have to drop to $2 or less per gallon before Poydras renewed such visits.
Poydras pegged the odds of a price drop to $2 a gallon at "zero," because "President Bush is a jerk."
"He's the boss," Poydras said. "He's the one who makes all the decisions, regardless of the people around him."
Analysts provide a different explanation for the price gains.
Gasoline prices typically shoot up in the late spring, as travel picks up and oil refineries go offline for a week or two to perform routine maintenance and to switch from winter fuel blends to summer mixes.
This year, the price jump is occurring sooner than usual. Gasoline prices reached a high in Nevada of $3.20 a gallon on May 17, 2006. That was six weeks earlier than 2007's big increases.
Some energy economists say fuel prices are about to peak, and could even level off and start to fall in the coming weeks.
"The preseason (price) rally started earlier than normal, but it will end earlier than normal," said Denton Cinquegrana, West Coast markets editor for the Oil Price Information Service in New Jersey. "Our belief is that people will have paid more for gasoline this past Easter Sunday than they will be paying on Memorial Day."
Why the premature surge in prices?
James Williams, an energy economist with WTRG Economics in Arkansas, said oil and gasoline refiners started their fuel-mix swap about three weeks early.
As demand for fuel rises around Memorial Day, Williams said, the difference widens between the price a refiner pays for the crude oil that is made into gasoline and what that gasoline sells for on the market. That means increased profits for the refiner, and Williams believes refiners began springtime maintenance early so they could be fully up and running by the time those earnings margins began to improve.
"The problem is, everybody had the same idea at the same time; and if everybody gets the same idea at the same time, the idea doesn't work," Williams said.
Refineries nationwide have experienced maintenance hiccups that have delayed reopening longer than operators had expected, Cinquegrana said. And the traditional drop in winter demand didn't materialize this year, because fewer snowstorms than average on the East Coast and in the Midwest have enabled drivers to hit the road more than is usual in the colder months, Cinquegrana said.
A refinery fire in Sunray, Texas, closed a major fuel-supply link to Arizona, added AAA spokesman Michael Geeser. So Arizona gasoline suppliers have turned to the same Southern California refineries that manufacture gasoline for Nevada, thus squeezing fuel stores for the Silver State, Geeser said.
Combine unrelenting nationwide demand with out-of-commission refineries, and prices were bound to rise, Cinquegrana said.
Williams and Cinquegrana both predicted that prices would level off in the near term.
Reports of gasoline inventories should show improving supplies this week or next week, Williams said, and refineries will begin operating again.
In the next month or so, the higher inventories and rising refinery output should help ease some of the speculative pressure that pushed prices upward, Williams said.
In the long term, Saudi Arabia has tripled its oil-drilling activities, and that should ease looming crude-supply crunches, he added.
Fuel prices should rise perhaps another "couple pennies" a gallon in the next two weeks, and then stop increasing, Cinquegrana said.
"I think we're getting pretty close to our top for the preseason," he said. "We're in the eighth to ninth inning, and we should start to see prices cool off a little bit depending on how well these refineries come out of maintenance."
Barring destructive hurricanes in the United States and increased geopolitical tensions among top oil producers around the world, Williams forecasted that gasoline prices by the summer's end in September could be at least 20 cents a gallon lower than they are today.
Geeser, however, said a new record gasoline price is possible this May. He doesn't expect costs to fall noticeably before the traditional pre-Memorial Day price jump, and that could put the per-gallon price within striking distance of its high in May 2006.
Wachovia economist Jason Schenker agreed, noting that nationwide unemployment is at 4.4 percent, average wages are rising and disposable income is increasing — all factors that will support higher fuel use in the summer.
Wachovia's researchers have boosted their pricing outlook for the summer, from a range of $2.75 to $3.00 a gallon to a range of $2.75 to $3.25 a gallon.
Because Nevada is already entering the driving season at $3.01 a gallon, the state is positioned to move toward the upper end of Wachovia's projections, Schenker said.
Some consumers are weighing measures to reduce their gasoline use.
Poydras said she didn't think about gas mileage when she bought her PT Cruiser in 2006. That will change in 2008, when she plans to trade in the Chrysler for a more economical Honda or Toyota.
The high fuel prices "give you no room to breathe," Poydras said.