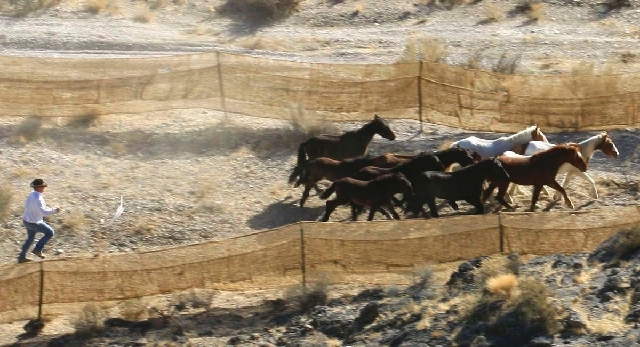 The Bureau of Land Management is planning an emergency relocation of 50 wild horses in response to parched conditions at the Seaman Herd Area in Lincoln and Nye counties.
The event is tentatively set for Tuesday, and the horses will go to off-range pastures and facilities, agency officials said Friday.
The drought has left the horses with limited water and forage in the area about 35 miles south of Lund.
BLM officials say about a third of the horses are in urgent need of removal, based on a system that scores the body condition of equine on the range.
Some of the horses face death if left on the range, the officials said.
The agency has tried to coax the horses to drink from tubs and water troughs, but to no avail, given their skittish nature.
"Due to the scarcity of water resources and forage, combined with the drought, these horses are quickly starting to deteriorate," Boyd Spratling, a veterinarian and co-chair of the BLM's National Wild Horse and Burro Advisory Board, said in a statement.
"Timing is critical and I believe that water trapping efforts on these particular horses won't work. In this instance, a helicopter gather at the earliest possible date is the best decision."
A BLM contractor in a helicopter will herd the horses toward corrals with aid from a ground crew.
Agency officials said some horses in poor condition may be euthanized, calling it an "act of mercy."
Additional information about the event is available from the BLM at 775-861-6700 or online at www.blm.gov/nv.
`