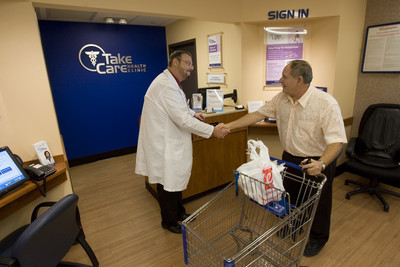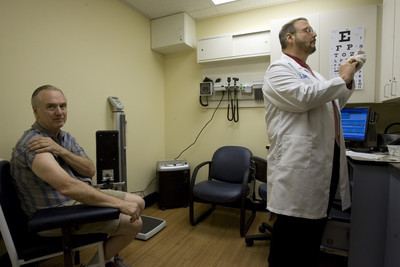 CVS Pharmacy began opening MinuteClinics in January.
Walgreens' Take Care Health Clinics started springing up this September.
Tomorrow it could be Wal-Mart or another supermarket chain.
As in other big cities across the country, Las Vegas is quickly becoming a hotbed for retail medical clinics that are located inside supermarkets and drugstores. The clinics provide customers with a quick and cheap alternative to receiving care for common medical problems that don't require primary or acute care.
In the last year, at least 10 clinics have opened within select CVS and Walgreens pharmacies throughout the Las Vegas Valley.
"That's of great interest to us in the medical community," said Don Havins, chief executive officer for the Clark County Medical Society. "These clinics, from a public policy standpoint, provide greater access to the public for medical care for common problems. Physicians aren't generally happy about this; but when you consider the state's shortage in primary care physicians, these clinics could serve a population that ordinarily wouldn't get help."
Havins said the clinics may even provide relief to often-crowded emergency rooms.
Walgreens' Take Care Health Clinic, located within five stores throughout the Las Vegas Valley, has provided care to some 3,000 patients in the past two months, said Lauren Tierney, a company spokeswoman.
Most of those patients were seeking flu vaccinations.
CVS officials wouldn't reveal how many patients have been seen at its five MinuteClinics in the city, but more clinics are planned to open in the near future.
Tierney said Walgreens plans to open three additional clinics later this year and in early 2008.
Although you won't find a doctor rotating between patient exam rooms within the clinics, treatment for ear and sinus infections, sore throats and some allergies is the same as you would receive at a physician's office. You'll just have to make your way past the Thanksgiving and Christmas decorations to get there.
Last week, 62-year-old Jerry Johnson went to the Walgreens at the corner of Rampart Boulevard and Cheyenne Avenue to purchase cable wire. After locating what he needed, he took a peek at the company's Take Care Health Clinic near the pharmacy.
Curious, Johnson walked over and asked the medical assistant if flu shots were available. Given the nod, Johnson signed in as a new patient using the clinic's computer-based system, sat down and waited for his name to be called.
"Convenient," he said after getting the vaccination.
Steve Kane's experience was similar.
After buying some milk and other products, Kane parked his shopping cart at the clinic and asked if he could get a flu vaccination. Fifteen minutes and a sore arm later, Kane could be seen pushing the cart to the front of the store.
"Quick, convenient and quality care. That's our purpose," said Stephen Lyons, a licensed physician assistant and Take Care Health Clinic's coordinator.
In addition to treatment, the medical clinics also offer basic diagnostic tests such as pregnancy, blood sugar and urine testing as well as some physicals. Influenza, meningitis, tetanus and hepatitis B vaccinations are also available.
Prices for services at each of the clinics are fixed and range from $59 to $74 at Take Care clinics. Most services provided at MinuteClinics cost $59.
Most insurance plans, including Medicare and Medicaid, are accepted at each of the clinics. Patients are only responsible for their co-pay. Staff at both clinics treat patients starting at 18 months.
Physician assistants are regulated by the state's Board of Medical Examiners and are required to work under the supervision of a licensed physician.
Nurse practitioners are registered nurses with extended training in medicine and are regulated by Nevada's Nursing Board.
Julie Knox-Woodward, head nurse practitioner for Take Care Health Systems in Las Vegas, said each of the clinics' physician assistants are supervised by a Nevada licensed physician who is available by telephone during clinic operating hours.
The physicians also read at least 10 percent of a clinic's patient charts and visit clinics monthly.
Though these types of medical clinics have been around for several years nationally, there is some concern in the medical community about the quality of care provided.
"Our principal concern is making sure that there is accountability," said Larry Matheis, executive director of the Nevada State Medical Association. "These medical clinics are proliferating around the country and getting into the mix here in Nevada. We need to make sure physicians are supervising them."
Additionally, Matheis said, there is concern there might be improper influence on patients to get their prescriptions at the pharmacy where they receive treatment. He said 30 years ago, there was a push to separate physicians' offices from pharmacies because of conflicts in referrals.
"Now we seem to be going the other way around," he said. "This is a new area in medicine and something we need to watch carefully, especially if it needs to be regulated."
Some states have already begun requiring medical clinics to maintain certain levels of quality, including maintaining adequate exam space and keeping exam rooms and medical equipment sterile, Havins said.
Nevada hasn't done anything like that, but it might be an issue raised during the next legislative session.
"There's also a question in medicine about patients being timely referred to doctors for problems that are beyond common," Havins said.
Potential patients need to remember that the clinics are not intended to replace primary care physicians, urgent care facilities or emergency rooms, said Lyons at the Cheyenne clinic.
If a patient appears to have a more serious or chronic condition, they are immediately asked by the nurse practitioner or physician assistant to go to urgent care or a hospital, he said.
In some cases, patients come in with one problem only to find that they have something more serious, Lyons said.
A few weeks ago, a patient went to the Cheyenne clinic and after the exam learned his blood pressure was extremely high, he said.
"He didn't realize it. I told him to go the hospital now, by ambulance. Oftentimes patients aren't aware of medical problems, and it may take a clinic like this for them to come to that realization," Lyons said.
"We don't want anyone coming here with chest pains. … It's kind of a place where, if you have a splitting migraine, you probably don't want to hear from your doctor that he or she can't get you in today."
Contact reporter Annette Wells at awells @reviewjournal.com or (702) 383-0283.