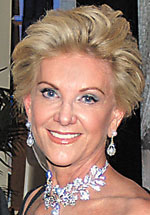 Elaine Wynn had one of the best seats in the house Monday for that epic NCAA Final Four thriller in Indianapolis.
She was there, among the 70,000 fans at Lucas Oil Stadium, at the invitation of college basketball royalty, Duke coach Mike Krzyzewski and his wife, Mickie.
A true-blue basketball fan and friend of the Krzyzewskis, Wynn sat with Mickie at Duke's Final Four games, including the 61-59 win Monday over Butler.
Wynn has shared some interesting basketball history with the Krzyzewskis. She was one of UNLV's most ardent fans when the Rebels won the national championship in 1990, crowned by a 103-73 rout of Krzyzewski's team . She was so impressed with Coach K's post-game comments that she sent him an invitation to stay at The Mirage, which Steve Wynn had recently opened.
A year later, she was in Indianapolis as the undefeated and No. 1 ranked Rebels were favored to repeat when they met Duke again in the semifinals. Duke evened the score with a 79-77 shocker . Wynn sent Krzyzewski another congratulatory note and another invitation to stay at The Mirage. This time Coach K accepted the offer.
The Wynns and the Krzyzewskis have been fast friends ever since.
Four years ago, when the Final Four was in Indianapolis again, the Krzyzewskis elected to return to Las Vegas. They often bring their family here, and one of their daughters got engaged at Michael's restaurant at the Barbary Coast about eight years ago.
The Krzyzewskis walked the red carpet with Steve and Elaine in October 2008 when Wynn Las Vegas was the site of Andre Agassi's Grand Slam for Children. Coach K and Team USA made the Wynn their training camp headquarters before going to the Beijing Olympics, where they won the gold medal.
UNLV fans would like to see Elaine broker a Duke-UNLV home-and-away series.
'DIRTY' TRICK?
UFC President Dana White put a notorious Web site on notice this week.
TheDirty.com posted an anonymous e-mail Monday that said White had a $1 million gambling debt at Bellagio. White had his legal team warn the site it faced a defamation lawsuit. A dumping ground for risque photos and unvetted rumors, the site removed the offending content Tuesday.
Jen Wenk, UFC's public relations director, told Vegas Confidential the e-mail was "absolutely untrue." She said White has never gambled at Bellagio but said he was a high-stakes blackjack player who won $1 million last year at a Strip property not owned by MGM Mirage or Steve Wynn.
"He beat them so bad that they changed his limits so he stopped playing there."
The e-mailer identified himself as a casino host. In the e-mail he referred to White as a "degenerate man."
Wenk said White told her, "The only thing true in it is that I am a degenerate."
THE SCENE AND HEARD
Jack Landreth has left CBS-owned talk station KXNT-AM, 840, after 6½ years as program director. The station announced the move on April Fools' Day. Reached by telephone Tuesday, Landreth said, "I can walk out of here with my head held high … with great ratings and an awesome staff." ….
Mirage headliner Terry Fator and The Coasters lead Early Clover are joining the Lon Bronson All-Star Band at Green Valley Ranch's Ovation showroom on Thursday. The show starts at 9 p.m.
SIGHTINGS
NBA Hall of Famer Lenny Wilkins, catching lunch at The Country Club (Wynn) on Tuesday. … Mike Tyson, dining a deux Sunday at Origin India.
THE PUNCH LINE
"Tiger Woods gave a major press conference and he said he's going to start appreciating his fans more. Although that was kind of how he got into trouble in the first place." — Jimmy Fallon
Norm Clarke can be reached at (702) 383-0244 or norm@reviewjournal.com. Find additional sightings and more online at www.normclarke.com.