Dumb, dumber ­– and we're dumbest?
October 26, 2010 - 11:00 pm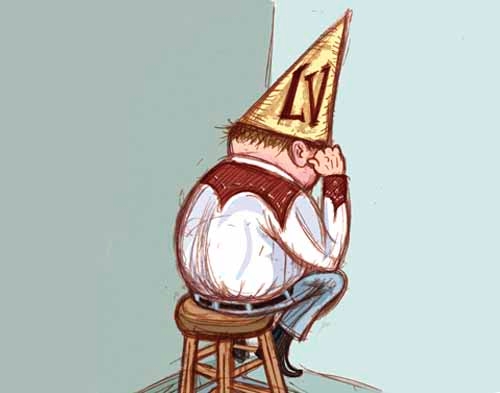 You noticed it as soon as you moved here.
From the morons who cut suddenly across four lanes without signaling their last-second exit to the co-worker so inept that you were convinced he spent his childhood eating lead paint, it seemed that locals were just, you know, kind of — well — dumb.
That hunch? It's not just you.
Las Vegas has displaced Fresno, Calif., as America's dumbest city based on education levels and intellectual vitality, according to a study from news and opinion website The Daily Beast.
The Daily Beast didn't respond to a request for comment, but the site's findings are important because "regions with intellectual vigor are more likely to bounce back" from economic travails, the Daily Beast's editors said in their Tuesday report. "Those without risk a stupor."
Wait — um, whuh?
Seriously, though: The analysis pierces straight to the heart of an age-old knock on Las Vegas. Some local observers have long lamented that the city won't lure diverse, high-tech businesses as long as it claims a bad rap for its citizens' low educational attainment.
Others counter that Las Vegas is its own kind of town, a nationally recognized entrepreneurial hotbed where The Daily Beast's benchmarks don't apply the way they might play out in other areas.
"We're a unique market. A significant share of our employee base is in service industries, and many of those employees are earning fairly decent wages and have been able to succeed and set up roots here," said local business and government consultant Brian Gordon, a pretty smart guy whose first name also happens to spell "brain."
"Some of those positions don't require higher levels of education. Las Vegas is just different than many other major markets."
To understand how Las Vegas differs from other places, start with how The Daily Beast compiled its study.
The site analyzed the nation's 55 metropolitan areas with 1 million or more residents, evaluating those markets based on nonfiction book sales tracked by research firm Nielsen BookScan; the number of libraries per capita; the ratio of colleges and universities; and the percentage of residents older than 25 with bachelor's and master's degrees — though when you consider U.S. Department of Education findings that a third of all students in U.S. colleges need remedial math or English instruction, it's not so obvious that a college degree indicates intelligence.
If you tally all of those factors, Las Vegas ranks dead-last among the country's big cities. Of its 1.9 million residents, 14 percent earned bachelor's degrees, and 7 percent hold master's degrees. Las Vegans have bought 1.1 million adult nonfiction books year-to-date, or fewer than one tome per resident. (But hey, we'll go head to head against anybody on adult-video sales!)
No. 1 Boston, by contrast, has a 24 percent penetration rate for bachelor's degrees, while 18 percent of Beantown's population has master's degrees. Its 4.6 million residents have snapped up more than 7 million adult nonfiction books this year.
The final score: Boston's Daily Beast IQ comes in at 176.7, while Las Vegas' Daily Beast IQ totals 3.3.
Ouch.
But none of that makes Bostonians smarter, one local businessman said.
Las Vegas hotelier Stephen Siegel does not have a college degree. He doesn't even have a high school diploma. The native Californian dropped out of ninth grade and, at 15, began working in restaurants. Today, Siegel employs 1,000 people inside properties from the Mount Charleston Resort to the Artisan boutique hotel on Sahara Avenue. He also owns the Siegel Suites chain of extended-stay apartments and office buildings and shopping centers in California, Arizona and Texas.
"I think school is very important. Education is very important," Siegel said. "But having a college degree is only the start. If you don't use the degree, it doesn't mean anything. Having a college degree doesn't mean you'll be successful. It means you went through a program. Knowledge is power, but only if you use it."
Instead of learning in classrooms, Siegel attended what he calls the "hardest and most expensive school there is: real life."
Siegel said Las Vegas is home to legions of entrepreneurs who similarly got their start in the service sector and grabbed a chance to launch their own operation.
From food-and-beverage workers who built catering businesses to cabdrivers who formed transportation companies, the city claims thousands of successful entrepreneurs without much formal higher education. Siegel cited perhaps the highest-profile of them all: Sheldon Adelson, the Las Vegas Sands Corp. founder, who ranks as the country's 13th wealthiest person, despite failing to finish the degree he started at the City College of New York.
"Las Vegas is 100 percent a different city from any other," Siegel said. "It's a very challenging city. You have to understand the market. You really have to educate yourself out there and put a lot of hard work into surviving in this market. It's harder than in most other places."
Gordon added that Las Vegas was, until the recession devastated the city's construction and hotel sectors, one of the nation's fastest-growing cities for the better part of three decades.
In the 1990s and early 2000s, you couldn't swing a business license without whacking some magazine that had just anointed the city one of the best places to start a company.
That's because businesses and entrepreneurs don't consider college attainment and book sales alone when they're looking to move or open a new operation, Gordon said.
Sure, educational levels and cultural offerings make a difference, but most executives care as well about a city's highway and airport access, its availability and cost of labor, real estate prices and taxes, among other factors. On many of those counts, Las Vegas still has much to offer, Gordon said.
As for the "intellectual vigor" that The Daily Beast's editors say Las Vegas lacks: In the leisure and hospitality space, at least, no other market on the planet bests the city, and that bodes well for the area's economic engine, experts said.
"We're the No. 1 resort and entertainment destination in the world, and not many markets stack up when you look at the core industry of Southern Nevada," Gordon said. "That's been true historically, and it will likely be true going forward."
Which brings us to our final point.
Considering Las Vegas entices upwards of 40 million folks a year from smart markets such as Boston, San Francisco and Denver to drop major dollars on elusive jackpots, $300 tasting menus and hookers (OK, not officially), just how dumb can our city really be?
Contact reporter Jennifer Robison at jrobison@reviewjournal.com or 702-380-4512.