E-sports fans, teams descend on MGM Grand for DreamHack Masters tournament
February 18, 2017 - 8:57 am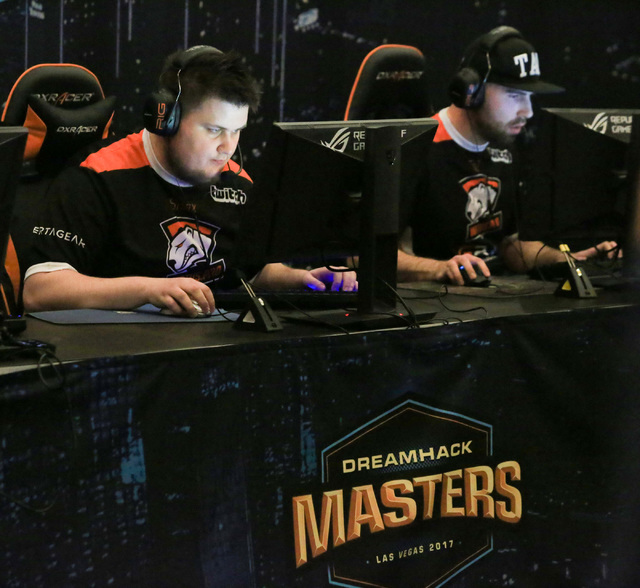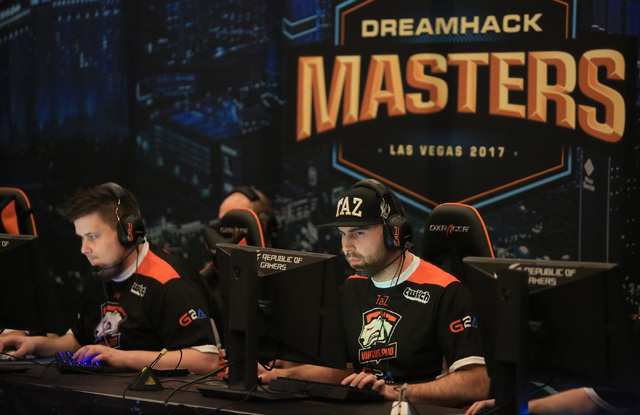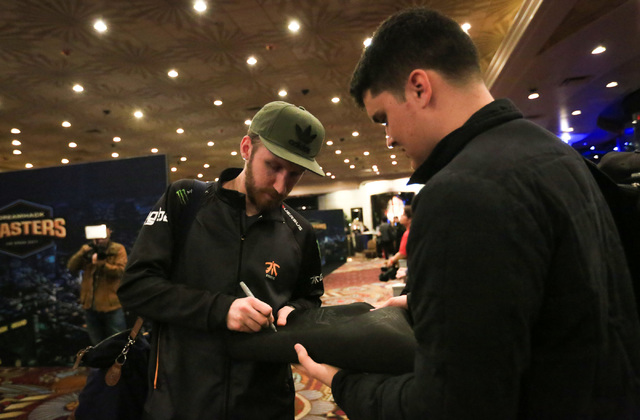 The area outside the Ka Theatre at the MGM Grand bustled with more activity than usual Friday afternoon.
Rather than a line of customers picking up show tickets, about 100 e-sports enthusiasts crowded into a small area dedicated to one subject: the DreamHack Masters Las Vegas e-sports tournament now underway at the Strip hotel.
They sat at tables or on the carpeted floor and watched intently as their favorite players competed in a tournament live-streamed from a group stage area onto a big-screen television.
Some lucky fans got to meet their heroes and get an autograph during the event, a precursor to the quarterfinal and semifinal rounds set to take place Saturday and Sunday at the MGM Grand Garden arena.
The world of electronic eports, or e-sports, has become a global phenomenon and attracts millions of fans. DreamHack, a Swedish company that originally got its start in the early 1990s and was mostly focused on coding software, shifted its focus in the 2000s to online gaming.
Perhaps the easiest way to explain an e-sports tournament is to think of it like most other competitions. Teams play against each other, going through various levels to try to reach the championship game. Think of a football team seeking to compete in the Super Bowl after becoming eligible in the playoffs.
"This is our first DreamHack Masters tournament in the U.S.," Tomas Lyckedal, DreamHack chief brand officer, said Friday. "We have been very happy so far with the outcome."
More than 500 teams competed to become one of the final 16 teams vying in DreamHack Masters Las Vegas. At stake for the teams is $450,000 in cash winnings as well as a chance to become the second DreamHack Masters Champion and dethrone the current titleholders, Ninjas in Pajamas.
It's also become a lucrative field, with notable celebrities including Mark Cuban and Shaquille O'Neal investing in e-sports teams. Major advertisers, such as Credit Karma and Arby's, pay fees comparable to the Super Bowl to run ads during e-sports tournaments. Television channels like TBS air e-sports conferences such as ELEAGUE, a professional "Counter-Strike: Global Offensive" league.
The teams competing are as professional as any other sports team, complete with their own sponsors, managers and contracts, Lyckedal said. Each team is made up of five players, and has its own following online.
Fabien "kioShiMa" Fiey, has been a professional e-sport player for the team Faze since March 2016 but has been playing professionally for about two years.
"This is my first international team, and since I'm French, I played for a French team at first," Fiey said. "But a lot get transferred to different teams like any other athlete. It's really new, the online, professional e-sports."
E-sports tournaments, such as the DreamHack Masters, draw people from around the world.
Nikhil Hathiramani said he flew from Singapore just to see his favorite team, NIP, play in this tournament. Even though the team hasn't had its best performance, he said he remains loyal.
"Once you're a fan, you're a fan," Hathiramani said.
The DreamHack Masters' quarterfinal and semifinal rounds start at 10 a.m. Saturday and Sunday at the MGM Grand Garden Arena. For more information, visit http://masters.dreamhack.com/vegas/.
Contact Gabriella Benavidez at gbenavidez@reviewjournal.com or at 702-387-5278. Follow @gabbydeebee on Twitter.